LGBTQ
We Celebrate A Diverse LGBTQ Community For Our Residents And Visitors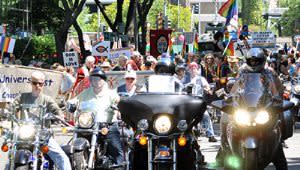 With a final score of 100 on the Human Rights Campaign's 2019 Municipality Index Scorecard, Sacramento is a safe, fun and welcoming community for our visitors and residents alike. Sacramento's gay and lesbian community has grown to make the city, and in particular, Midtown, a popular destination for visitors of all interests. Midtown is home to Lavender Heights where various gay-owned restaurants, cafes, bars, clubs, retail and other service-oriented businesses cater not just to the LGBT community, but to the community at large. Many are involved in the city's gay and lesbian community events.
Most importantly, Sacramento welcomes all families to come and enjoy our world-class museums, attractions, events and hotels. LGBT families and our residents are making Sacramento a destination to be enjoyed by all. 
In Sacramento, we welcome everyone to visit, eat and smile.