Motorcoach Tour Itinerary
Sacramento is the metropolitan hub of a diverse region with attractions ranging from the Gold Rush-era Old Sacramento, a trendy Midtown area, farm-to-fork restaurants, a burgeoning wine region and a host of outdoor activities. This sample 4-day itinerary showcases a little of everything and gives visitors a complete look at what Sacramento and the region have to offer.
SAMPLE 4-DAY ITINERARY
DAY 1
State Capitol Tour: Take a docent-led tour at the historic Capitol building. Experience California's rich history and witness the making of history through the modern lawmaking process.

Old Sacramento: Meander the boardwalk while taking in the beautiful Sacramento River views. Visit the California State Railroad Museum and enjoy stimulating exhibits, knowledgeable docents, and beautifully restored railroad cars and locomotives illustrating railroad history in California and the West. Enjoy lunch at The Pilothouse restaurant aboard the historic Delta King riverboat. Next, hop on the Hornblower for a one-hour Sacramento River cruise. End your time in Old Sacramento with a tasting of local wines at the Underground Tasting Room.

Dinner in Midtown: Nestled between Midtown and Downtown, Lucca Restaurant & Bar offers Sacramento a California/ Mediterranean-influenced menu with reasonably priced menu choices graciously served in a classy, comfortable setting.
DAY 2
Apple Hill: Visit the beautiful scenic roads filled with apple and fruit farms, bakeshops, wineries, and flower gardens. Taste red wines at Boeger Winery, relax with a beer at Jack Russell Farm Brewery, and don't miss hot apple cider donuts at Rainbow Orchards or a Walkin' Pie at Delfino Family Farms.

Gold Bug Park & Mine: Experience the Gold Rush like a real miner at Gold Bug Park & Mine near downtown Placerville. The mine dates back to 1849 and is an excellent example of hard rock mining. Then walk up to the Hendy Stamp Mill for a demonstration of the ore extraction process.

Sacramento Brew Bike: Pedal around Midtown Sacramento on 15 passenger bikes (they have 5 of them) and experience the best bars and craft beer Sacramento has to offer. Make it a progressive dinner sampling farm-to-fork fare at each stop.
DAY 3
Old Sugar Mill: Just a short drive out of downtown Sacramento along the Sacramento River, explore each of the 15 wineries and taste wines in a beautiful historic building.

Bogle Winery: Pick up lunch at Husicks Taphouse and enjoy it at Bogle Winery in their beautiful picnic area while sipping their award-winning wines.

Sacramento RiverTrain: The Sacramento RiverTrain rail line spans 14 miles from West Sacramento to Woodland, through open farmland, over the Fremont Bridge, and through the Yolo County Wildlife Refuge. At a leisurely 10 to 15 miles per hour, the round trip takes about three hours. Enjoy the Wild West Dinner, Old Vine Express, Murder Mystery or Beer Train, all including dinner.
DAY 4
History, Arts & Culture: Visit the California Museum, home of the California Hall of Fame. Learn about California's rich history and unique contributions to the world through ideas, innovation, the arts, and culture. Next visit the Crocker Art Museum, the oldest art museum west of the Mississippi, and featuring the world's foremost display of California art.

Live Entertainment: Attend Broadway At Music Circus, the largest, continually operating musical theatre-in-the-round in the country, at The Wells Fargo Pavilion. Check out a Kings game or big concert at Golden 1 Center or take in a baseball game at Raley Field. Go to Sacramento365.com for a complete listing of Sacramento events.

Pioneer Dinner: Bring history to life and enjoy a barbecue dinner after the gates shut at Sutter's Fort State Historic Park. Docents (dressed in historic costume) will be ready to answer questions about life in the 1840s. Enjoy demonstrations such as butter churning, weaving, blacksmithing, or rope making.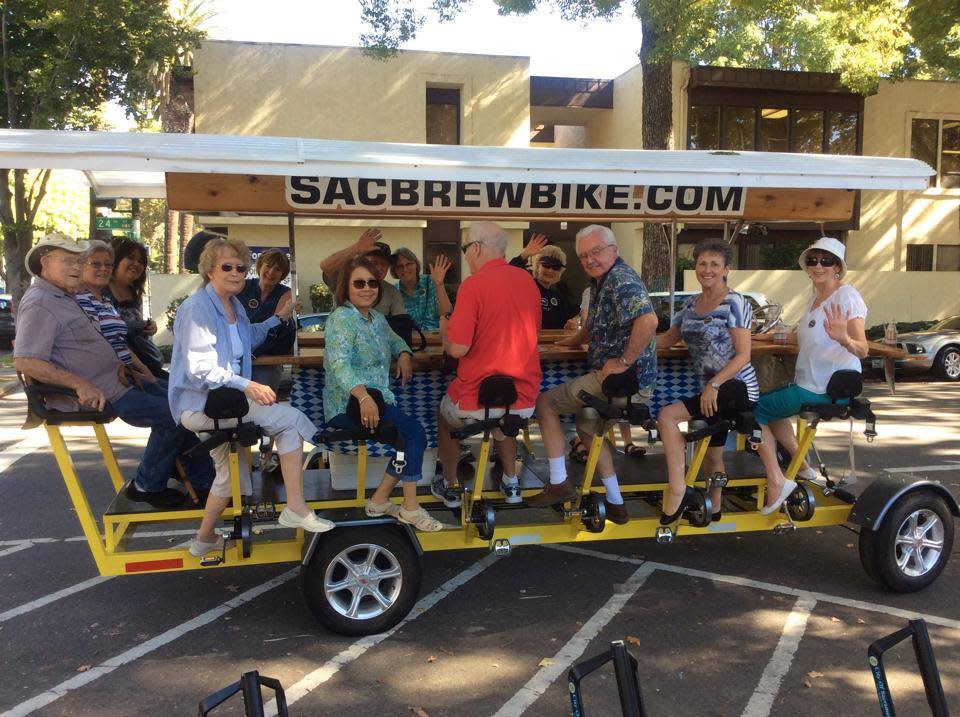 EVENTS
Midtown Farmer's Market
Second Saturday
Legends of Wine
Farm-to-Fork Festival
Gold Rush Days
Pear Fair
Sacramento Beer Week
California State Fair
French Film Festival
Sacramento Antique Faire
Mountain Mandarin Festival
St. Patrick's Day Parade
Zinfest
Chalk it Up
RESTAURANTS WITH PRIVATE DINING
Lucca Restaurant & Bar
Cafeteria 15L
Downtown & Vine
Blue Prynt
Claim Jumper
Fat's Restaurants
Esquire Grill
Firehouse Restaurant
Foundation Restaurant & Bar
Hoppy's Railyard Kitchen
Español Italian Restaurant
Kupros Craft House
Pilothouse Restaurant
Casa Garden
Rio City Cafe
Mayahuel
Paesanos
Mulvaney's B&L
Seasons 52
Pheasant Club
Red Rabbit Kitchen & Bar
Frasinetti's Winery & Restaurant
Sacramento provides many opportunities for group dining. It can sometimes be hard to find a good spot for a medium or large group, but the Sacramento restaurants below are here to help.
Learn More