Bike Trails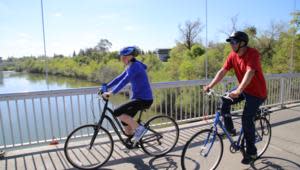 One of the best ways to see the beauty of the Sacramento region is by bike. More than 32 miles of paved bike trail along the scenic American River Parkway in Sacramento highlight the city's cycling amenities. Hop on the trail at many different points and ride along the American river, or rent a bike in Old Sacramento and take it for an urban spin - Sacramento has added multiple bike lanes in the past few years, including green-painted bicycling zones on Capitol Mall.
When you visit Sacramento, renting a bike is easy. Many hotels actually have bicycles for guests to reserve when they visit. Check with your hotel to see if they offer this service. If they do not, no need to worry. Bike rentals are easily arranged in Sacramento. Here are some of our partners who offer bike rentals in Sacramento.
Families love Sacramento. Affordable hotels and restaurants give a top-quality experience while the outdoor recreation opportunities let everyone put down the phones, iPads and other devices to enjoy spending time together and making new memories.
Learn More