Outdoor Event Venues & Green Spaces
For Attendees to Meet and Explore
Bring your meeting or conference to a destination that can not only offer your attendees exceptional indoor convention facilities, but great outdoor opportunities found in Sacramento. Known as the "City of Trees," Sacramento provides unique open-air event settings, green spaces, parks, patio dining, and much more.
Outdoor Amenities at SAFE Credit Union Convention Center
There's a lot of exciting things Sacramento can offer your next meeting or event—especially with the completion and opening of our much-anticipated, newly upgraded and expanded SAFE Credit Union Convention Center. 
The state-of-the-art facility features 240,000 square feet of programmable indoor spaces and stunning new open-air additions for attendees to take full advantage of Sacramento's ideal weather—including a 15,000-square-foot outdoor activities plaza and a second-level, open-air terrace to take in the city's downtown skyline.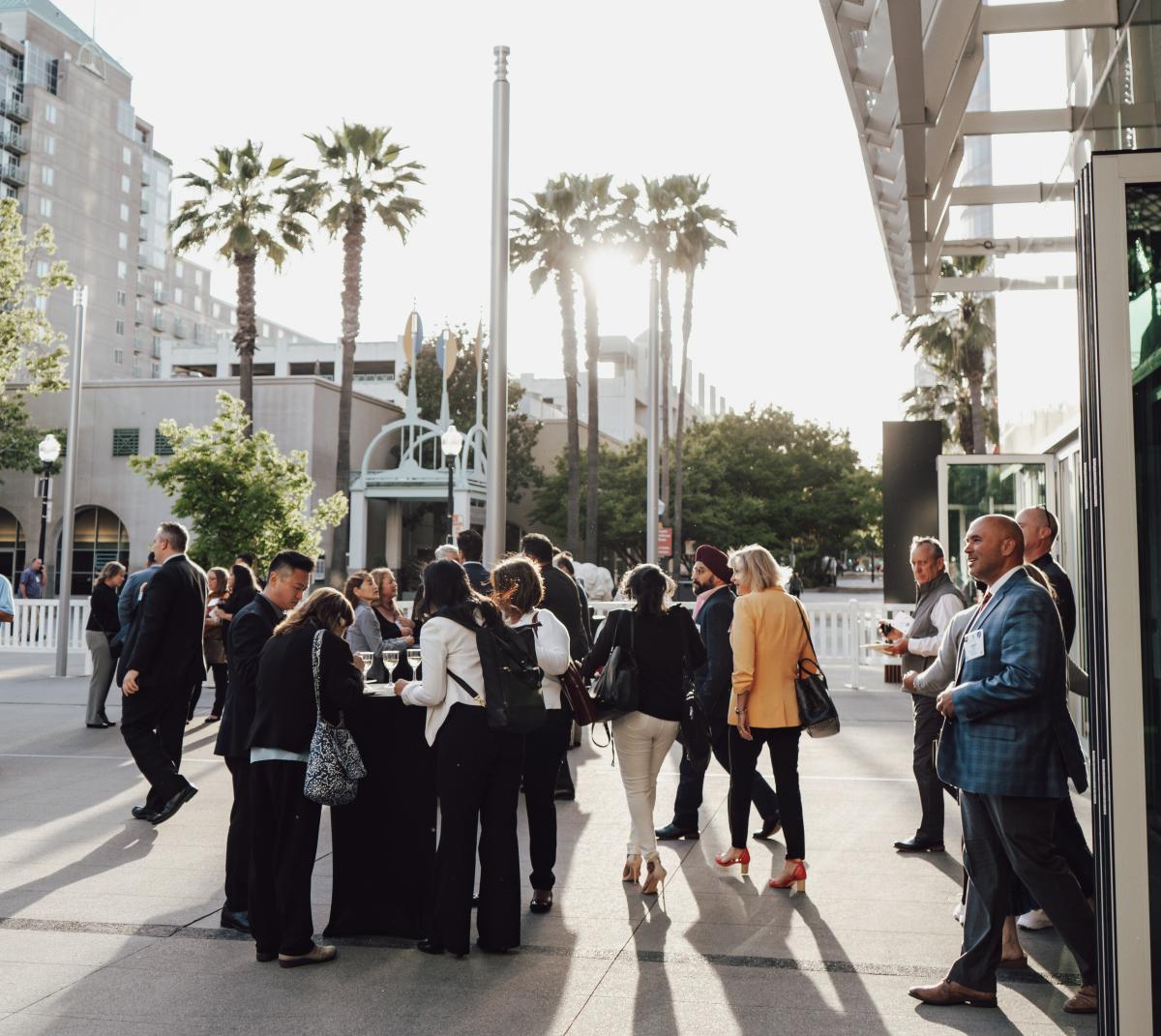 Unique Venues With Open-Air Option
From a booming ballpark to a monstrous outdoor arena to the wildlife at the Zoo, you'll find that some of Sacramento's most unique venues can also offer your attendees open-air settings in multiple meeting and event spaces.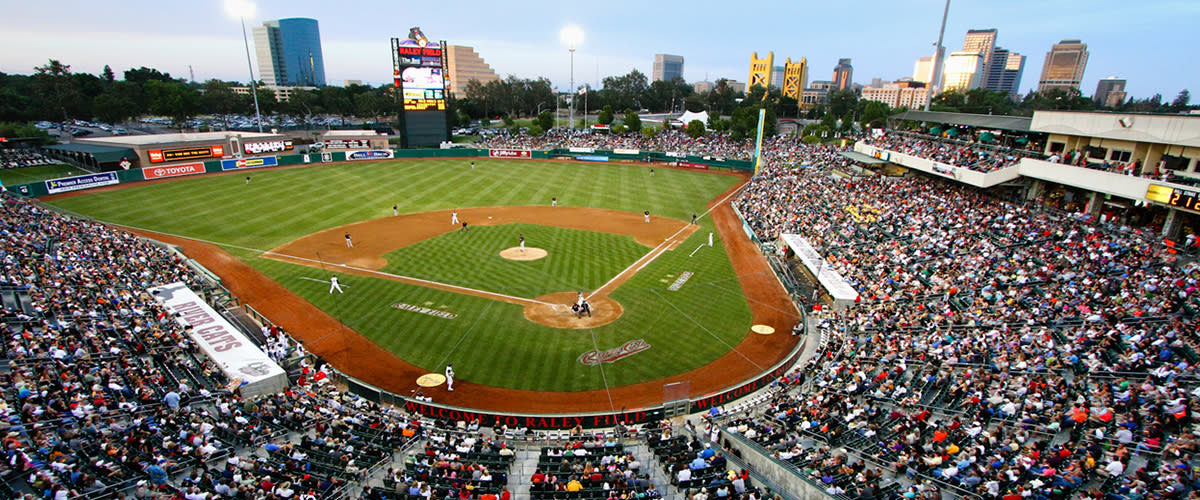 Sutter Health Park is more than just a ballpark. The facility is a unique and premier venue with multiple outdoor options available year-round for your next meeting or event. Sutter Health Park's outdoor spaces include:
The Beer Garden. Located along the left field line, this space provides the perfect spot for events of up to 500 guests. It has both daytime and nightlife appeal with a view of the baseball field and downtown Sacramento.
Sactown Smokehouse. This spacious tented area near the Bogle Winery and the Sutter Health Gardens can hold up to 500 people and offers a variety of flexible layout options.
The Tito's Handmade Vodka Solon Club. This upper-level space in the ballpark can accommodate up to 150 people and features a picturesque view of the field and an exclusive bar—making it the ideal spot for a small group cocktail party or reception.
Ace Hardware Home Run Terrace. The multi-leveled area behind left field includes ample grass, covered seating, and an open cement pad that can host up to 120 attendees.
Pacifico Porch. The newly revamped Pacifico Porch is a multi-leveled space that can hold an event for up to 80 people in a fun, relaxed setting with a great view of the field.
Field Level. Hosting an event on the field is an opportunity of a lifetime and can make your attendees feel just like the pros.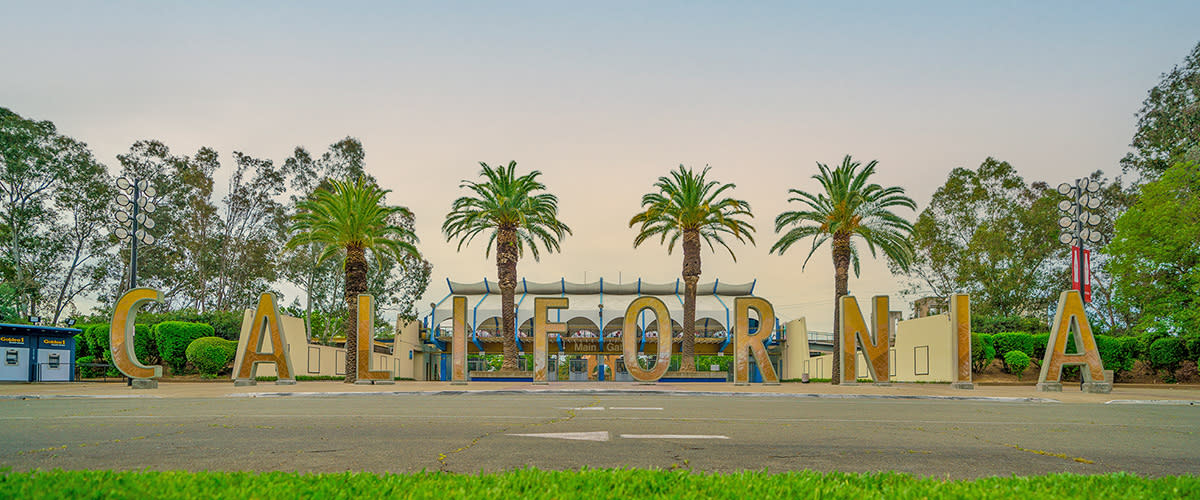 Located less than five miles from downtown Sacramento in the Arden Arcade area, Cal Expo is a 350-acre, multi-faceted, indoor-outdoor venue in Point West Marketplace. Whether your event is for 1,000 people or 10,000, Cal Expo offers a wide range of outdoor event options, including:
The Cove. The 4,100-square-foot venue features a shaded seating area, a covered stage and can accommodate up to 3,400 people in any seating arrangement. Non-permanent seating offers an adaptability that's virtually unlimited, while the shade structure creates a comfortable atmosphere most any time of year.
Miller Lite Grandstand. This highly versatile facility can accommodate up to 22,000 people and offers a distinctly different atmosphere in a unique and convenient outdoor environment for concerts, meetings and banquets.
Show Arena. Available year-round, the Show Arena measures 120' W by 260' L and can seat up to 4,000 comfortably for all sorts of unique events.
The Farm. A beautiful location for outdoor activities and events, The Farm is 3.5 acres on the Cal Expo grounds and features an outdoor kitchen, bleacher seating, and additional picnic tables under a shaded structure.
Wine Garden. This unique and versatile outdoor space is perfect for smaller group gatherings, receptions, company events, and more. Wine Garden also features a patio area ideal for fitting tables and chairs.
The Multipurpose Stadium. The venue seats approximately 12,000 people and is designed to be a facility that can attract a wide array of international sporting and entertainment events, including festivals, concerts, and more.
Lot 26/Lot A. Lot 26 is a large 12-acre, paved and fenced-in open space easily accessible from the highway for special events and gatherings.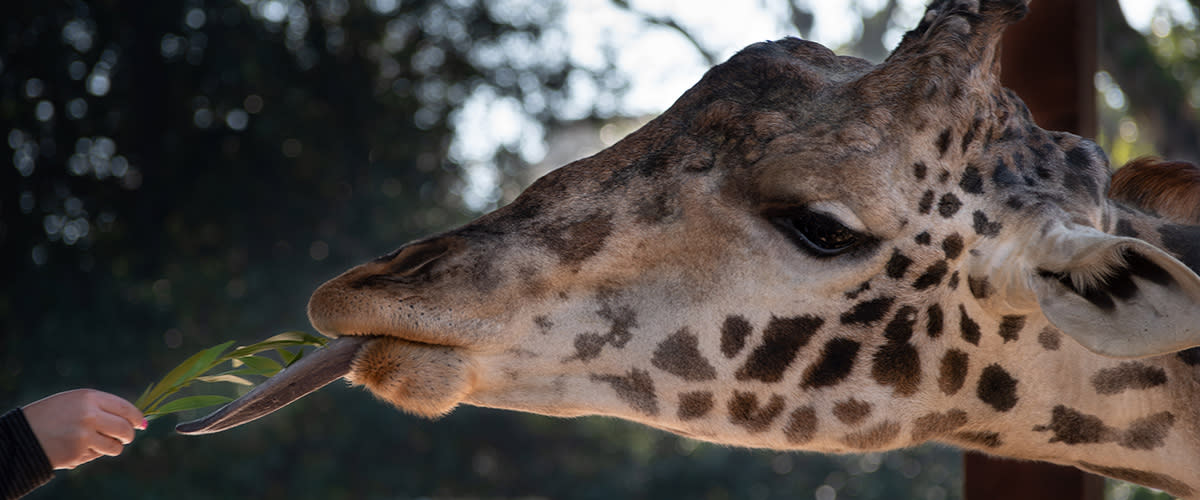 Centrally located in the middle of picturesque Land Park near downtown, the Sacramento Zoo is one of the region's most unique and memorable event venues. Choose from different outdoor areas available for group bookings—small and large—including:
Amphitheater. With open seating and a stage, the amphitheater is great for corporate events and can hold up to 200 attendees.
Flamingo Lake Patio. This open-air patio alongside the flamingos makes an excellent location for receptions and events—providing sweeping views of the lake and can hold up to 225 people.
Lemur Lawn. With space for up to 25 people, this quaint location surrounded by lemurs and chimpanzees is perfect for a smaller group event.
Redwood Grove. Nestled under native redwoods, this site provides a unique gathering spot for up to 80 attendees.
Rare Feline Courtyard. Set among the lions and jaguars, your attendees can enjoy watching the animals in this lush, intimate setting that holds up to 50 people.
Reptile House Lawn. Across from the lake and surrounded by giant heritage oak trees, the lawn is a perfect place to hold a large gathering of up to 300 people.
Vet Hospital Lawn. The well-shaded, lush venue nestled next to the giraffes offers a cozy space for up to 60 people.
Tall Wonders of Africa & Giraffe Deck. Able to accommodate up to 50 attendees, the Tall Wonders of Africa viewing deck gives your guests a chance to be eye to eye with the giraffes in a setting ideal for smaller groups or events.
Outdoor Venues Just Outside of the City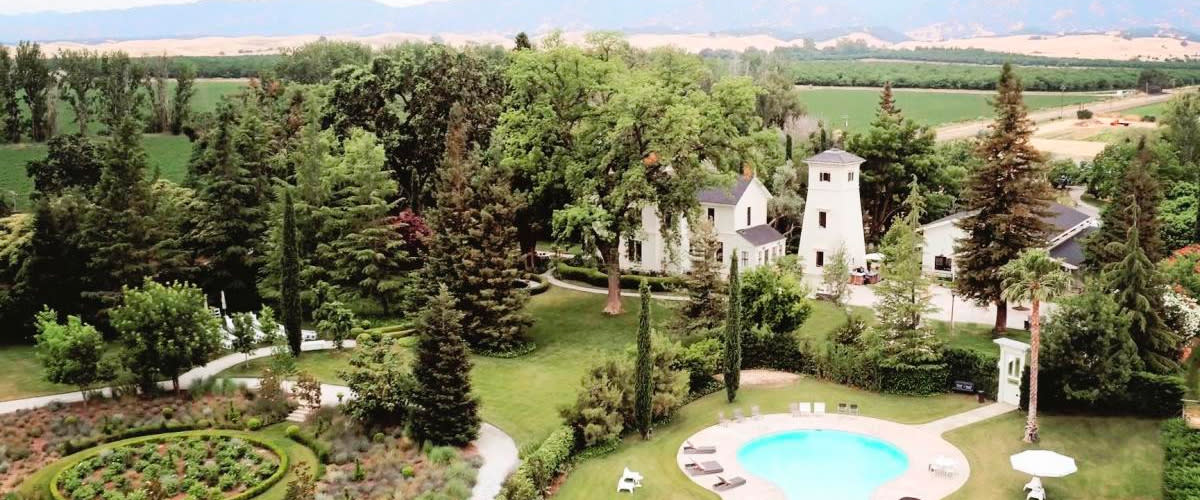 Park Winters is a private estate set amidst the rich farmland of Yolo County just 40 minutes outside of downtown Sacramento. This one-of-a-kind place is ideal for hosting corporate retreats, all-day meetings, or any type of special event. The venue features unique outdoor meeting spaces, including: 
A 5,000-square-foot modern event barn with an open layout and courtyard
Lush gardens and vast open lawns for team building and open-air gatherings 
An elegant outdoor pool area for hosting receptions or events, day or night
Outdoor dining experiences, garden and farm tours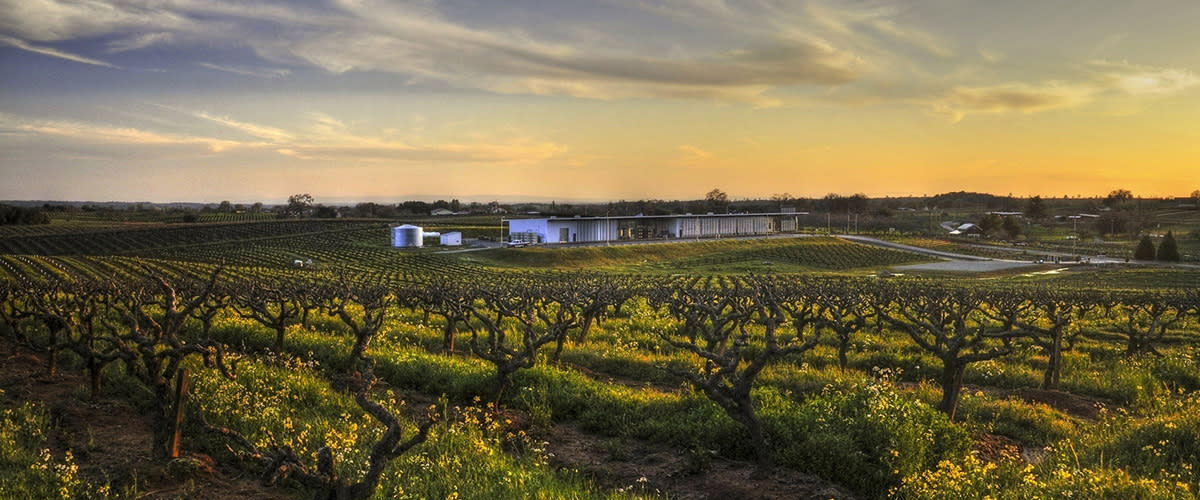 This modern boutique winery less than an hour's drive from downtown Sacramento features 25 acres of some of the finest vineyards in the Sierra Foothills, making it an ideal open-air setting for hosting an off-site outing or retreat-style corporate event. The newly built Private Event Venue offers outdoor accommodations that can hold up to 125 people using patio and lawn areas.
Green Spaces Galore: City Parks & Outdoor Attractions
Sacramento's more than 250 days of sunshine every year means it is the ideal meeting destination for your attendees to get outside and enjoy open-air accommodations and activities among the plethora of green spaces and parks throughout our city.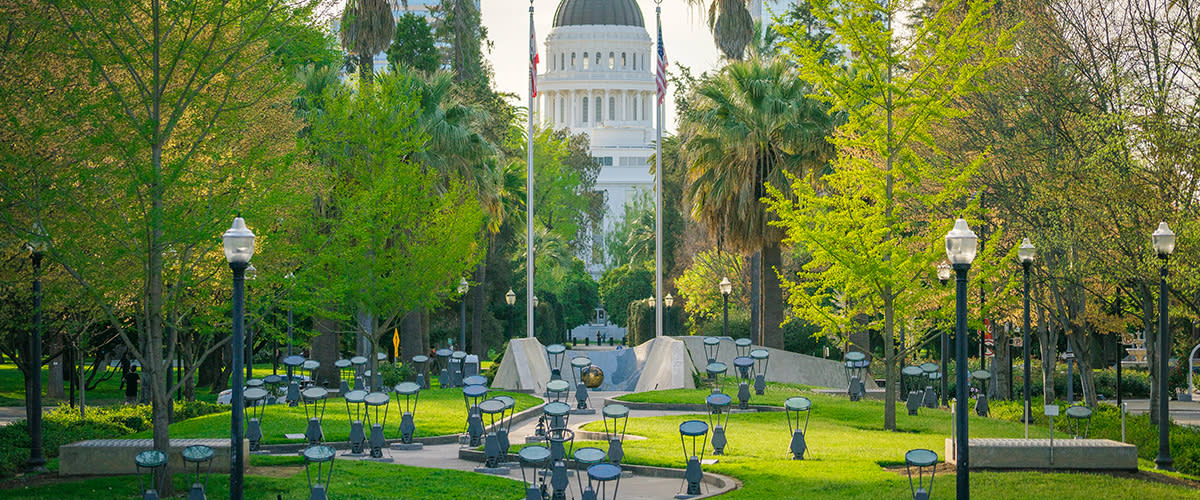 The 40-acre Capitol Park is an outdoor oasis in the city's downtown core. Surrounding the State Capitol are trees and flowers from all over the world, memorials and tributes, and the spectacular International World Peace Rose Garden featuring 650 roses of 150-plus varieties. Capitol Park is perfect for meeting attendees to get some fresh air in between sessions, host a small group off-site outing, or even enjoy a quick bite to eat on the grounds from one of the many nearby restaurants offering takeout options.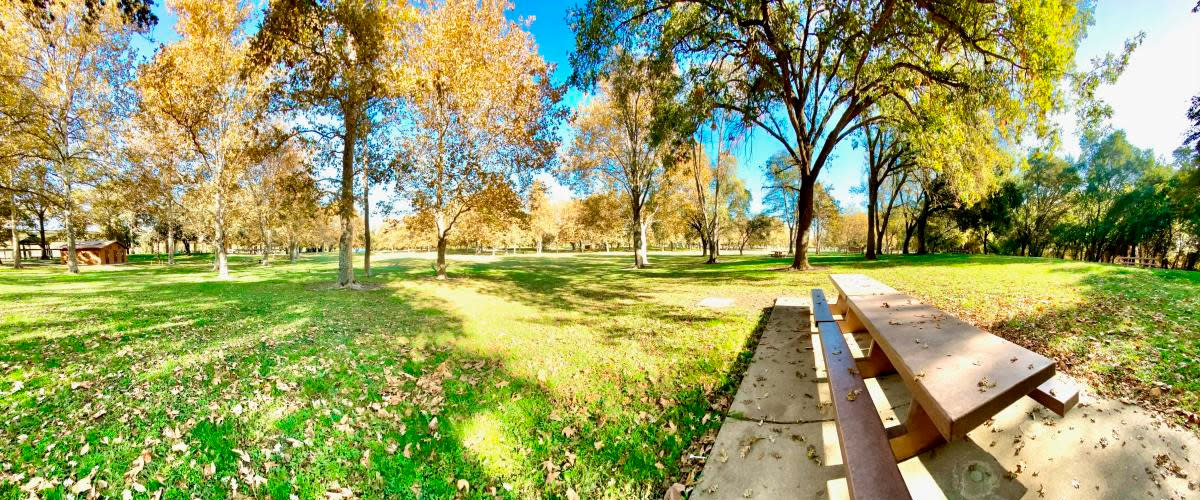 Just under three miles from downtown Sacramento in the Natomas neighborhood, you'll find one of the region's largest green spaces. Discovery Park (a portion of American River Parkway) is a 275-acre urban park at the confluence of the Sacramento and American rivers. This green space provides your attendees with year-round activities and ideal areas for group picnics, team building, and more.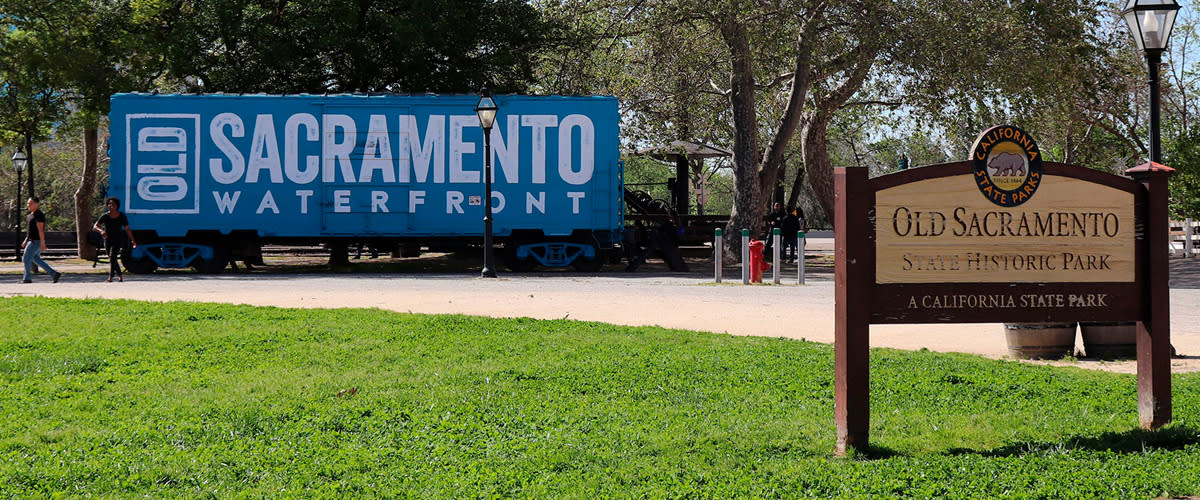 Your attendees can meet and explore when pairing the outdoors with event space at Old Sacramento Waterfront. This 28-acre National Historic Landmark District and State Historic Park offers historic attractions for groups to see and explore. The California State Railroad Museum, located on the grounds, provides a unique meeting and event space with the 1849 Scene, a large outdoor lawn area with a paved perimeter surrounded by historic buildings.
 
Other Green Space Options Throughout Sacramento's Neighborhoods Include:
And More!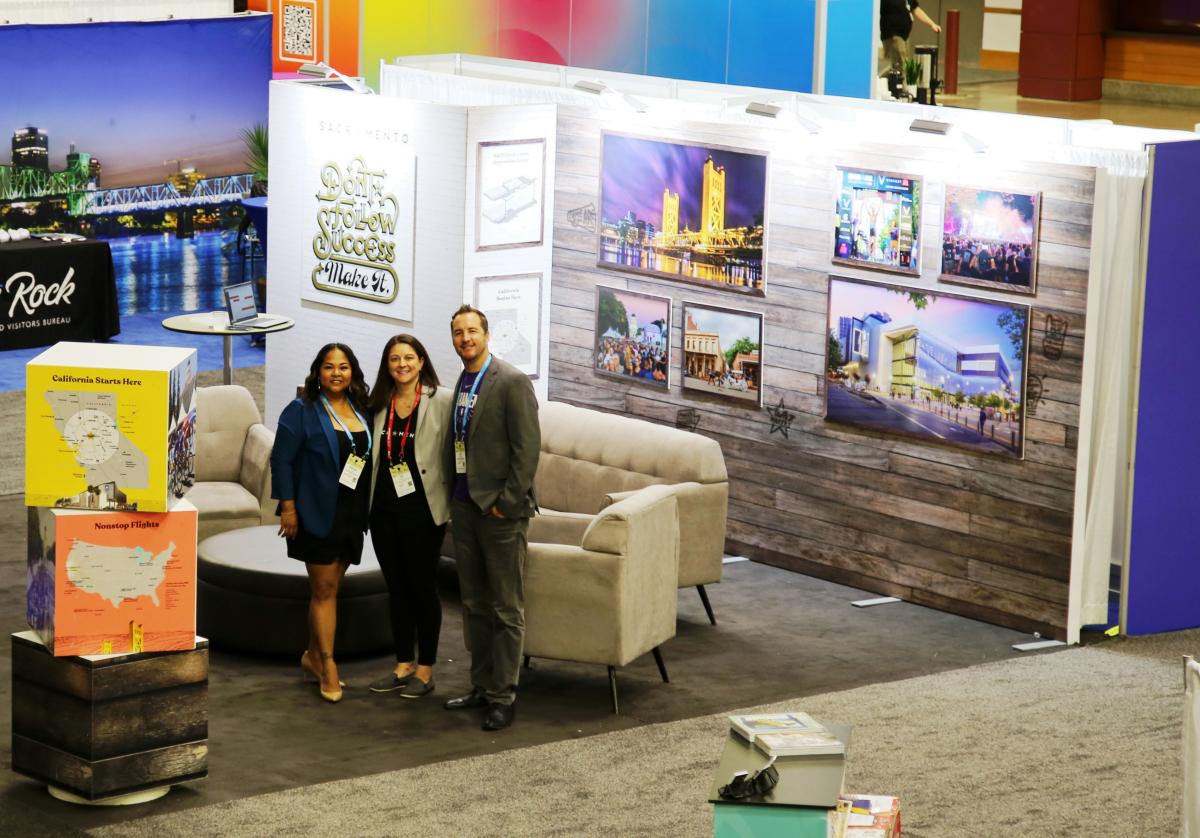 Go Above and Beyond for Your Meeting
Sacramento is a meeting destination unlike any other that pairs outdoor event venue options with modern convention facility capabilities—encompassed in our unique and diverse neighborhoods. Our team at Visit Sacramento is here to help you find the perfect open-air event setting and plan a memorable meeting experience for your attendees.