Restaurants across the Sacramento region received some much-deserved praise this morning as the celebrated Michelin Guide – considered by many to be the arbiter of fine dining – released its updated California guide that included many local favorites and some new additions. Recognition from the guide is welcome news to many local restaurants that continue to struggle in the wake of the pandemic.
Sacramento's The Kitchen retained its Michelin Star in the 2021 guide, which was first awarded in 2019. After doling out three Bib Gourmands and 12 Michelin Plates to restaurants in and immediately around the city in 2019, Michelin has expanded its focus in its 2021 iteration, as nearby Roseville's Nixtaco and the Sacramento neighborhood of Natomas' Yue Huang received Bib Gourmands. Sacramento favorites Canon and Frank Fat's maintained Bib Gourmands from 2019.
"Being listed on the Michelin Guide is a big honor in and of itself," said Chef Patricio Wise, owner of Nixtaco. "A Bib Gourmand in my mind (even though I never expected one) is the highest accolade a restaurant of our kind can receive, so saying we're 'very happy' with it is an understatement. We will display it proudly in order to remind ourselves of the standards we need to keep to on a daily basis."
He added that the uptick in business after news broke of the Bib Gourmand award was considerable, and he had to stop doing takeout and switch to recommending reservations for dine-in.
"It's hard for me to see people waiting out the door, because we don't have room for them," Wise said. "It makes me happy, though, to see that people are happy to wait. We're looking at ways to remedy this and adjust our systems in order to better serve our guests."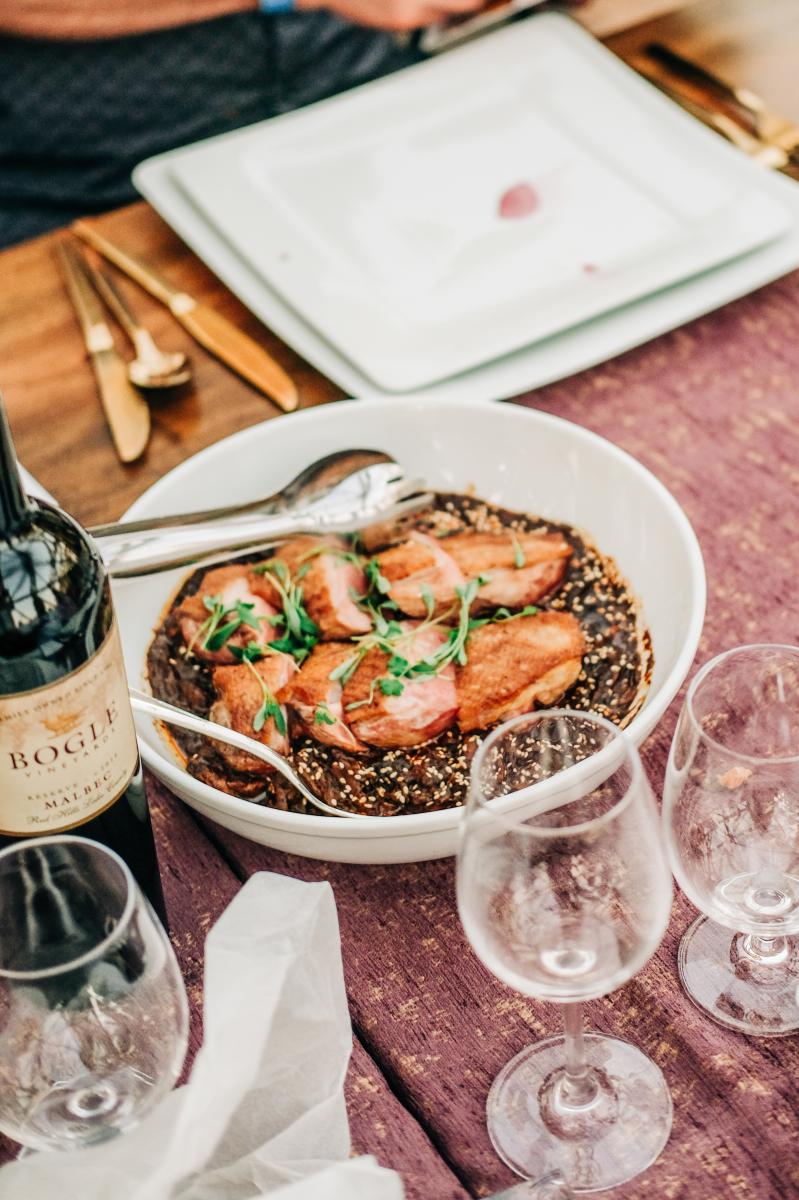 Duck Mole from Chef Patricio Wise of Nixtaco served at the 2021 Tower Bridge Dinner. Photo by Francisco Chavira
Wise added that he thinks what clinched the Bib Gourmand for Nixtaco was offering a menu that works well for a quick meal or a longer sit-down meal, and also at a price that's attractive.
"We're not fine dining, but we're also not 'cheap tacos,' and I believe that we meet that criteria perfectly," he said. "We're very proud of our food offerings and simply very happy to have out efforts recognized."
Michelin altered its designation for Michelin Plates – now referring to restaurants as "Recommended by Michelin," and Sacramento's Camden Spit & Larder and Beast and Bounty both receiving new recommendations in the 2021 guide. Allora, Bacon & Butter, Binchoyaki, Ella Dining Room and Bar, Grange Restaurant and Bar, Localis, Mulvaney's B&L and Zócalo remained recommended from 2019
In the days of Yelp, Google reviews and targeted social media ads, getting recognition from Michelin still matters. After the announcement last week that Yue Huang in Natomas and Nixtaco in Roseville made the cut for Bib Gourmand designations, it was suddenly much harder to get a table.
In 2019, when the Michelin Guide first added Sacramento to the four existing American cities in which it had a presence, Canon was one of three restaurants in the city to receive the Bib Gourmand.
Two years on, Chef Brad Cecchi said it still matters.
"For us, initially, it was a definite good boost in business, especially heading into the slower summer and fall months," Cecchi said. "Since then, it's really helped us in hiring staff and training to maintain those quality standards, and we are seeing a lot of out-of-town guests coming in – especially ones who are coming in to see a show at Golden 1 Center or are heading to wine country. It's had nothing but positive impacts for us."
To those who received Michelin designations this time around, Cecchi had this to say:
"Congratulations – it's really a validation of hard work. When you have things like the Michelin Guide, you're being judged by people and an organization that are experts in this field, so to get a validation from them is an honor, and it puts you in a club that people recognize all over the world."
Reflecting on 2019, Cecchi said there was one thing he'd hoped to see recognized more than has been – what a big deal it is for Sacramento to be included in the Michelin Guide as a city and region.
"I don't know that it was as celebrated so have Sacramento even there as it should have been," he said. "As we see this evolve and grow, I hope that it's a little more celebrated by our local community, because it really reflects the achievements of a lot of chefs."