Sacramento is excited to welcome athletes and their families from all around the world as they set out to break their best on our favorite Ironman course yet. Athletes will get to see some of the best Sacramento sites on their swim, bike, and run, but there's so much more to see and do while they and their families are here. We highly suggest taking some time to explore our beautiful city in one of the following ways.
American River Parkway - The American River Parkway takes you from Discovery Park into the city of Folsom, the one of Johnny Cash fame. The parkway meanders through parks and natural habitats as it follows the American River on a paved, wide two-lane roadway. It's perfect for bike riding, jogging or a walk through the natural habitat. 
Self-Guided Walking Mural Tour –With over 700 murals, and more being added every year, it shouldn't surprise you to find yourself surrounded by vibrant color and awe-inspiring masterpieces while exploring our city. From murals spanning several stories of buildings to ones on dumpsters and power boxes, Sacramento has proven that it is a city of art and creation, not only to be enjoyed by locals, but all who come and visit. And speaking of Johnny Cash, have you seen the 15-story mural of him on the side of the Residence Inn? If not, you won't want to miss it.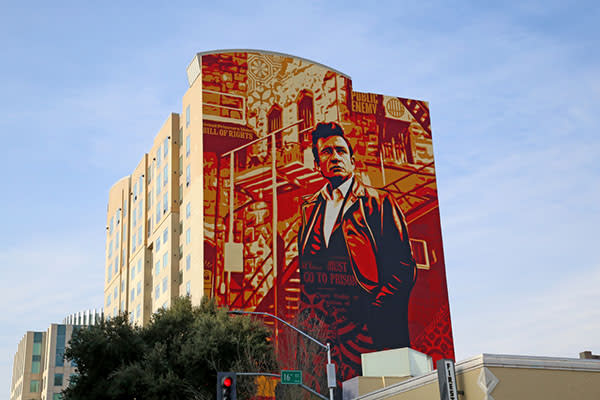 Sutter's Fort - It's probably no surprise that standing as the oldest restored fort in the United States, Sutter's Fort is both a California and a National Historic landmark. When you step inside, you'll instantly be transported back to 1846 to experience the hustle and bustle of early Sacramento settlers. Don't be surprised to interact with people from the past, and if you're lucky, you'll also be able to watch the firing of a reproduction of John Sutter's Russian cannon. Remember to check out the carpenter shop, the bakery, the blacksmith shop and one of our favorites, Patty Reed's doll.
California State Railroad Museum – The California State Railroad Museum houses 21 restored locomotives and cars and even more exhibits. Climb aboard the re-created railroad dining car, complete with tables set with China. Don't forget to check out the freight depot located outside for more railroad artifacts. Your visit won't be complete until you hop aboard the California State Railroad Museum's Track or Treat Train Ride along the scenic Sacramento River. After the 50-minute delightful, not frightful, ride, you can enjoy games, activities, and Halloween goodies at the Passenger station.
Old Sacramento Waterfront - It's no secret that Sacramento has a rich settlement history, and nothing screams that more than historic architecture, wooden sidewalks, cobblestone streets and horse-drawn carriages. Stop into one of the many shops for old-time photos, candy and other special treats.  Take a stroll along the waterfront and see historic water vessels like the Delta King and River City Queen as well as beautiful views of Tower Bridge. Don't forget to give your belly a whirl on the Waterfront Wheel or channel your inner child on the Front Street Carousel.
Capitol Park - Most likely one of the greatest collections in the world, Capitol Park is home to more than 200 species of plant life from nearly every part of the globe.  Covering 40 acres and spanning 12 city blocks, there's no doubt you'll enjoy the diversity this beautiful tree-topia has to offer, including one Coastal Redwood that had a grand adventure orbiting space. In 1971, Apollo 14 brought Sacramento's "Moon Tree" into space before it was planted in Capitol Park. If that doesn't tingle your inner arborist nerd, perhaps the World Peace Rose Garden is more up your alley. Either way, a walk around Capitol Park will definitely make you feel one with nature.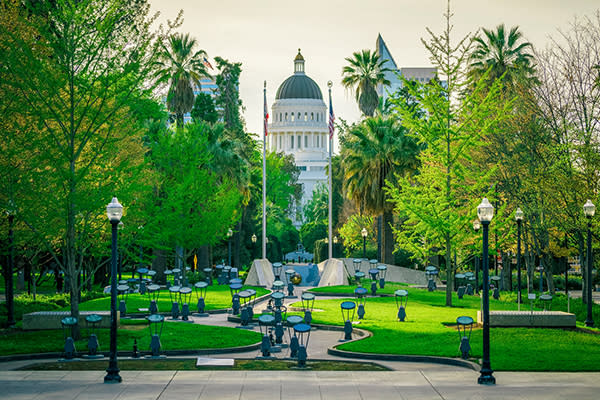 Foodie Explosion - One thing we know for sure is that Sacramento is good at food. We are America's Farm-to-Fork Capital, after all. From low-key mom-and-pop shops to high-class fine dining, sprinkled with a diverse range of flavors, we know your inner foodie will giggle with joy. Stop in at Alaro for some Spanish-style tapas and modern pub favorites. Have you ever heard of a French taco? You can try one at Brasserie du Monde. How about a little Chinese cuisine from Frank Fat's? Whatever your tummy might be rumbling for, we guarantee you'll find it in Sacramento, and you won't be disappointed. Check out more restaurants.
Coffee Bars - If you want to start your day off right or require a mid-day pick-me-up or you just want to escape reality for a bit with a good cup of joe, there are several local coffee bars to explore around the city that will pretty much knock your socks off. Try a macchiato at Temple Coffee Roasters, The matcha latte at Old Soul Co., an iced white mocha at Chocolate Fish Coffee Roasters or a cappuccino from Pachamama. No matter your choice, there's one thing for sure, coffee makes life and Sacramento better.
DOCO - Downtown Commons, or DOCO for short, is a hub for community activity and hosts hundreds of events year-round. Located adjacent to Golden 1 Center, it is a one-stop shop for dining, playing, and a little retail therapy. You'll find plenty of restaurants serving fantastic farm-to-fork meals as well as local shops to pick up that perfect souvenir for your loved one.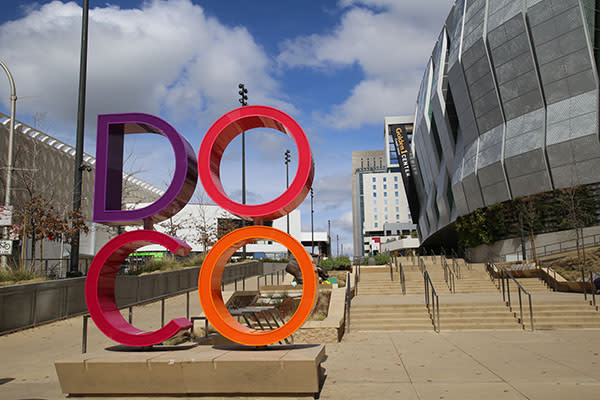 Enchambered Escape Room – Recently voted Sacramento's number 1 escape room, Enchambered creates real-life escape games where teams are locked into custom-built environments with many mysteries and puzzles that are both challenging and entertaining to solve. With a variety of themes and difficulties, your team will definitely appreciate the attention to detail that designers took from a crazy idea and turned into a reality. Either way, everyone will enjoy the escape Enchambered provides.
Underground Tour – Join the Sacramento History Museum on its Underground Tour, where you'll explore hollow sidewalks, sloped alleyways and learn how Sacramento got "jacked up" to avoid further flooding. For those adults with an interest in the, shall we say, "more scandalous side of Sacramento," check out the Underground After Hours tour. You won't be disappointed.
California Automobile Museum – Stroll through 72,000 square feet of classic cars, race cars, muscle cars and early model cars all showcased under beautiful lighting and eye-catching displays. Be sure to check out the 1938 Buick Sedan, which was the first auto to be donated to the museum.
Arden Fair Mall – Originally built as a single-level outdoor mall, this now two-story indoor mall consists of over 1 million square feet of retail space with premier shopping in stores like Macy's JC Penney, Apple, Michael Kors and more. Hungry? Arden Fair's excellent selection of restaurants and eateries that include BJ's Brewhouse, Gen Korean BBQ, Seasons 5, The Cheesecake Factory and more are located nearby on the exterior of the center. Nothing beats a little retail therapy and a good meal!