Dust off your boots and grab your favorite cowboy hat because Sacramento's GoldenSky Country Music Festival is back Oct. 14-15, with headliners like Eric Chruch, Jon Pardi, Maren Morris, Parker McCollum and more. From getting to the festival and finding a place to stay, to exploring all that Sacramento has to offer, here's our guide to making your GoldenSky Country Music Festival experience one to remember.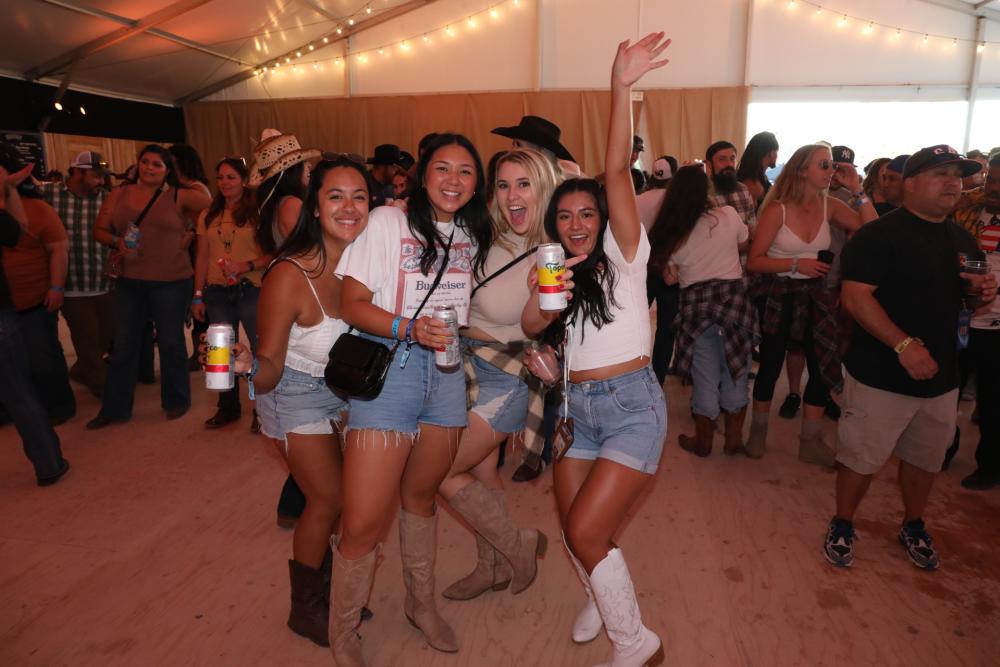 Image Courtesy of: Kevin Graft
First things first, let's talk through festival logistics:
No Tickets? No Problem: With just a limited amount of time left before the festival, there are still two-day GA passes available for purchase. You won't want to miss out on the fun, so don't wait too much longer to snag your tickets at GoldenSkyFestival.com.
Getting to the Festival: There are two entrances festival attendees can use to get into Discovery Park: one from the north at Garden Highway or one from the south at Jibboom Street. GoldenSky advises festival attendees utilize rideshare services, take advantage of the free SacRT rides, or purchase a Park and Ride Shuttle pass, which will allow them to park at Cal Expo and shuttle over to Discovery Park. For more information about getting to GoldenSky, visit goldenskyfestival.com/gettinghere/. 
Finding a Place to Stay: If you're looking for a place to rest your head after a day of dancing to your favorite bands, book a stay at a Sacramento hotel. For a full list of hotels near the festival grounds, visit www.visitsacramento.com/hotels/.
Image Courtesy of: Kevin Graft
Now that you have your festival game plan figured out, it's time to make sure your festival experience here in Sacramento is one to remember.
Grab a Cocktail
There's no better way to get ready for GoldenSky than grabbing drinks with your fellow festival-going friends. Revival at the Kimpton Sawyer is an iconic Downtown Sacramento rooftop bar featuring delicious cocktails and small bites. They're even hosting an official GoldenSky kick-off party on Friday, Oct. 13, featuring live music, a performance from GoldenSky Rising Star Battle of the Bands finalist Patrick Walsh, a ticket and merch booth, Brick and Brim Hat Co. pop-up shop, cocktails, and more. Other great happy hour spots worth checking out include Public House Downtown, Juju Kitchen and Cocktails, 7th Street Standard, Smic's Bar Sacramento, Roscoe's Bar & Burgers, and more.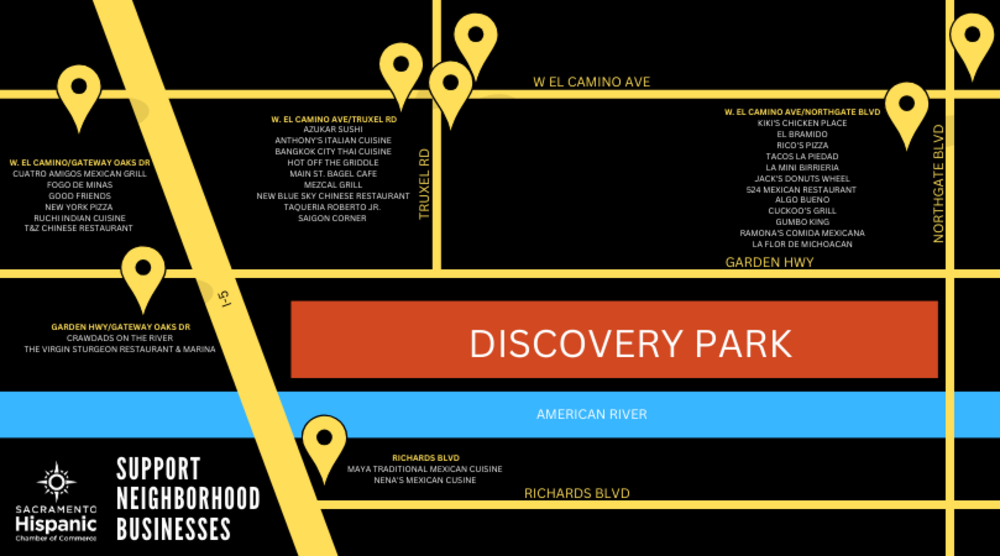 Map Created by: Sacramento Hispanic Chamber of Commerce
Grab a Bite to Eat Before
You don't have to worry about getting hungry during GoldenSky when you're in America's Farm-to-Fork Capital. Downtown Sacramento offers a wide variety of restaurants such as Mayahuel, Tank House BBQ & Bar, Mikuni, and more. If you're looking for food options closer to Discovery Park, be sure to check out Crawdads on the River for fresh seafood or Algo Bueno along Northgate Blvd. for Mexican food. You can also check out this map from the Sacramento Hispanic Chamber of Commerce of restaurants around the festival.
If you're running late for the festival, not to worry. Whether you're in the mood for tacos, wood-fired pizza, or barbeque, there will be plenty of delicious local food trucks to eat at inside the festival grounds.

Explore Sacramento Before the Festival
If you have some time to spare before the festival Saturday morning, Midtown's Second Saturday is a great way to familiarize yourself with all Sacramento has to offer. This all-day celebration features a farmers market, pop-up art installations and art markets, gallery tours, live music, food and drink specials at nearby restaurants, nightlife, dance and entertainment, and more.
For more information, read our Ultimate Guide to Second Saturday in Midtown Sacramento.
Get in the GoldenSky Spirit with some New Western Wear
You can't go to GoldenSky without boots and a hat! Los Vaqueros Western Wear on Franklin Blvd. has everything you could possibly need for GoldenSky from cowboy boots to western wear, custom-shaped hats, denim, belts, and more. If you have a certain festival outfit in mind, Folsom's Rancher Hat Bar allows you to design and create your own custom cowboy hat.
Explore Sacramento Nightlife After the Festival
The fun doesn't have to stop once the festival is over. Keep the good vibes going by checking out some of Sacramento's nightlife spots. Put the line dancing skills you learned at GoldenSky's River City Saloon & Dance Hall to the test at Goldfield Trading Post in Midtown or Stoney's Rockin' Rodeo on Del Paso Blvd. Other happening spots Downtown include Darling Aviary or Coin-Op Game Room on K Street, and The Golden Bear and LowBrau in Midtown.
Cure Your Hangover with a Cup of Joe or Brunch
"Pardi" a little too hard last night? There are plenty of brunch spots here in Sacramento that are sure to have you feeling sunny side up in no time. Tower Café is a Sacramento staple, with award-winning sweet and savory brunch options. If brunch isn't cutting it and you need even more of a pick-me-up, be sure to check out Sacramento coffee shops like Temple Coffee Roasters, Pachamama, and Old Soul. Co.
Read our full post-festival recovery guide HERE.