Whether it's spring break, the heat of summer or the beginning of fall, it's never a bad time to treat yourself to an ice cream in Sacramento.
In America's Farm-to-Fork Capital, it's not just the produce that tastes so good – our local creameries provide the freshest ingredients to make ice cream, with everything from the classic parlors that come with a heaping scoop of nostalgia to new twists on the classic treat.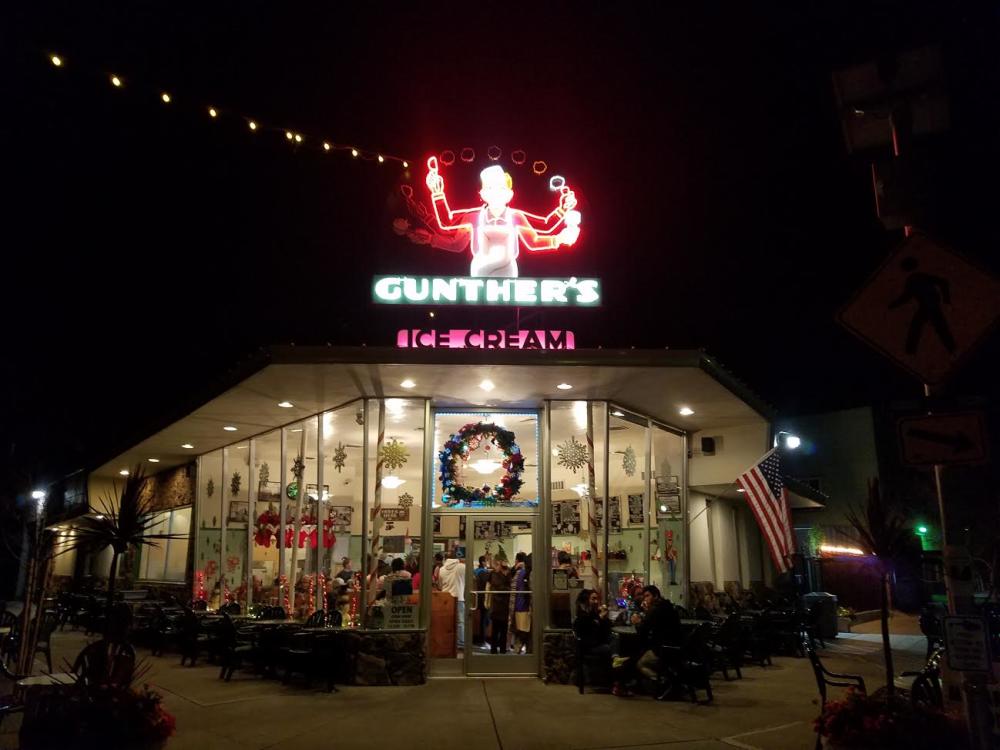 The Classic Parlors
When it comes to the classic ice cream parlors, two in Sacramento stand out – Gunther's and Vic's. Both located just south of the central city, they've long split locals into two camps, and if you ask around, you're likely to hear some pretty compelling arguments as to why each one of them is best. Our suggestion? Try them both.
Gunther's, located at 2801 Franklin Blvd., is easily recognizable by the neon sign showing the ice cream man tossing a scoop into a cone. Lines, especially in summer, can stretch well out the door, but the service is quick, and it's always worth the wait. The Gunther family opened the shop in 1940, and managed to keep it going through the rationing during World War II, and emerged in the postwar era as a family favorite, manufacturing their ice cream on-site. The current owner, Rick Klopp, began working at the shop in 1969, and he and his wife Marlena continue to stick to the basic idea of serving quality ice cream based on the original family recipes. While the nostalgic experience is still to get the ice cream in the classic parlor setting, Gunther's sells its ice cream to 60 other businesses in the Sacramento region.
Vic's, at 3199 Riverside Blvd., was founded in 1947 and has more than 20 flavors of ice cream complemented by espresso drinks, milkshakes and more, including sandwiches and other food items. Try the cherry amaretto, or keep it simple with a classic flavor, or even spice it up with something like a hot fudge sundae.
Another classic Sacramento ice cream parlor is Leatherby's, which "Papa Dave" opened in 1982. Multiple locations around the Sacramento area have since opened and serve a wide variety of ice cream, sundaes, floats and sodas as well as food.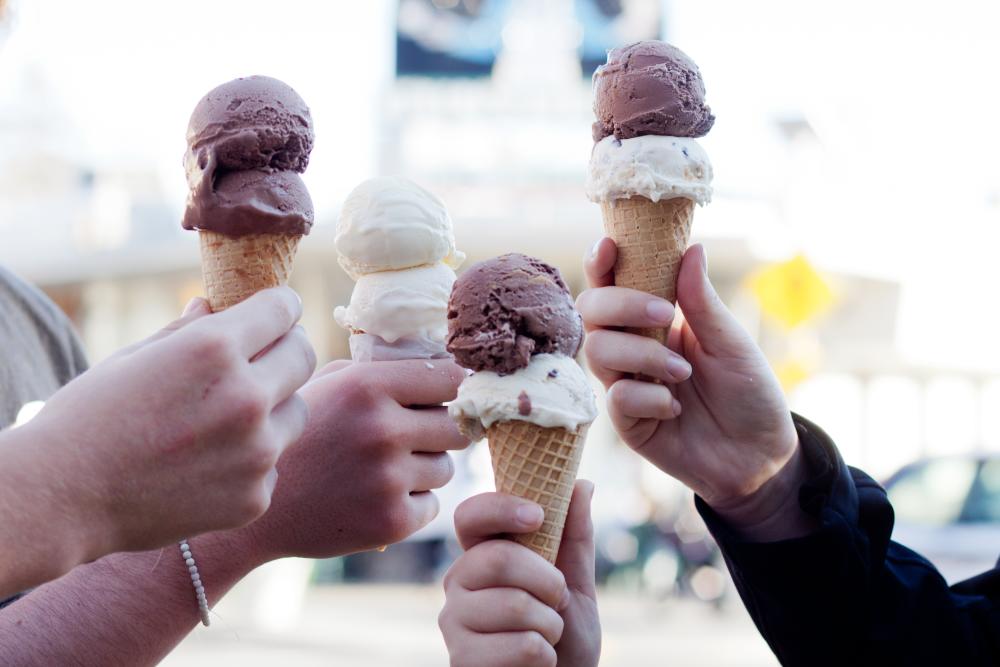 Fresh Takes on a Favorite Treat
Ice cream might be a timeless classic, but there's no shortage of ways to enjoy it. Yume Gelato, at 5921 Folsom Blvd., makes the classic Italian style with the flavors you'd expect, but also branches out with unique takes on the classics such as the fat Elvis (banana gelato with crunchy peanut butter and chocolate chips), hojicha (Japanese roasted green tea), coffee brownie with dulce de leche, and more.
Another place to try for something you might not have seen before is The Parlor, located at 2620 Fair Oaks Blvd. While you can get "just" a scoop of ice cream here, the place is best known for something a bit more decadent – the ice cream puff, which is ice cream served inside a hot donut. And if that's not quite enough, you can opt for the works: a triple-scoop milkshake topped with a hot Nutella-filled donut, whipped cream and all the toppings you want.
Sacramento's R Street Corridor is one of the most popular places to hang out in the city, and one of the attractions there is the Portland, Ore.-based Salt and Straw in Ice Blocks area. Loaded with unique flavors, it's a popular spot, but the line moves fast.
One dessert that's gained popularity in the United States over the past decade or so is the French macaron – two thin almond meringue cookies with a grenache filling. Now, Ginger Elizabeth Chocolates, on L Street between 18th and 19th streets, is a local dessert favorite, and the macaron is always popular. Imagine a scaled-up macaron where the filling is replaced with ice cream, and you've got one of Ginger Elizabeth's creations that you just can't miss, especially in summer. Salty caramel is probably the most popular, but the other flavors are just as tasty.
For the dairy-free crowd, most of the previously mentioned ice cream places have sorbets or something else to fit that need, but Conscious Creamery is an entirely dairy-free gelateria, with most of their gelato made from cashew milk. Located at 3400 Broadway, it's just a short distance from the central city.
Another great dairy-free spot, with multiple locations around Sacramento, is Burger Patch, which serves vegan house-made shakes in a variety of flavors, from vanilla bean to strawberry and cookie crumble.
If you're in the central city, another favorite for the vegan and gluten-free crowd is Babes Ice Cream and Donuts, located at 2417 J St. With a monthly donut flavor that complements the wide range of ice cream and other baked goods, Babes is a great spot, even if you're not on a plant-based diet.
No talk of desserts in Sacramento would be complete without mentioning one of the most popular, storied places in the city: Rick's Dessert Diner. Open since 1986, it was previously located on K Street, but moved to its current location at 2401 J St. a few years back. While most 1950s-themed diners feature burgers and hot dogs, at Rick's, the display cases and tables are full of a mix of cakes, tarts, pies, pastries, cheesecakes and more. And yes, there are gluten-free options. It's open until 11 p.m., so if you're looking for that last stop before heading back to your hotel, Rick's has you covered.