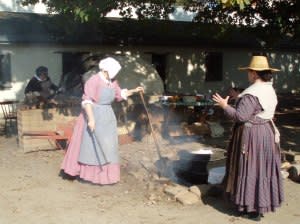 When you are arranging your Sacramento group tour, we know that you are looking for deep, unique experiences for your groups. You want to give them experiences that go beyond regular tourism experiences. From special, hands-on tours to special treatment at Sacramento accommodations, our Tourism team is here to help you give these extraordinary experiences to your groups. When your group leaves Sacramento, we want them to leave with stories and memories and experiences that stick with them for a lifetime. For the next several months, we will be highlighting some of these experiences we can provide exclusively to travel professionals bringing groups to Sacramento. See Also: Exclusive Experiences for Your Group #1: Checking In 
Our second experience involves a classic Sacramento attraction – Sutter's Fort. Sutter's Fort does an amazing job accommodating groups of all types. From student tours to adult groups, there is a unique experience available for all.
Sutter's Fort Pioneer Dinner has been a huge hit with several of our groups. The dinner is a 3-hour private program inside the historic fort. The dinner includes: buffet Pioneer Dinner, cannon demonstration, music, dancing, lasso lessons, prairie-style cooking, rope making, historic fur trapping, rag doll making, weaving and more. The cost is $55 per person with a 30 person minimum.
A Sutter's Fort experience is also a major part of Sacramento student tours. Linda Eldred, our Student Tourism Sales Manager recently had a client whose son was going on his 4th grade field trip.  She was able to call representatives at the fort and asked if they could do something special for his group. They provided a "mountain man" type character who gave the group a musket demonstration, talked about animal trapping and other pioneer hunting techniques. The kids were really excited to hear his presentation and asked a lot of questions.  They loved when he fired the musket. 
The fort provides a unique learning experience for the students, who may have only experienced the fort through their textbooks. Visiting the fort is a real-life experience that provides them a hands-on experience to elevate the learning process. One student told Linda, "We've been reading about Sutter's Fort all year.  It's so much better to be here than to read about it in our books!"
Finally, Sutter's Fort is often able to provide several "VIP" services for your group to elevate their visit. The staff at the fort will try to customize a groups experience by providing education relevant to a specific curriculum as requested by a teacher or tour operator.  They are also often willing to accommodate a group's needs by trying to make any special requests happen. To work Sutter's Fort into your group's itinerary, email the Tourism team.