An entirely local team of distinguished chefs will lead the 2023 Tower Bridge Dinner fundraiser on Sunday, Sept. 10, marking the 10th anniversary of Visit Sacramento's event that has grown to become one of the most popular culinary experiences in the region and beyond.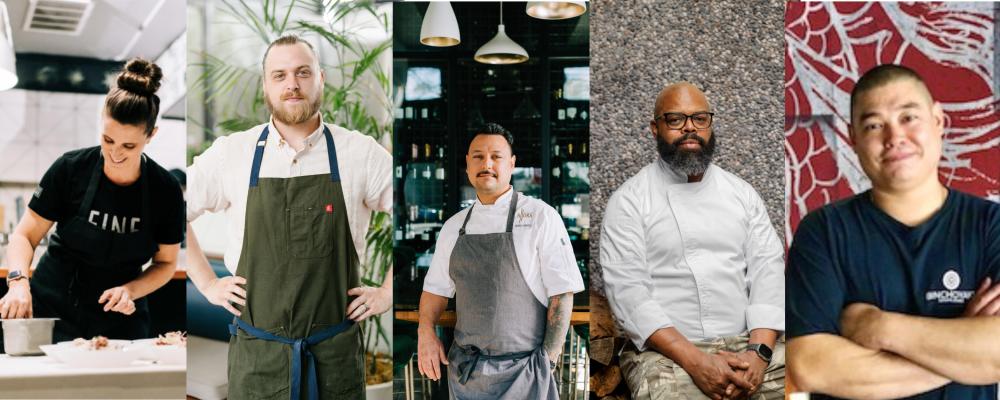 Chefs Pictured from Left to Right
2023 Tower Bridge Dinner Lead Chefs
"When we first imagined hosting a farm-to-fork dinner for hundreds on Tower Bridge, we knew instantly that it would be something special," said Visit Sacramento President & CEO Mike Testa. "Ten years later, we're thrilled to continue this tradition of showcasing the best of our region in such an unexpected and unforgettable way."
Continuing its decade-long history, the 2023 Tower Bridge Dinner will be fueled by local ingredients in partnership with regional farms, ranches, purveyors, wineries, distilleries and more. The event was originally designed in 2013 to further establish Sacramento as a top culinary destination, and to provide the region's chefs and farmers with the opportunity to collaborate and share their talents with more than 800 diners in a single evening.
This nationally recognized event serves as a fundraiser, with the majority of ticket sales coming from corporate sponsorships.  Sponsorship funds help Visit Sacramento put on its Farm-to-Fork-Festival, which draws thousands of people for a two-day celebration every year. The Tower Bridge Dinner also funds a series of scholarships for CAMP students at Sacramento State, who are the children of migrant farmworkers.
PUBLIC TICKETS: Registration for the random drawing for the chance to purchase two tickets to the 2023 dinner will begin on July 6, 2023. Visit farmtofork.com for details on how to enter the random drawing.
More information about the lead chef team can be found at farmtofork.com.