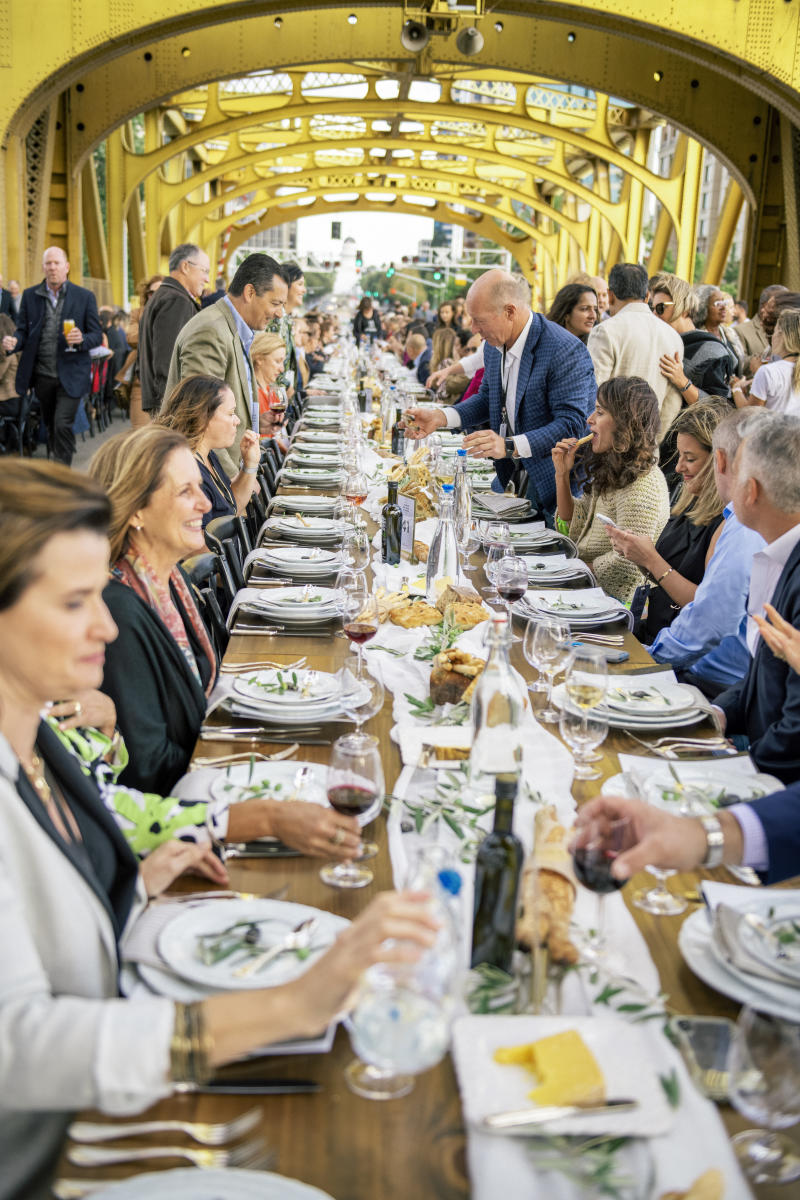 An entirely local team of distinguished chefs will lead the return of Visit Sacramento's Tower Bridge Dinner fundraiser this year, with UC Davis Health Executive Chef Santa Diaz spearheading the group. Diaz has led a program for the health system that is changing the face of hospital food, prioritizing local ingredients and diverse options for both patients and staff. This team of chefs was first selected to lead the 2020 Tower Bridge Dinner until the event had to be canceled due to COVID-19.
Listen to an interview with Diaz to learn more about his efforts at UC Davis Health and what it takes to lead the chef team for the Tower Bridge Dinner below, on this week's episode of the Visit Sacramento Podcast.
Listen to "Tower Bridge Dinner Lead Chef Santana Diaz of UC Davis Health Shares Details of the Event" on Spreaker.
In addition to Chef Diaz, the lead team are:
Continuing its eight year history, the 2021 Tower Bridge Dinner will be fueled by local ingredients in partnership with regional farms, ranches, purveyors, wineries, distilleries and more. The event was originally designed in 2013 to further establish Sacramento as a top culinary destination, and to provide the region's chefs and farmers with the opportunity to collaborate and share their talents with more than 800 diners in a single evening. Public ticket information for the 2021 dinner will be released July 15 at farmtofork.com.
"We're incredibly excited about the experience that will come from this year's lead chef team, especially after such a challenging year," said Visit Sacramento President & CEO Mike Testa. "And to have inspiration coming from Chef Diaz and the UC Davis Health team in a time when our health is such a top priority is especially poignant. I think this year's event will be one of the most unique that we've ever had."
This nationally recognized event serves as a fundraiser, with the majority of ticket sales coming from corporate sponsorships. New this year, table sponsors will be asked to join Visit Sacramento in prioritizing diversity, equity and inclusion – including when selecting their Tower Bridge Dinner table guests. Beyond an exciting dining experience, the Tower Bridge Dinner has also become a springboard for partnerships and mentorships – an opportunity Visit Sacramento believes Sacramento's diverse community should be a stronger part of.
"We're incredibly proud of the collaborations that have come from the Tower Bridge Dinner, whether between farmers and restauranteurs, local and national chefs or even corporate sponsors and individual guests," said Visit Sacramento Chief of Diversity, Equity & Inclusion Sonya Bradley. "But the fact remains that the dinner's attendee list has not historically been very diverse. And that just has to change. Our table sponsors are in an important position. By joining Visit Sacramento in prioritizing guests who have previously been underrepresented, and who could potentially benefit from the relationships that can come from this one evening, our sponsors can help us make the Tower Bridge Dinner an event that is truly reflective of Sacramento itself."
The Tower Bridge Dinner table sponsorships help to ensure that Visit Sacramento's September Farm-to-Fork Festival remains admission free – an event that attracted more than 155,000 people in 2019. Sponsorship also funds a series of scholarships for CAMP students at Sacramento State, who are the children of migrant farmworkers.
More information about the lead chef team can be found at farmtofork.com.