Boo! Did we scare you? Spooky season is coming up fast, and Sacramento's whispers of forgotten tales, eerie encounters, and restless spirits are around every corner. As the sun dips below the horizon, the city's enigmatic underbelly emerges, inviting those with a taste for the supernatural to explore its haunted history. We were treated to a spine-tingling good time with US Ghost Adventures on their Sacramento Ghosts: Gunslingers and Ghouls tour and got to experience firsthand the places, the people, and the haunted stories that make up our city.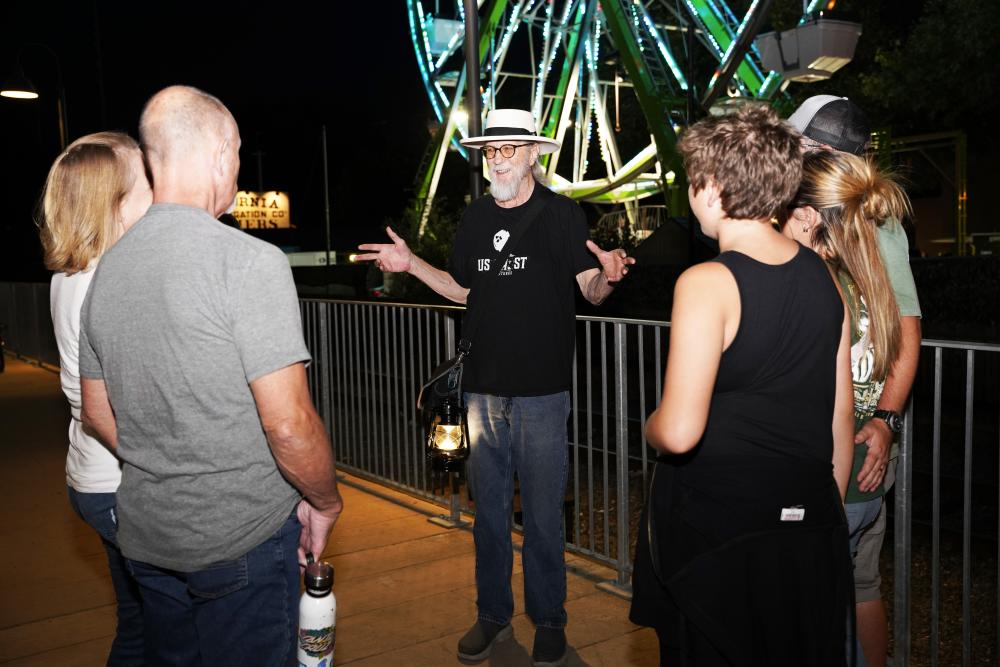 We met our tour guide, Rusty at the Old Sacramento Waterfront just before 8 p.m. He was hard to miss, as he was wearing a Sacramento Ghost T-shirt and had a satchel and lantern strapped to him. After chatting with Rusty for a few minutes, we were convinced that we were about to embark on an amazing tour. Rusty's enthusiasm for recounting the city's past was hard to overlook. He was just the right guide to not only share the stories of famous and not-so-famous spirits said to be roaming around our city today but also to share some history of Sacramento as well.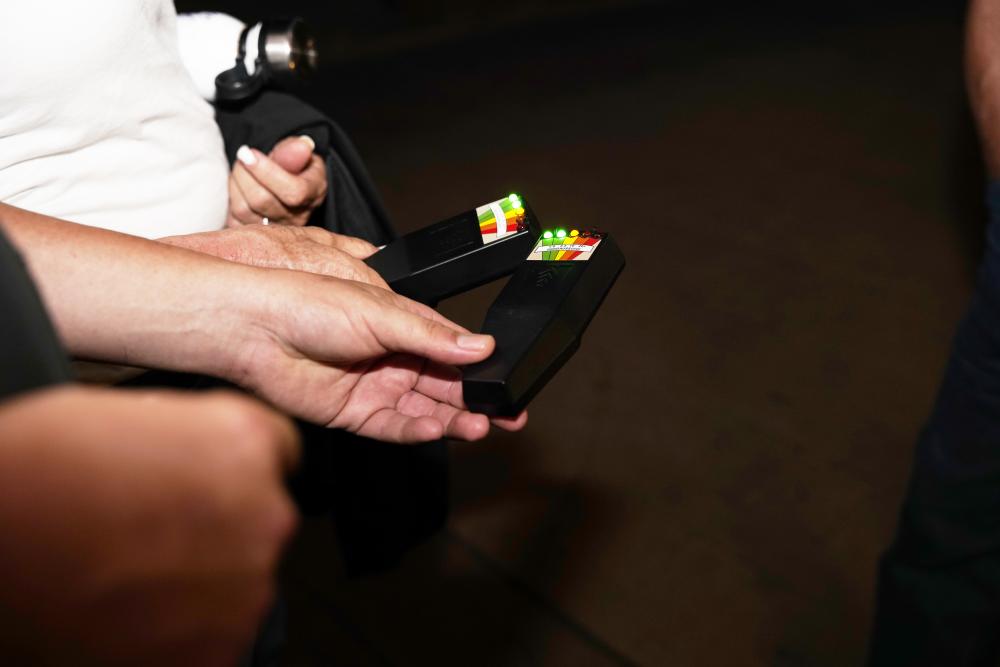 Our group being small, with only seven people, made for an intimate experience and allowed us to share our experiences and knowledge with each other.  Each of us had an Electromagnetic field (EMF) detector, which paranormal experts believe is a valuable tool that helps to identify spirits with a spike in the magnetic field.  Our EMF detector lit up way more than we expected, but after hearing some of the stories of the ghosts that haunt Sacramento, it wasn't a surprise to see those lights flicker across the detector repeatedly as we walked from site to site.
We stopped off at The Delta King, The Sacramento History Museum, Eagle Theatre, Last Stop Saloon, and a few other places and learned about the ghosts who have presented themselves to visitors and locals alike. We heard stories about John Sutter, Sam Brannan, and Nathanial Dingley, who is rumored to have tapped into the city's steam line to give power to his business as well as to his home that was above it while he was still alive. It is said that, to this day, he haunts the tenants that now live in his home by turning the lights off randomly. There were many more stories of the past that were shared that opened our eyes to just how haunted Sacramento is. How haunted, you ask? You'll have to ask Rusty. He has quite the knowledge base of many of the ghosts that roam Sacramento.
US Ghost Adventures expanded its presence to Sacramento in 2022, yet its reputation for delivering premium nighttime ghost experiences across the nation traces back to 2018. With a footprint spanning 80 diverse cities, the addition of Sacramento to their list was an obvious choice. This decision was fueled by the city's rich history, abundance of haunted locales, and numerous firsthand accounts of supernatural encounters.
If you want something to help ring in the spooky season, we highly recommend that the Sacramento Ghosts: Gunslingers and Ghouls tour is at the top of your list. Whether you're a rookie in the realm of the unexplained or a seasoned ghost enthusiast and hunter, US Ghost Adventures has got you covered while they guide you through history, unravel facts, delve into tragedies, and introduce you to haunted Sacramento. No matter where your beliefs lie regarding ghosts and spirits, you are in for an authentic historical experience with a heavy dose of the paranormal.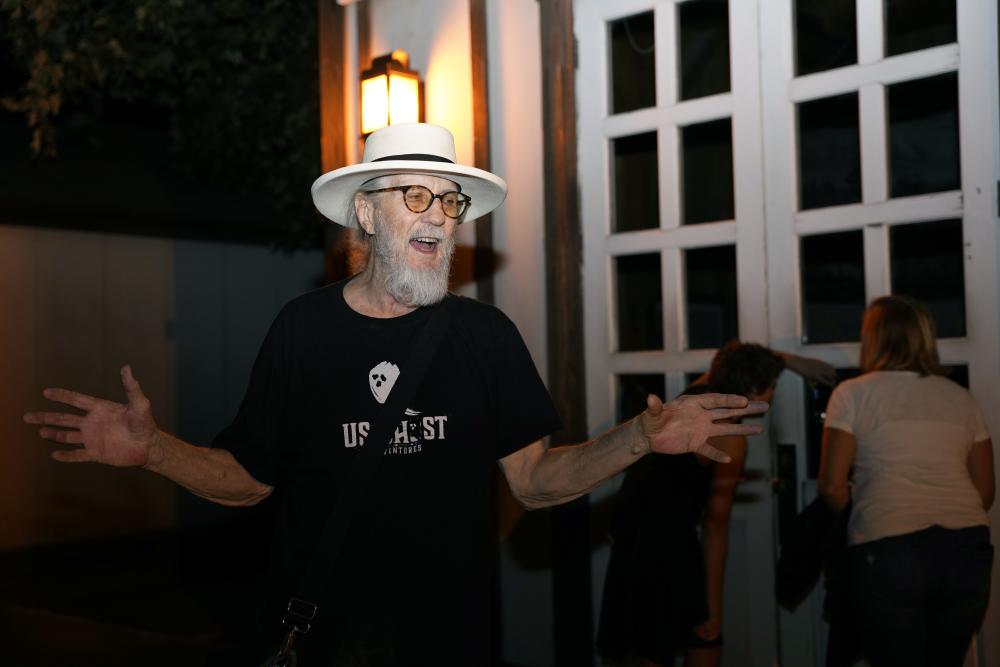 Know Before You Go
This tour spans approximately one mile and guides guests through the Old Sacramento Waterfront and the historic heart of the city. Beginning after nightfall, guests should be prepared for varying terrain, making sturdy walking shoes and a flashlight a good idea. In cooler months, consider bringing a sweatshirt for added comfort. While the website initially said a one-hour duration for the tour, our experience extended closer to 1.5 hours, which helped us get our fill of paranormal intrigue. For an extra dose of supernatural excitement, consider bringing your EMF activity detector. If you don't have one, worry not – you can rent one when booking your tour. It's worth noting that the tour is neither physically demanding nor exclusive; it's accessible for all, including those with limited mobility.
Want More?
If you are dying for more ghostly encounters (see what we did there?), US Ghost Adventures offers the option to book an extended tour, promising additional haunted places and captivating stories of Sacramento. For those seeking the flexibility of self-guided exploration, their ghost tours are also available on the Junket app, granting you the freedom to embark on one of their countless ghostly journeys virtually, whenever and wherever you desire.
And if you're still hungry for more eerie tales, US Ghost Adventures has you covered on multiple fronts. You can immerse yourself in their stories through Alexa, ensuring a hauntingly good time at your convenience. Plus, be on the lookout for the upcoming release of a new volume in their book series, "America's Most Haunted," set to arrive this spooky season and ready to transport you into a world of supernatural intrigue.