When in Midtown Sacramento looking west toward downtown, it's nearly impossible to miss the 15-story mural of famed country singer-songwriter Johnny Cash on the L Street side of the Residence Inn Sacramento Downtown Capitol Park. The mural, by famed graphic artist and activist Shepard Fairey, was one of several added to Sacramento's buildings during the 2018 Wide Open Walls festival. Why was Sacramento chosen as the home to the Cash mural? Because of the ties Cash has to nearby Folsom. And if you're a Cash fan, there's more where that came from. 
Just a 20-mile drive from downtown Sacramento is a hidden gem honoring the late Johnny Cash. In 1968, Cash visited Folsom State Prison, where he recorded his album Live At Folsom Prison with the song Folsom Prison Blues topping the charts and proving to be pivotal in launching his music career. Cash's visit to Folsom and subsequent career success served as inspiration for the development of the Johnny Cash Trail, a 2.5-mile multi-use trail that links a series of existing trails and serves as a route for a public art walk that commemorates the man in black.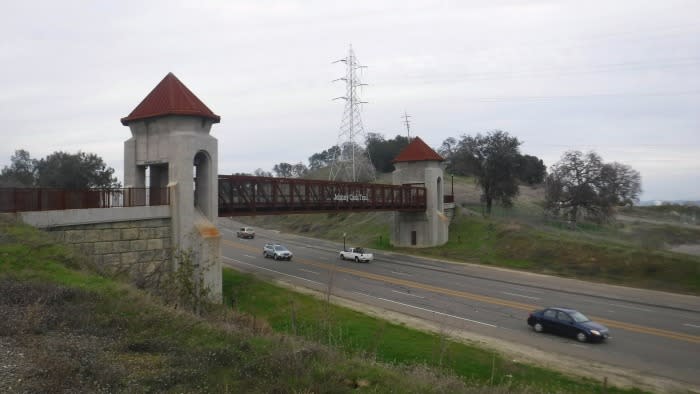 I recently took my kids out to Folsom for a day on the trail to "walk the line." Still a work in progress, the Johnny Cash Trail will be an interactive art trail honoring the late Cash with several pieces of artwork yet to be installed. Currently visitors can see the Johnny Cash Bridge, reminiscent of the East Gates of the prison. Plans for the project also include a 3-acre park with an amphitheater. While currently there are only landmarks dictating where the art will go, some of the art that is planned includes Ring of Fire, Cash's Pick and Man in Black. 
To access the trail, you can begin at the Folsom Historic District and follow it up to Folsom Lake Crossing.We began our walk at the Folsom Zoo Sanctuary, ventured through the Folsom park and hopped along the trail from there. We walked along the trail that had views of the historic prison - still a working prison but with a museum for visitors -  Folsom Lake, and some beautiful grasslands. My kids suggested that next time we explore the trail on bikes and do a longer loop. But the nice walk with plenty of space for walkers and bikers was the perfect experience for our first time. We had a great day and plan to visit again soon.