Before experiencing the flavors of Sacramento's Farm-to-Fork Festival, experience the ease and convenience of train travel along the way. With convenient schedules, no middle seats and free Wi-Fi, Amtrak will get you to Sacramento relaxed and ready to enjoy all of the festivities. And with the train being 46 percent more energy-efficient than the car, you can travel green, save some green and eat your greens too!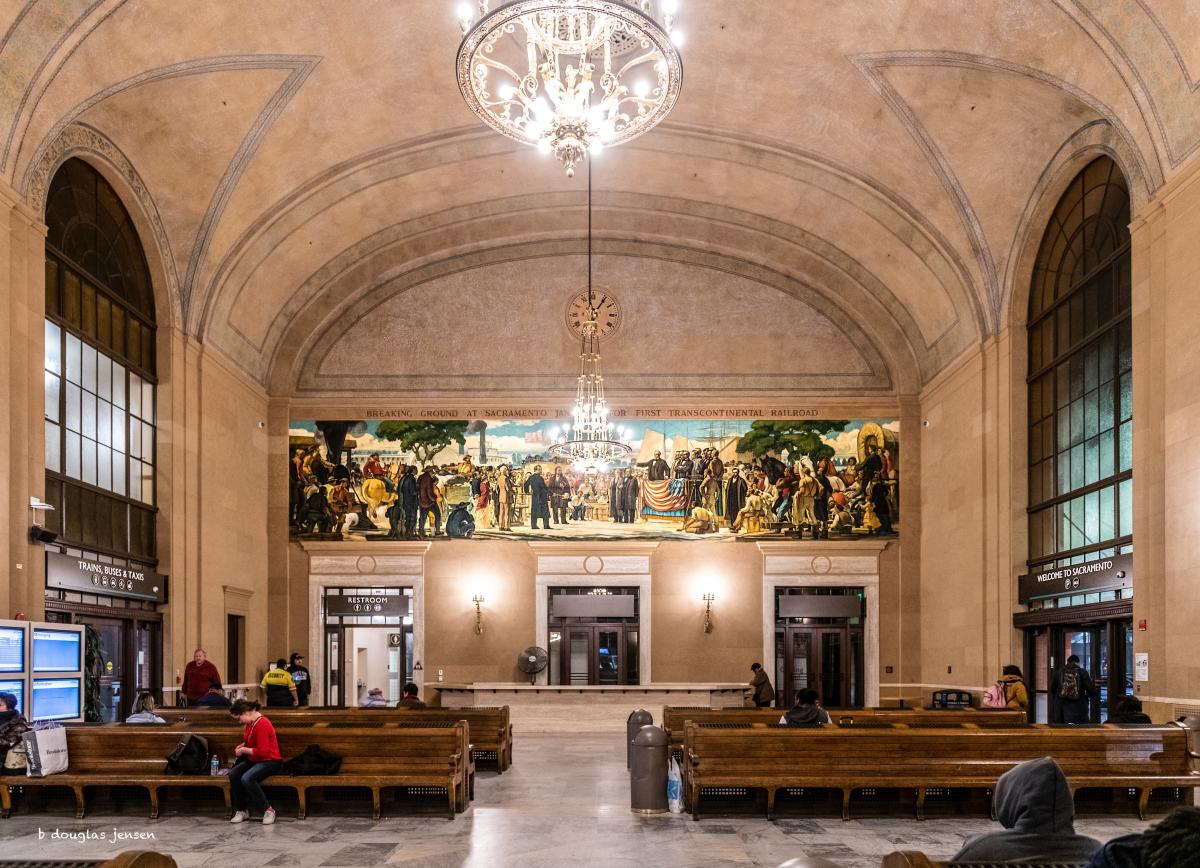 Sacramento Valley Station image courtesy Amtrak.
Capitol Corridor
The Capitol Corridor train route, which is managed locally in Northern California but operated by Amtrak, will whisk you past congested freeways to California's capital city! The 170-mile route travels between San Jose and Sacramento, stopping at 18 stations, including Santa Clara, Oakland, Berkeley, and Davis.

The views outside and the onboard amenities will make your journey almost as enjoyable as the destination. Unwind in spacious seating areas; grab a drink or bite to eat in the Café Car; and take advantage of free Wi-Fi service, available on all trains.
Coming from San Francisco? No problem! There is a dedicated bus connection between downtown San Francisco and the Emeryville station, where passengers can continue the journey to Sacramento on a Capitol Corridor train.You can also connect with the Capitol Corridor at the Richmond intermodal station by taking Bay Area Rapid Transit's (BART) fast and frequent service across the Bay. (Note that separate fare is required on BART.)

Book Your Next Capitol Corridor Trip and Save!
Riding the Capitol Corridor couldn't be more convenient. Because trains generally do not require an advance reservation, all you need to do is buy a ticket (online is the easiest way) and hop on board!

Fares are based on your origin and destination, and a variety of discounts are available, including multi-ride ticket options; seasonal fare promotions; and everyday discounts for small groups, students, seniors, passengers with disabilities, veterans, and active military.
Current promotions for the Capitol Corridor include:
Take 5 for $5 Weekends: Allows one full-fare-paying customer to bring five companions for $5 per person each way on weekends and holiday Mondays through September 19, 2021.
Senior 50% Off Midweek: Riders 62 and older ride half off on Tuesdays, Wednesdays, and Thursdays through September 23, 2021.

Check the Capitol Corridor Ticket and Fares page for more information about multi-ride tickets and visit the Deals & Promotions page for a list of all current discount fares. Click here for more information on Capitol Corridor service.
Amtrak San Joaquins
Plan your next adventure with Amtrak San Joaquins! With daily service from Redding or Stockton,  Amtrak San Joaquins service is currently offering customers up to 45% off tickets with their share fare promotion. In addition, Amtrak San Joaquins offers students, veterans, active military, seniors, adults with disabilities, and groups discounts.   
At Amtrak San Joaquins, our staff and passengers' health and safety is our number one priority. As like all Amtrak services, recommendations from CDC, state, and local health officials are followed when implementing measures to ensure the health and safety of employees and the public. Customers can also use the capacity indicator when searching for travel to see how full a train or bus will be. The capacity indicator displaces the percentage of seats sold, and if capacity exceeds a rider's comfort levels, customers can change their ticket without incurring a fee (a fare difference may apply). For the safety of passengers and staff, Amtrak San Joaquins has implemented a series of public health measures at our stations and onboard our trains and Thruway buses. For the most up-to-date information on Amtrak San Joaquins' health and safety protocols visit amtraksanjoaquins.com/covid-19/. 
Currently, all connections to Sacramento are through our comfortable, spacious Thruway Bus service.  Please refer to the schedule below.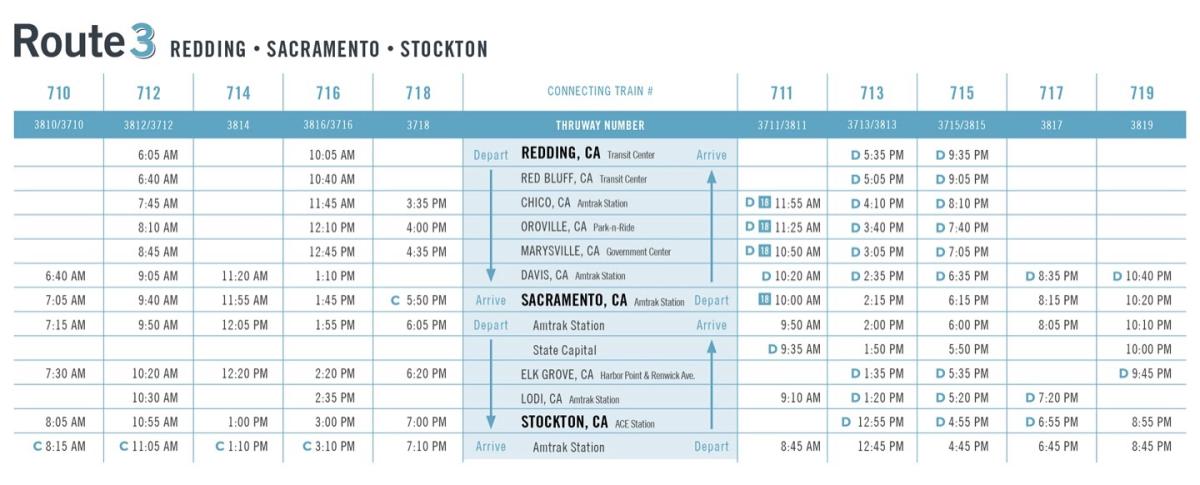 Plan your next trip online at amtraksanjoaquin.com. Be sure to sign up for Amtrak San Joaquins newsletter to learn about promotions, discounts, and updated train and bus schedules.
Coast Starlight & California Zephyr
For those traveling to Sacramento from as far as the Los Angeles area or outside of California, two iconic Amtrak cross-country trains, the Coast Starlight and California Zephyr, offer daily service and the travel experience you've been craving.
Come aboard and soak in breathtaking vistas from wide-reclining seats or from the Sightseer Lounge. Enjoy dinner in the Dining car or smaller bites in the Café. Private sleeping rooms are available, and all trains offer miles of leg room and the best baggage policy in the travel industry.
The Coast Starlight offers a grand, west coast train adventure daily between Los Angeles and Seattle. Widely regarded as one of the most spectacular of all the train routes, the scenery along the route is unsurpassed. Passengers can enjoy the dramatic snow-covered peaks of the Cascade Range, lush forest, fertile valleys and long stretches of the Pacific Ocean shoreline.
Amtrak's California Zephyr is another route famous for traveling through some of the most spectacular scenery in the country, with daily service to Sacramento from the San Francisco Bay Area, as well as Reno, Salt Lake City, Denver, and Chicago. To learn more about all routes and to book your trip, visit Amtrak.com or download the mobile app here.
Explore the Ways You Can Save. Check out our Deals and Promotions.
Amtrak Share Fares: Share savings of up to 45% when you travel with friends and family. Bring up to five companions at a discounted rate with the purchase of one full-fare-paying customer.
No matter what train route you choose, all passengers arrive at the Sacramento Valley Station, walking distance to many Sacramento attractions. Originally opened in 1926, the historic station recently underwent a multi-year renovation. Architecturally famous for its waiting room, which includes a 40-foot-high barrel-vaulted ceiling, the station has a must-see mural. Created by John A. MacQuarrie and located on the waiting room's east wall, it depicts the 1863 groundbreaking ceremony of the Central Pacific Railroad's portion of the first Transcontinental Railroad in Sacramento
From the station, it's easy to connect to the Farm-to-Fork Festival and other Sacramento attractions. Sacramento Regional Transit offers light rail and bus service throughout the Sacramento Valley. Bicycles and electric bikes are also available to rent at the station and nearby