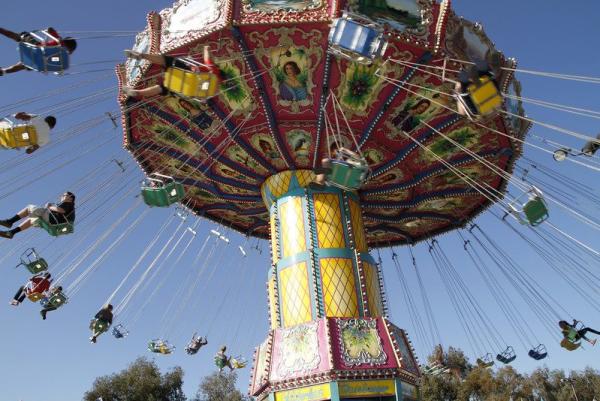 The California State Fair brings the best 17 days of summer to Sacramento Friday, July 8 through Sunday, July 24. Get out to Cal Expo and be a part of the fun, indulge in some deep-fried foods or taste from farm-fresh fare, meander Camp Smokey, peruse the county exhibits, ride some thrilling rides and catch a free concert! There is something for everyone at the California State Fair, so head on down and celebrate the best of California with your friends and family. 
The Animals: See the best of the best at the heart of the fair's livestock area, the Tractor Supply Company Big Barn. Don't forget the  Fur and Feathers exhibit and get an up-close look of state champion rabbits, chickens and turkeys. The Animal Education Center is a great opportunity to learn about your favorite barnyard animals.  
Food & Drinks: Wine taste your way through California with award-winning wines in the Save Mart Supermarkets Wine Country. Sample the best brews at the Best of CA Brew Fest. Catch a cooking demonstration and sample farm-fresh produce at the Save Mart Supermarket California Kitchen. Don't forget that fair fare! From deep-fried to fresh fruit, there is something for everyone to indulge in. 
Exhibits: Visit Napa, Monterey, Humboldt and Butte County at the California Counties exhibit! Take a break from the warm sun in the shady California Forrest Center with 40 native species of trees. Check out award-winning projects in categories including art, science, economics and more at the Student Showcase Exhibit.  
Carnival: Ride on the giant Ferris wheel and try your luck at ring toss. The carnival features a number of rides from swings and roller coasters to fun houses and giant slides. For a complete list of rides and height requirements, click here. 
Concerts: Enjoy FREE concerts every day of the fair. The Toyota Concert Series features Chaka Khan, Plain White T's and Dwight Yoakam, just to name a few. No matter where you are in the fair, you should be able to hear live music, whether it's on the Blues & Brews Stage, Hussong's Cantina Stage, Honky Tonk Stage, SMUD Promenade Stage or PG&E Center Stage!
New to 2016: If you love fair food but get too full too fast, try the $2 Taste of the Fair. On Wednesdays and Thursdays from 11 a.m. to 4 p.m. sample smaller versions of your fair favorites for just $2.  
This is just a small snippet of what's going on this year at the fair. Each day is fun-filled and packed with things to do. Please check out the entire fair schedule here, plan your trip and make lasting memories.
Tickets & Specials
Special ticket pricing through Thursday, July 7th can be purchased here. Individual tickets start at just $6 and family packs, season passes and ride wristbands are all available too. Ticket prices increase slightly after July 7th.
FREE admission for children 4 and under.
For a guide to the best activities with kids at the fair, click here.
Wells Fargo Kids Days: Each Tuesday of the fair; kids ages 12 and under are FREE; rides are just $2
Senior Savings Fridays: Adults ages 62 and older receive discount admission of $8 and ride FREE on the Grand Carousel and the Giant Wheel.
Military and Veteran Appreciation Day: Thursday, July 14 - FREE admission for all military personnel with ID.
First Responders Appreciation Day: Thursday, July 21 - FREE admission for all first responders with ID