Sacramento is home to a flavorful world where olives reign supreme and balsamic taste buds dance with delight. Located at the Old Sacramento Waterfront, The Chefs' Olive Mix is an aromatic haven where bottles of olive oil and balsamic vinegar line the shelves with more options than you can shake a salad at. We sat down with owner Lisa Lebeley to find out about the history, the product, and why it doesn't matter whether you're a seasoned chef or an aspiring kitchen wizard – the olive oils and balsamic vinegar options at The Chefs' Olive Mix are perfect for everyone.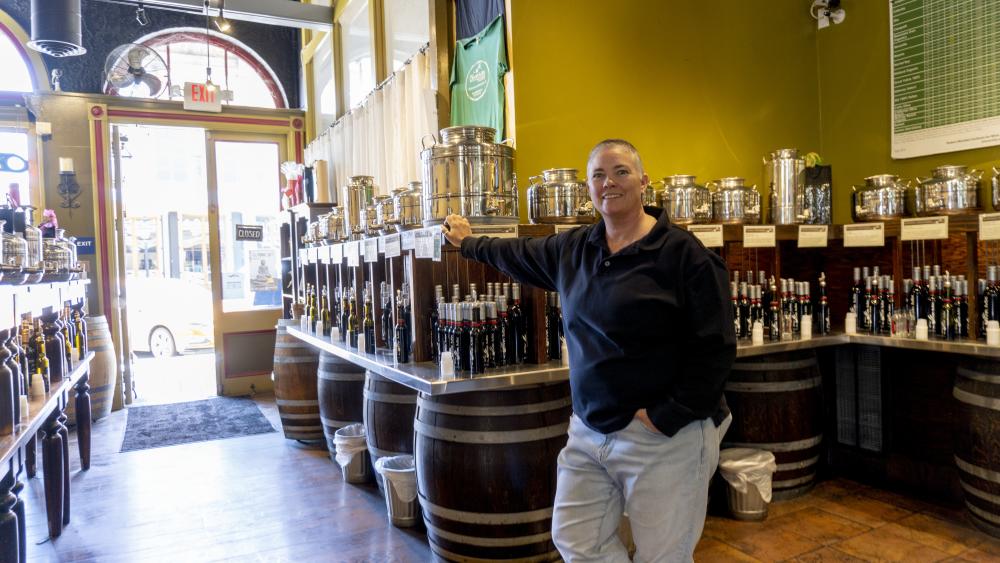 A Master of Olive Oil
During our conversation with Lisa, it became clear that she possesses an impressive mastery of the art of olive oil. Delving further into her background, we learned that prior to taking over as owner of The Chefs' Olive Mix in 2014, she served on a professional taste panel for extra virgin olive oil for about four years. Having tasted countless olive oils from around the world, Lisa emphasized that they are far from being created equal. She shared that there are requirements set forth by the International Olive Council, which determines the classification of oil as extra virgin. Lisa's discerning palate has enabled her to differentiate between various olive oil varietals and detect subtle defects. She can effortlessly distinguish when oil has turned bad or when it is at its optimal flavor. Armed with this invaluable knowledge and experience, Lisa has set stringent requirements for the olive oils in her store, surpassing those mandated by the International Olive Oil Council by 60-80 percent. Now, that is impressive.
Walking by over 85 different flavors on the shelves, the possibilities for delightful pairings were seemingly endless. Our mouths were watering as we discovered unique combinations like Tuscan Herb and Oregano White Balsamic, Fig Balsamic with Garlic EVOO, and an absolute treat we were fortunate enough to savor – the luscious pairing of Dark Chocolate Balsamic and Blood Orange EVOO.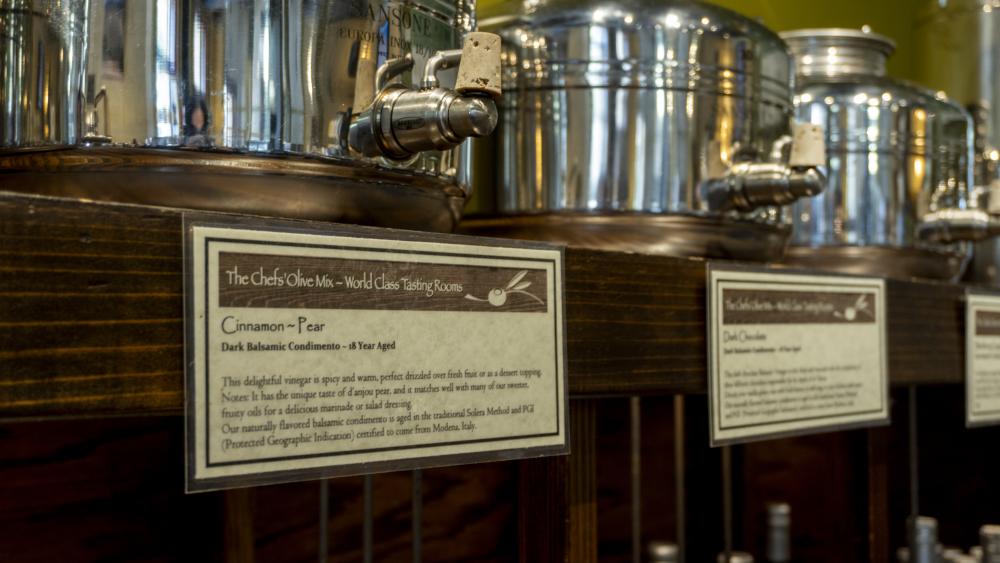 Don't Skip the Dessert
The experience didn't end with savory dishes alone. Lisa shared that a great way to transform a simple scoop of ice cream into a symphony of flavors is to drizzle some cranberry pear balsamic and roasted almond oil over the top. She also shared that it's great over fresh fruit, and believe it or not, people even add a dash of blood orange or Sicilian lemon white to their sparkling water, giving them that boost of flavor. Who knew that there were so many options outside of the timeless tradition of bread-dipping?
Olive oil is created through a meticulous process that begins with harvesting ripe olives. They are then carefully washed, crushed, and pressed to extract their natural oils. The resulting oil undergoes further refinement, including filtering and sometimes centrifugation, to remove impurities and enhance its quality. On the other hand, balsamic originates from grapes. They are harvested and cooked into a thick grape must, which is then aged in wooden barrels for several years. The balsamic is often moved from barrel to barrel, decreasing in size. We were surprised to learn that some balsamics are barreled for up to 18 years before they are ready for consumption. The result is rich, dark, and sweet vinegar.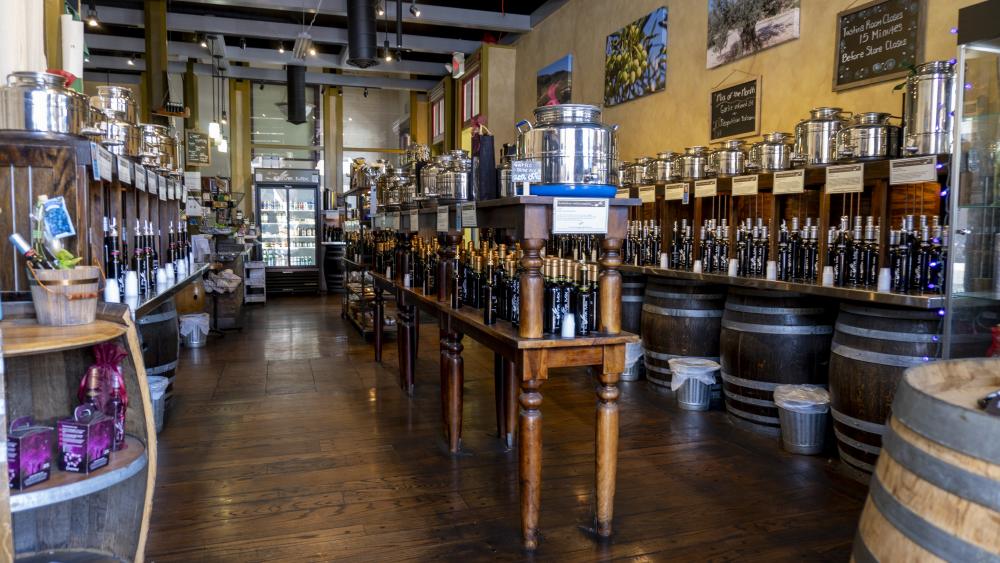 Shelves Full of Flavors
Lisa shared that she has a secret weapon in her back pocket. It's her chef that gets to infuse and create the unique flavors The Chefs' Olive Mix has on their shelves. We were let in on a few of the details of the process, but the exact recipes and processes are top secret. You'll just have to pick yourself up a bottle or two or three and appreciate the art that goes into making their product.
The Chefs' Olive Mix goes the extra mile to provide a delightful customer experience. Not only do they offer a discount when you bring your empty bottles back, but they also have a handy punch card system to reward loyal customers. For those who can't visit in person, Lisa shared that they conveniently ship their products straight to customers' doorsteps, ensuring all can enjoy the exceptional products wherever they are. Additionally, The Chefs' Olive Mix's website is a treasure trove of culinary inspiration, featuring a wide range of recipes and curated pairings to enhance all dining adventures.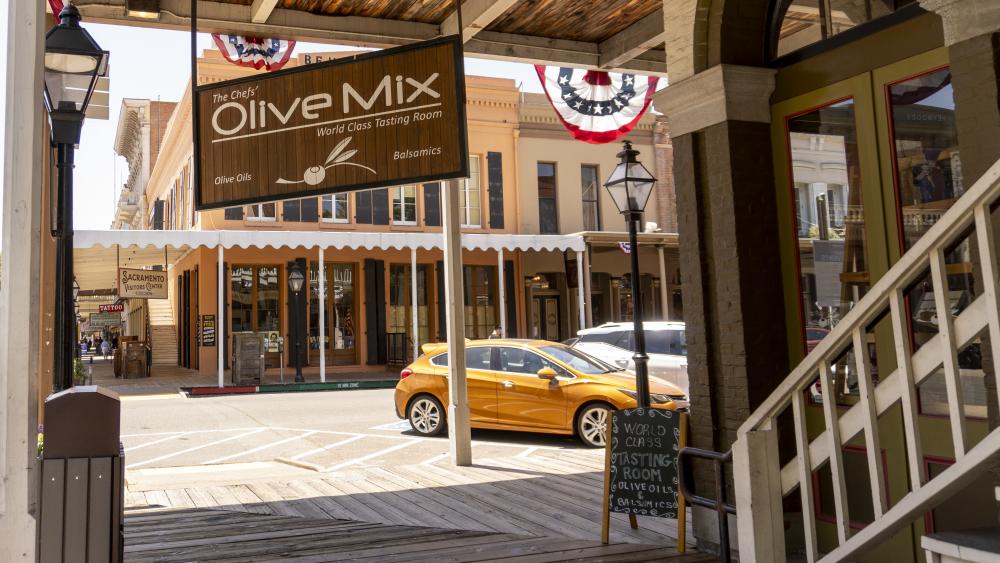 Our experience at The Chefs' Olive Mix not only deepened our appreciation for the exquisite qualities of olive oil and balsamic vinegar but also ignited creativity in our own culinary endeavors. Inspired by Lisa's expertise, we embraced the opportunity to experiment with unique flavors and combinations in our own kitchen. The result was a mouthwatering masterpiece that surpassed all expectations. What are you waiting for? It's time for you to embark on your own journey at The Chefs' Olive Mix. Whether you purchase their products in-store or online, we're pretty sure your experience will have you saying "EVOO-la-la" in no time.