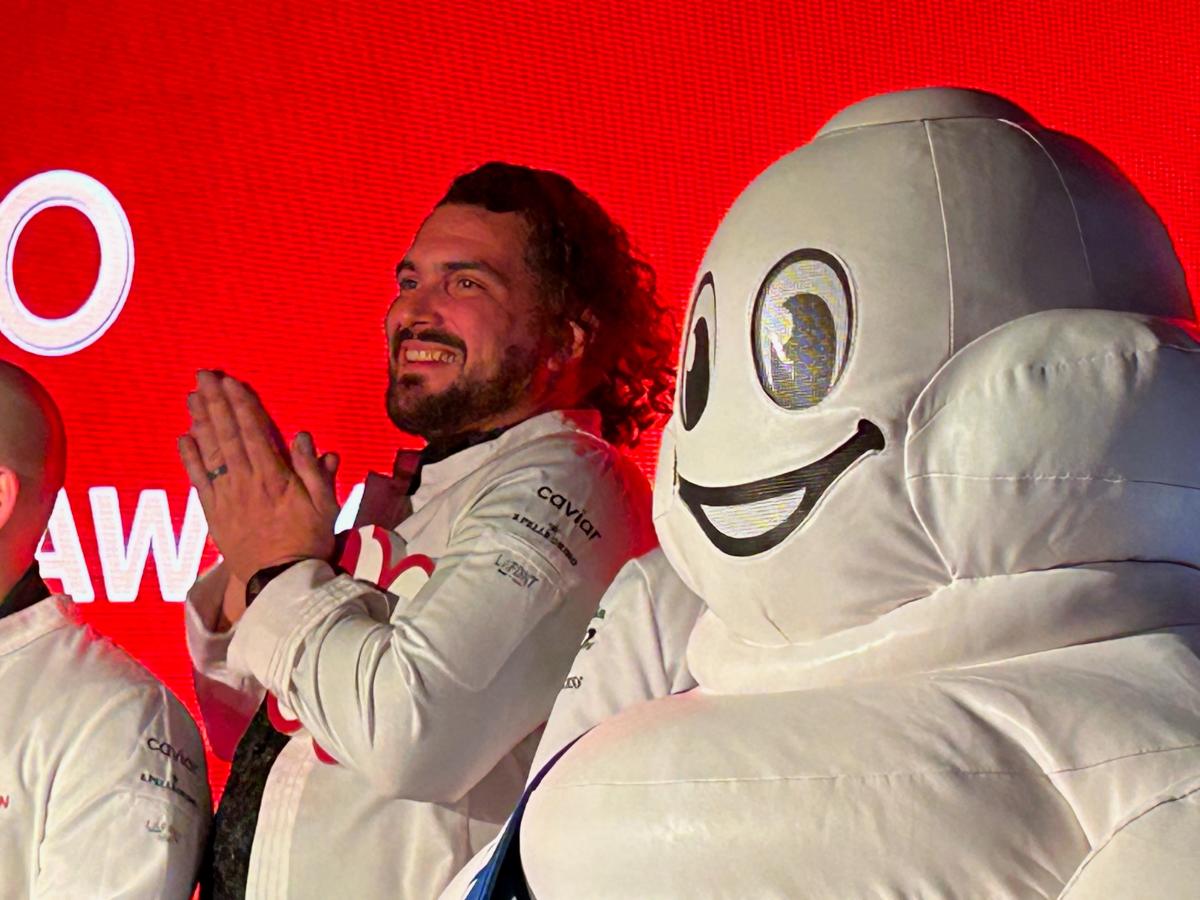 Chris Barnum-Dann on stage receiving his Michelin Star recognition.
Sacramento's Localis brought home a Michelin Star as the world's foremost arbiter of culinary excellence announced California's newest starred restaurants in Los Angeles Monday night.
Localis, located at 21st and S streets in Sacramento, opened in 2016, and Chef Chris Barnum-Dann is now at the helm, and it is known as one of the best spots in Sacramento when it comes to fine dining.
Sacramento's The Kitchen, led by Executive Chef Kelly McCown, retained its Michelin Star Monday night as well. The Kitchen was initially awarded its star in 2019.
Barnum-Dann came to be a chef via one of the more circuitous routes of Sacramento's culinary elite: His career began as an electrician and musician. It was while he was touring and eating his way across the country – dining at 15 Michelin-starred restaurants in the course of a single year – that he realized his passion for food wasn't limited to eating it, and he had to find his way into the kitchen. So off to cooking school he went, where he honed his craft and got his first cooking job at Hapa Sushi in Auburn, Calif.
Eventually, Barnum-Dann found his way to Localis, which in 2016 had recently opened, as executive chef and, later, co-owner with wife Jessica Dann. He quickly set about building a reputation, and the accolades for the fine dining establishment rolled in, including being featured in California's Michelin Guide, released in summer 2019.
Listen to "Localis is Sacramento's Newest Michelin-Starred Restaurant" on Spreaker.
According to that issue of the Michelin Guide:
"Together with his tight-knit team, Chef/owner Christopher Barnum-Dann brings unusual warmth to this intimate setting. His enthusiasm is instantly palpable as he happily explains his inspiration behind particular dishes and even solicits feedback. This is especially true for diners who sit at the spacious counter.

"The cooking has a clean, modern simplicity, and its commitment to carefully sourced ingredients is thoroughly Californian. It also offers no shortage of personality, combining flavors while also drawing from various global cuisines. Whimsy is a common thread throughout, as in a gutsy potato rosti piped with uni mousse and "The Dish That Made Us," a single octopus tentacle atop polenta with preserved lemon and a brown butter sauce."
With the bestowal of the Michelin Star on Localis, Barnum-Dann's establishment joins the ranks of a select few of the world's restaurants recognized among the top in their craft, and brings a second star to America's Farm-to-Fork Capital.
Top Photo: Left to right, The Kitchen Executive Chef Kelly McCown, The Kitchen General Manager Esra Oktar, Localis Chef/ Co-owner Chris Barnum-Dann and Localis Co-owner Jessica Dann at Monday night's Michelin Star announcement event.