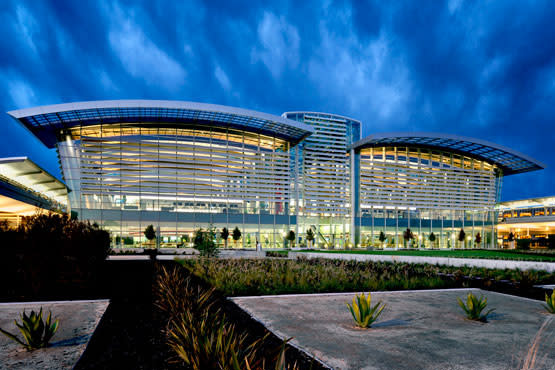 Sacramento International Airport keeps getting better. It's just 15 minutes from downtown, new routes are being added, and Time's Money Magazine just ranked it fourth in the top 80 U.S. airports.
Your delegates and groups can join the record-breaking number of travelers visiting Sacramento and seeing just what makes our airport hassle-free.
"To be a high-performing airport, you've got to do the basic blocking and tackling well—you've got to have decent access, good security, restrooms have to be clean," says Mike Taylor, who leads J.D. Power's airport research, in the Money Magazine article. "But what separates the really high performers from the good airports is the food, beverage and retail." 
SMF's high ranking was based on its 81.15 percent on-time arrival rate and its 22 restaurants. As America's Farm-to-Fork Capital, we bring our local farms to your fork the moment you set foot in Sacramento, or for you to savor one last bite at the end of your trip. But make sure to arrive early, since your flight will most likely be on time. Also, SMF is easy to access with 150 nonstop daily flights on 11 domestic and international carriers. The terminals are easy to navigate through, and the airport is only 15 minutes from downtown.
New service includes:
• Daily service to St. Louis and Austin began April 8 on Southwest.
• Seasonal service to Boston on JetBlue begins May 3.
• Daily service to Orlando begins May 6 on Southwest.
• Daily service to Vancouver begins May 17 on Air Canada, which, operating from Terminal A, will be the airport's third international carrier.
• Seasonal service to Cabo San Lucas on Alaska Airlines begins May 26 and runs till Aug. 11, starting again Nov. 10 - Dec. 29.

Those routes join other recent additions, and Sacramento's popularity is bringing more people without taking away from the level of service the airport provides. January and February 2018 broke all-time records for monthly traffic, a whopping 13.4 percent over last year. The upward trend is expected to continue as passengers have additional flights and new destinations from which to choose. Airport officials expect to serve more than 11.5 million customers in 2018.
We hope your delegates are among them!
Click here to view the SMF flight map.
Avoid the stress of oversized airports, delayed flights, and bad franchise food. Book your meeting or group in Sacramento and let us do the rest. Contact us at Conventionsales@visitsacramento.com or 800-292-2334. For travel groups, contact Tourism Director Nick Leonti at nleonti@visitsacramento.com.