Sacramento is a very walkable city, especially its downtown core, but travelers who want to make the most of their time can look to the Sacramento Regional Transit's light rail service to expand their exploration without worrying about finding parking or even having a car at all.
Light rail tickets are affordable at $2.50 per ticket or $7 for a daily pass, and a number of Sacramento landmarks are easily accessible, along with sites as far afield as historic Folsom. Tickets can be purchased on the ZipPass mobile app or at light rail station kiosks.
In town and want to ride the rails? Check out these five light rail stops next to parts of the region that shouldn't be missed.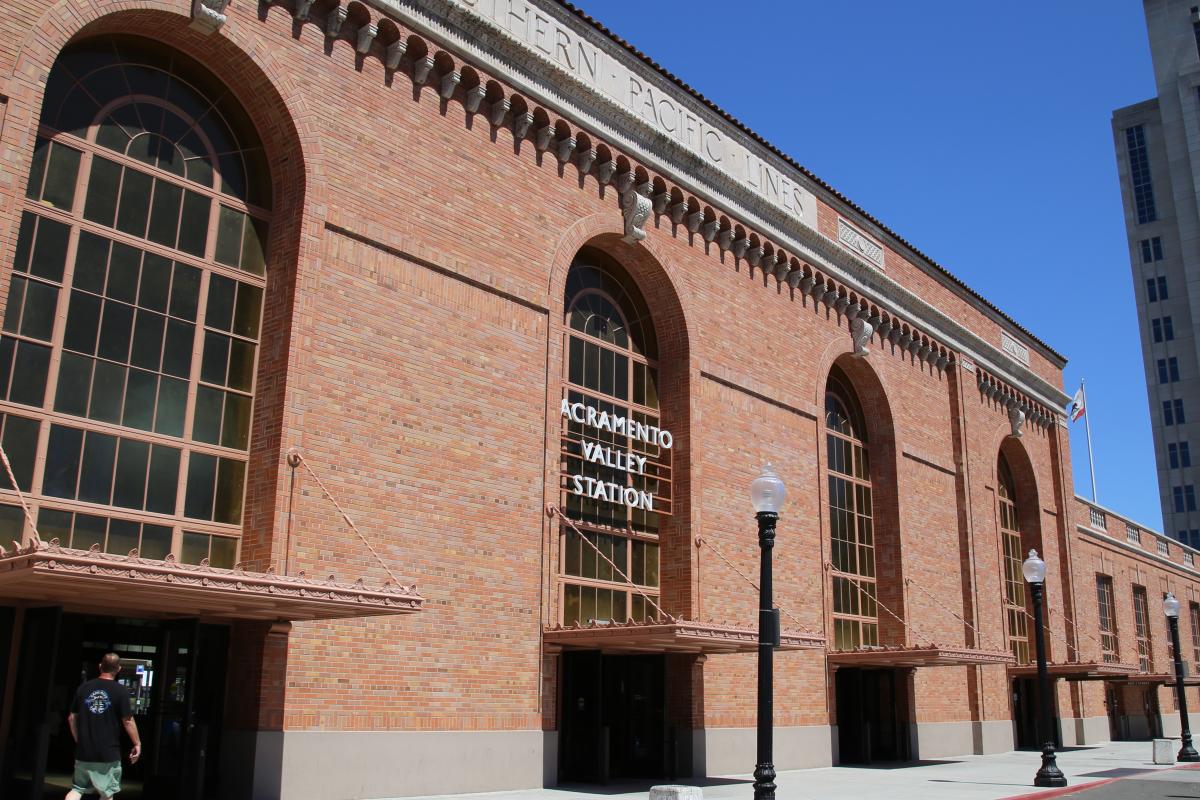 Sacramento Valley Station (Gold Line)
This stop is located at the corner of Fifth and I streets in downtown Sacramento and is connected to the Sacramento Valley Station. The west end of the station's parking lot bumps up against the Old Sacramento Waterfront, which is a 28-acre historic district that not only houses the California State Railroad Museum, Sacramento History Museum and others, but is home to restaurants, a brewery, the Delta King Hotel and allows access to the American River Parkway's bike trail.
Sacramento Valley Station is also less than a 10-minute walk to the city's newest retail and entertainment space, Downtown Commons (DOCO). This open-air shopping and dining spot features several murals and a large open space leading to Golden 1 Center, home of the NBA's Sacramento Kings. It also houses the Kimpton Sawyer Hotel.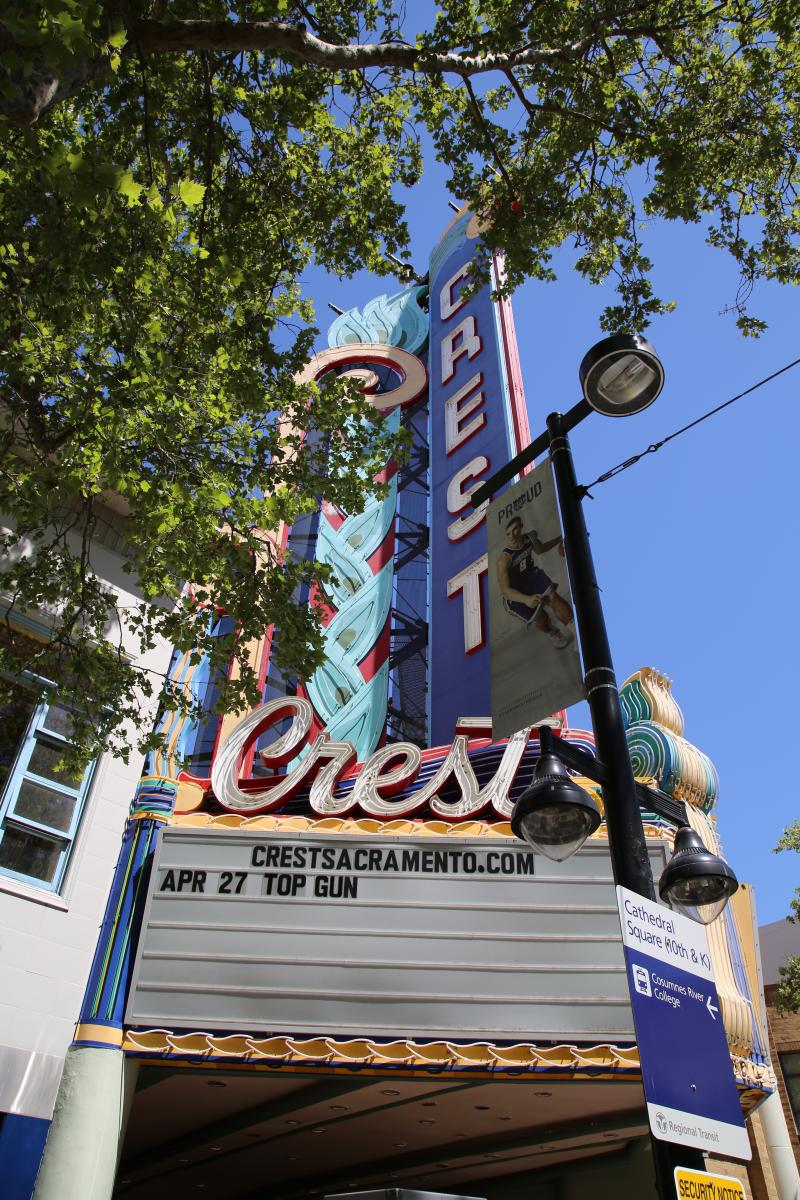 10th and K Streets (Blue Line)
A stop at the 10th and K Cathedral Square light rail station puts you right in the heart of one of the city's bustling districts. The historic Crest Theater overlooks the light rail stop, and the theater is popular with locals and visitors alike. This section of K Street is bookended by the Sacramento Convention Center (at 13th Street) and Golden 1 Center (Seventh Street). Up and down the street on both sides are a variety of restaurants and nightlife spots, as well as the Cathedral of the Blessed Sacrament.
Just a block and a half south of the light rail stop, visitors will find themselves standing on the west steps of the California State Capitol, which is free to enter and a must-see on any trip to Sacramento. Stretching in front of the Capitol is Capitol Mall, which runs straight to Tower Bridge, which crosses the Sacramento River next to the Old Sacramento Waterfront.
A block north of the light rail stop at 10th and K is Cesar Chavez Plaza, where visitors will find free Friday Night Concerts in the Park in summer as well as regular farmers markets on Wednesdays from spring to fall. The Citizen Hotel is located at the corner of 10th and K streets, so this light rail stop is convenient for its guests.
If you're looking to stay on the Gold Line, it has a stop at Eighth and K streets, which is walkable to the same areas.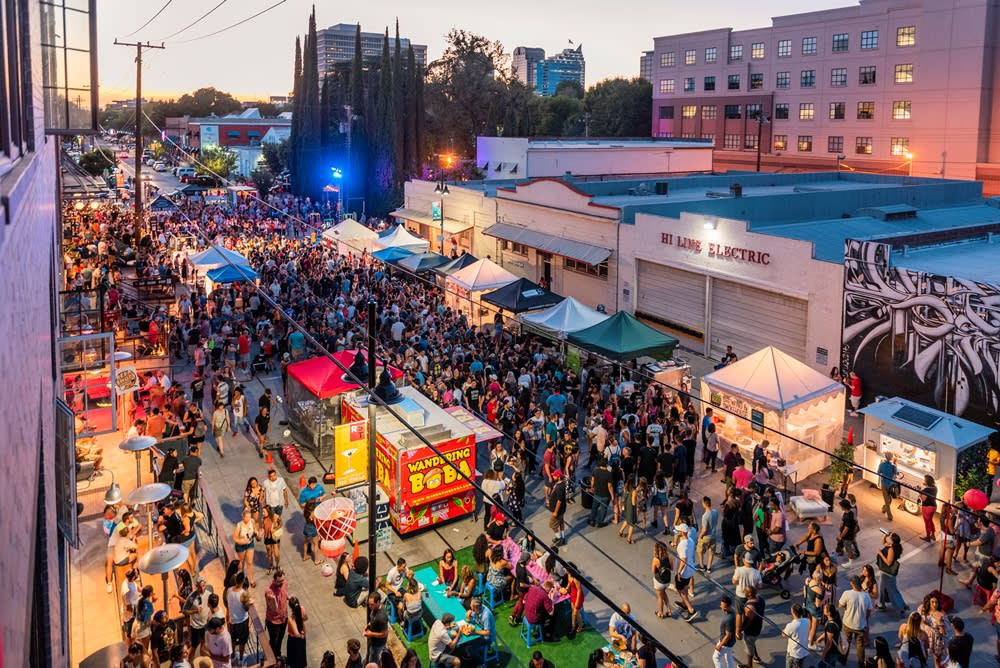 16th Street (Gold Line, Blue Line)
The closest light rail stop to the heart of the city's Midtown district is also the closest one to the recently revitalized R Street Corridor. A Jump Bike rack at this light rail stop allows visitors to hop on bicycles with electric motors to scoot around town to the art galleries, restaurants, boutiques and bars in Midtown, or just to tour R Street effortlessly.
Walking down R Street to the west, visitors will find a host of restaurants with sprawling patios such as Iron Horse Tavern and R15, which are both great brunch spots for anyone who likes a lazy morning soaking in California's sunshine. Also on this section of R Street are the Ace of Spades concert venue, Shady Lady Saloon with its craft cocktails and the Warehouse Artist Lofts, which is a spot many artists call home, but which also features shopping, dining and coffee.
R Street plays host to several events, including the Our Street Night Market in summer (pictured above).
Walk or bike down R Street to 10th Street, and you'll find yourself at a Sacramento classic: Fox & Goose Public House, which features brunch, English cuisine and a good selection of imported beers.
Iron Point (Gold Line)
The Iron Point stop in Folsom is home to the Folsom Premium Outlets, a favorite shopping destination for many visiting the Sacramento region. At this stop, visitors will find 80 outlet stores including Nike, Calvin Klein, Adidas, Coach and more.
Also adjacent to the outlets is a Century movie theater if you don't want to wait until you're home to catch the newest blockbuster film.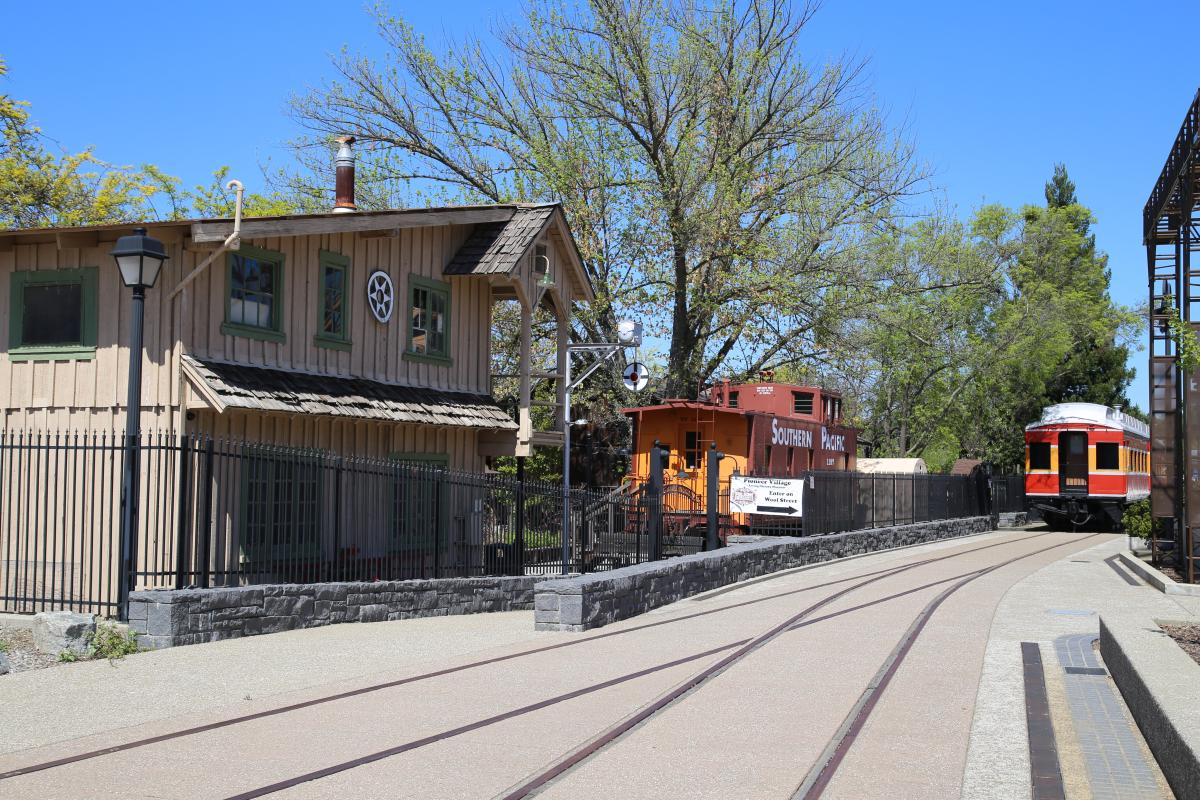 Historic Folsom (Gold Line)
The terminus of the light rail Gold Line is Historic Folsom. This downtown stretch of one of Sacramento's suburbs is steeped in railroad history and features shops and restaurants.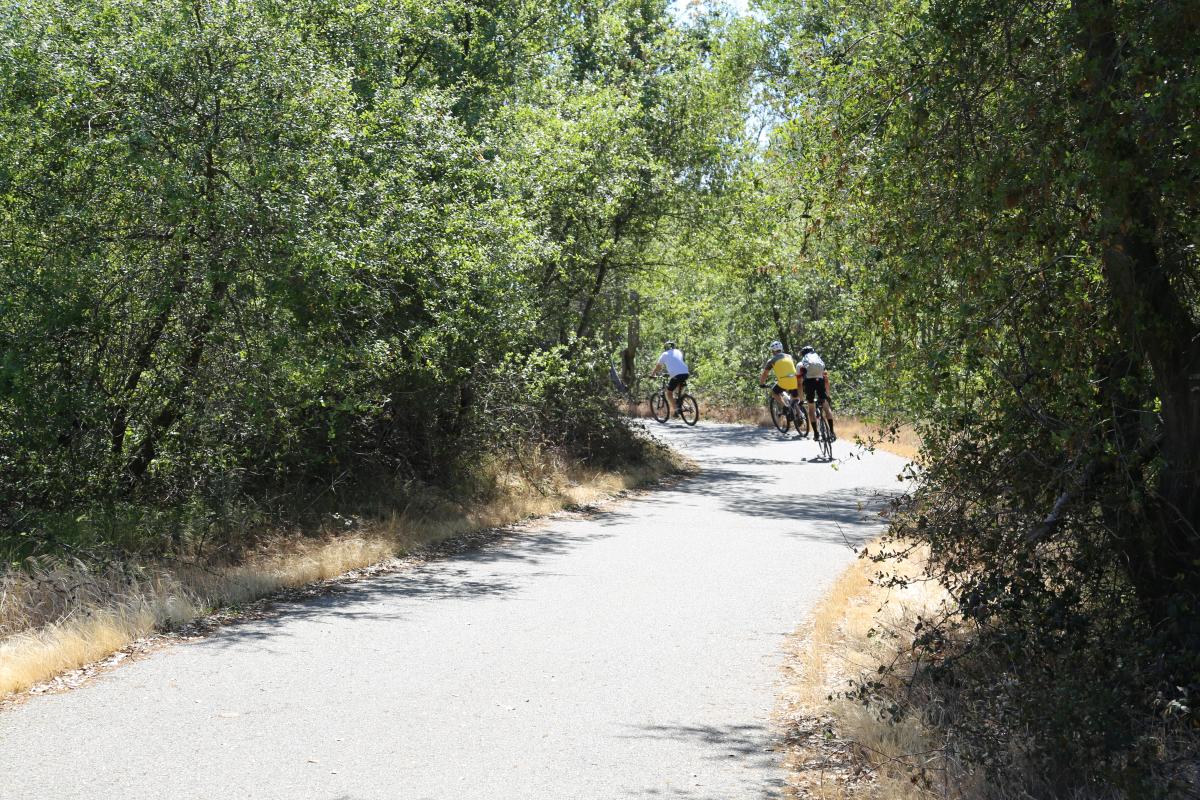 Outdoorsy travelers will appreciate the proximity of the Historic Folsom light rail stop to the American River Parkway's bike trail, which is a 10-minute walk from the station. With vistas over the river, the trail is popular with joggers and cyclists. Pro tip: rent bicycles in Sacramento and hop on light rail to Folsom, pedal around the historic district, then ride the bike trail back to Sacramento.
Bonus Stop for Beer Geeks: Starfire (Gold Line)
Off the beaten tourist track is a spot well known to Sacramento beer lovers: La Riviera Market & Spirits. At 9331 La Riviera Drive, it's a 10-minute walk from the Starfire light rail stop. Calling itself the craft beer headquarters, the store stocks a wide variety of unique beers from around the world, including numerous brews from the region.