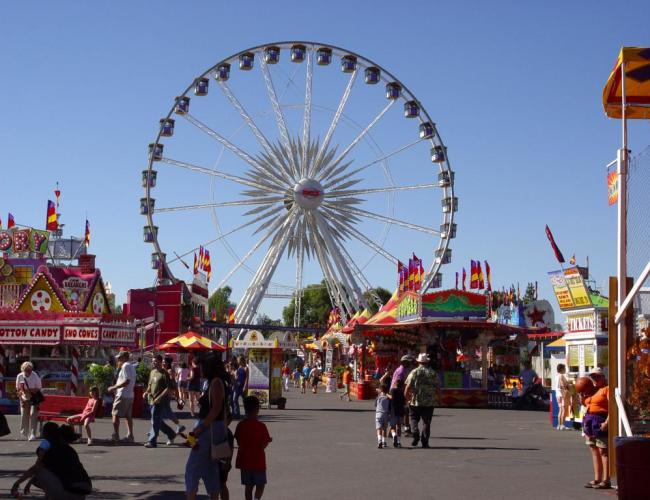 It's that time of year again! The California State Fair, one of Sacramento's staple summer events, is here on Friday, July 10, 2015 at Cal Expo for 17 days of fun and excitement. Guests can visit the animal nursery, check out the California County exhibits, whirl on a thrilling ride, grab a jalapeno corn dog and catch a concert all in a day. From old favorites and entertainment to special exhibits and sporting events, the fair has something for everyone!
This post is a just a highlight of what you can expect during your visit or many visits to the fair! There is so much to see, do and experience each day. See how much you can fit it in one day! 
Old Favorites
Carnival - ride on the Giant Ferris Wheel, try your luck at ring toss and eat some tasty fried treats. The carnival features a number of rides from swings and roller coasters to fun houses and a giant slides. For a complete list of rides and height requirements, click here. 
The California Forest Center - this beautiful shaded area features 40 native species of trees. Walk the nature trail and learn about the forest and its animals, enjoy craft activities and see rescued animals. Get close to nature while learning about the benefits of a healthy and sustainable forest.
Camp Smokey – Camp Smokey is a fun, interagency fire prevention program that teaches fire safety to kids. 
Tractor Supply Big Barn and Baby Barn - the heart of the livestock area features cows, goats, sheep and pigs of all kinds. Watch as 4-H and FFA members compete for state titles. In the Baby Barn, guests are given the chance to witness live birth with practicing veterinarians and veterinary science students from UC Davis on hand to answer questions. Guests can also milk a cow or goat and even make butter!
The Farm: Presented by Save Mart Supermarket - meander the captivating exhibits stretching over 3 acres. Learn about more than 70 crops grown in California, get pointers on how to be water efficient, hear gardening tips and visit the aquaculture display.
California Counties Exhibit - walk through California's county exhibits and see what makes each one special. Stroll the entire state and learn something new about your neighboring counties.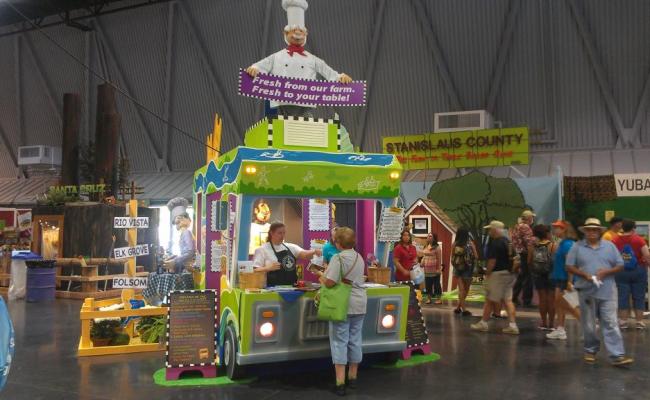 Special Exhibits
Tech Trek – experience the newest exhibit in the Expo Center, Tech Trek: Science Fiction to Science Fact. It examines and celebrates the past, present and future of technologies inspired by science fiction and pop culture.
Minds in Motion – explore the wonders of science and animals and check out the giant chess set, Rube Goldberg machine, dexterity testers, velocity tunnel and much more at this hands-on exhibit.
Dream Big – here kids can play while learning what makes California great. There will be Family Story Time, Play Time Adventures, Dream Big Photo Vignettes, Dream Big Theater, Mommy Lounge and a Snack Shack.
Beach Buddy Adventure – sponsored by the California Coastal Commission's Whale Tail Licence Plate Fund, fair-goers will have the opportunity to see some of the California coast's resident animals and watch playful river otters, bald eagles, pelicans, a spiny lobster and a tule elk. 
Entertainment, Sports & Special Events
Horse Racing - Friday, July 10-12, Thursday, July 16-19 and Thursday, July 23-26, three weeks of live horse racing at the Miller Lite Racetrack Grandstands, for specific times click here.
Jack in the Box Freestyle Motorcross - daily at 3 p.m., 5 p.m. and 7 p.m., Cal Expo's emptied out main lagoon will host the high flying aerial dare devils.
WGAS Motorsports VIP Demolition Derby - Friday, July 10-11, 7 p.m., wild drivers wreck their way to victory.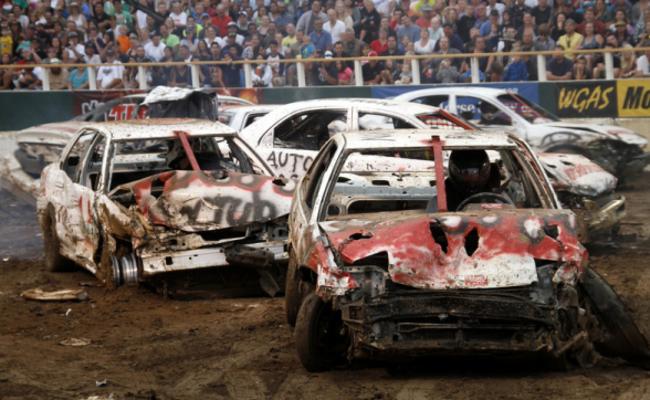 Splash Dogs - Friday, July 10-12, 11 a.m.- 6 p.m., water-loving dogs compete for longest and farthest jump off the Splash Dogs dock.
Fatshark United States National Drone Racing Championships - Thursday, July 16-17, this inaugural championship is the first of it's kind and sanctioned by the Academy of Aeronautics.
Republic FC Soccer - cheer on the 2014 USL Pro Champion team at Bonney Field and receive free admission to the fair. All tickets purchased to Republic matches during the duration of the fair includes admission to the fair (on the same evening), this includes the USA Rugby Pacific Nations Cup on July 24. 
Toyota Concert Series on the Golden 1 Stage - See Air Supply, Martina McBride, Ashanti, Waar, Britt Nicole, .38 Special and more! For a full list and tickets, click here. 
Best of California Brew Fest - Saturday, July 18, 3 p.m. - 6 p.m., guests can sample California's award-winning beers from the Commercial Craft Brew Competition in their own 5-ounce souvenir cup (special ticket required).
Food & Drink
Save Mart Supermarkets Wine Country - experience the flavor and diversity of California's best wines with a winery(ies) highlighted each day.
Craft Brew Pub - enjoy more than 50 taps including the 2015 California Best in Show.
Off the Chain Rolling Beer Garden - cruise in style and visit the fair's best watering holes while sampling a special beer selection in your souvenir tasting cup, see the schedule and reserve your spot here.
Food - Hand-dipped corndogs, cinnamon rolls with cream cheese frosting, fish tacos, bacon wrapped turkey legs, grilled corn on the cob, funnel cakes and you name it! Don't miss the fruit stand near the farm, it's always a welcome break from the fried foods. 
Tickets & Specials
Special ticket pricing through Thursday, July 9th can be purchased here. Individual tickets start at just $6 and family packs, seasons passes and ride wristbands are on sale too! Online tickets are still available after July 9th but prices increase slightly. 
FREE admission for children 4 and under.
Wells Fargo Kids Days: Each Tuesday of the fair, kids ages 12 and under are FREE; rides are just $2
Senior Savings Fridays: Adults ages 62 and older receive discount admission of $8 and ride FREE on the Grand Carousel and the Giant Wheel.
Youth Leadership Day: Monday, July 13 – youth will enjoy activities catered to future leaders.
Military & Veteran Appreciation Day: Thursday, July 16 – Admission is FREE for all military personnel with ID.
First Responders Appreciation Day: Thursday, July 23 – Admission is FREE for all first responders with ID.
Last but not least, have fun and make memories! Plan your fair itinerary here!