The 2015 Amgen Tour of California is celebrating its 10th anniversary with an overall start in Sacramento on Mother's Day. The race is free to attend, so come on down and experience America's Greatest Race.
The riders will be competing on a 126.2-mile course along the Sacramento River and through Solano County, but starting and ending in downtown Sacramento. Cyclists will start in front of the Capitol at 11th and L streets at 10:50 a.m., turn left on Ninth Street (from L Street) and right onto the eastbound lanes of Capitol Mall. The male riders are due back in Sacramento around 3:15 p.m., where they will finish with an exciting multiple-lap around the final circuit. In 2014, the sprint between the legendary fast men Mark Cavendish and John Degenkolb resulted in the closest margin of victory in race history - a mere 3 millimeters.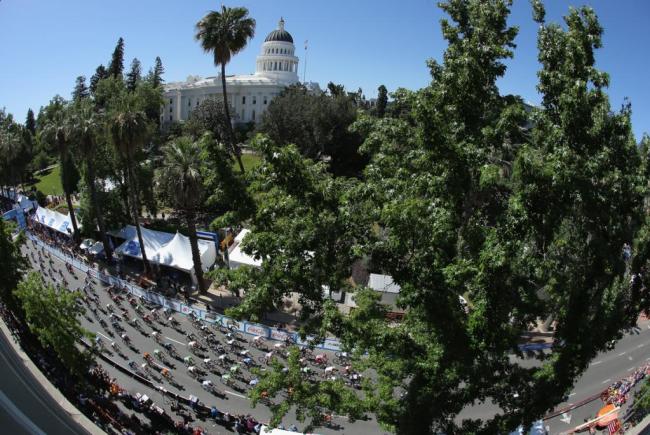 Women's Stage 3 Circuit Race
The Amgen Tour of California will host a first-of-its-kind three-day women's cycling stage race with stage three in Sacramento.  The women will blaze around the downtown circuit between 11 a.m. and 1 p.m., after which the overall race winner will be decided.The day gives spectators the rare treat of seeing two international fields compete on the same circuit within hours.
Sutter Health Community Ride
Don't forget to ride your bike down on race day and participate in the Sutter Health Community Ride. Participants will get a chance to ride the circuit as many times as they can in 30 minutes. While you're not whipping around the course, go ahead and park your bike at the free bike valet provided by SABA.
Lifestyle Expo
Interact with more than 40 exhibitors including Sutter Health, The Sacramento Bee, May is Bike Month, Oakley, Skratch Labs and KHTK Sports 1140. The day-long festival will feature cycling products and demos, cancer awareness education, family activities, farm-to-fork food, entertainment and more. Grab a beer in the Michelob Ultra Beer Garden and watch the race live on the outdoor video screens. Don't miss a live performance by Musical Charis from 11:30 a.m. - 1 p.m.
Race Day Schedule of Events
9:30 a.m.-   Lifestyle Festival opens
10:35 a.m.- Start Ceremonies begin
10:45 a.m.- National Anthem
10:50 a.m.- Men's Race begins (11th and L streets)
11:20 a.m.- Women's Race begins (11th and L streets)
1:00 p.m.-   Women's Race finish
                   Community Ride participants gather at 13th and L streets (to be led to 11th and L streets)
1:30 p.m.-   Community Ride begins (11th and L streets)
3:15 p.m.-   Riders expected back in Downtown for final laps on circuit
3:45 p.m.-   Race finish, ceremonies to follow

 
Where to Park
Street parking in the city is free on Sundays in most areas but parking lots still require payments. There are several city lots in Downtown Sacramento and other pay lots in the area.  

For spectators riding their bikes to the event, a free bike valet will be set up near the west steps of the Capitol.

Click here for a city parking map.

Make it a vacation
Come to the Friday night Official Amgen Tour of California 10th Anniversary Celebration & Official Rider Introductions and stay through the race on Sunday. Click here to check out the hotel special that weekend.