The headline of the San Francisco Chronicle, Friday July 2, 1895: "It was 4 a.m. in Sacramento and a 100 gun salute shattered the quiet…"  That was when the turbines at the Folsom Powerhouse first began to spin and produce electricity.  It was a really big deal for the electric current to run down the lines from Folsom the 22 miles to Sacramento way back then!  It boggles the mind to realize that on our recent visit to Folsom Powerhouse State Historic Park, we were able to use the "Red-Laser App" on Carol's smartphone to view short videos telling us the history of the Powerhouse operations.  We located several "smart tags" linked to videos ranging from 54 seconds to 8 ½ minutes. Our favorite is "The War of the Currents."   
The day we visited, a Tuesday, the volunteer-run Visitor Center and Powerhouse buildings were closed. But there was still a lot to see even only on the outside self-guided tour.  There are plaques and placards on the Powerhouse property that show the canals and the turbines and generators inside the buildings.  It is really something to stand above the penstocks and flumes trying to imagine the water rushing in from the canal at enough velocity to turn the turbines and generators!   
Just downhill from the Powerhouse, we came to the water's edge and discovered acorn grinding holes very similar to those we'd seen at Roseville's Maidu site last summer.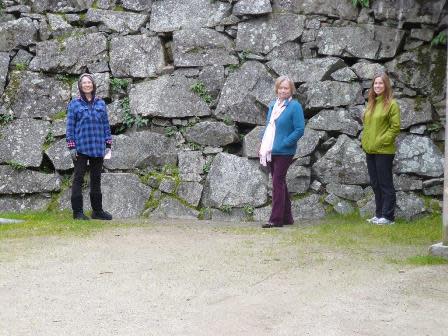 What we love about Historic Folsom as Hometown Tourists is that there is a lot to see and do in a compact area.  From the variety of intriguing shops and restaurants to the Folsom History Museum, to which Carol and Cindy made a previous visit, there is always something to come back and experience.   As Cindy remarked, "There is something to keep everybody happy in Historic Folsom: shopping, food, history;  and all so close together."
The other thing we really like about Historic Folsom is that it's so easy to get there.  And all four of us arrived there courtesy of electricity!  Janet and Jackie picked up Sacramento Regional Transit's Folsom-bound Gold Line at Power Inn station.  We met Cindy on the train. She rode the entire 22 miles from downtown Sacramento to Folsom!  When we stepped off the train, we met Carol in front of Folsom's multi-story parking garage. She had driven in her Prius!
We had lunch at the Sutter Street Grill.  It's family-owned and a piece of Folsom history.  Constructed in the 1880's, it was first used as a mercantile store, then a restaurant.  You can still see the granite walls made of leftover slag from the construction of Folsom Prison, which we learned about as Hometown Tourists on a prior visit to the Folsom Prison Museum.  
Even though we were "tourist-ing" on what seemed a non-touristy day, it was nice to have the venues more-or-less to ourselves that wintry Tuesday afternoon.  We saw for ourselves what the Folsom Powerhouse is all about, and that it operated from 1805 all the way 'til 1952!  In future visits, we may plan for when more features are open, and see it all afresh.  That is one great thing about being a Hometown Tourist!  Look at our photos below to see what fun we had!