Take me out to the ballgame! My friend Judy and I share common interests in horses, quilts, and reading. Recently I learned that Judy is a very knowledgeable baseball fan as well. Baseball isn't something I follow very closely, but when I received a text from Judy inviting me to a Sacramento River Cats game, I thought, "Why not? I've never been to one;  everyone says it's fun." Well, believe me, it is fun!
The game was the River Cats vs San Francisco Giants preseason exhibition game. I arrived at Raley Field plenty early and used preferred parking right across the street.  I found out later less expensive parking can be had on the other side of West Capitol Avenue. But for me, that day, the convenience of the short walk was worth it.
With time to spare, I circled the block around the ballpark on foot a couple of times. I noticed interesting activities such as a face-painting booth and a jump house for kids.  One well-guarded table displayed the Giants' three World Series trophies.  People were getting their pictures taken with the trophies.  The line was short and the waitees in good humor, so I queued up.  A photo of me, with the Giants' trophies - I mean, when will I have another chance at that?!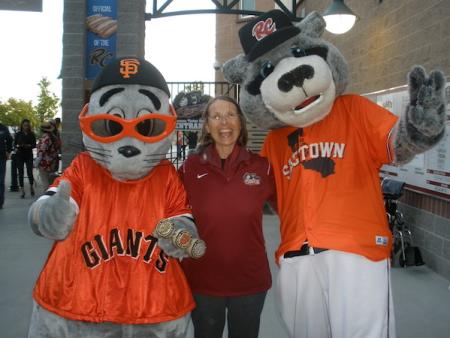 At the appointed time, Judy and I met up and entered the ballpark. We threaded our way through the concourse, stopping in at the fan shop where I bought commemorative pins for both of us and a River Cats polo shirt. The next stop was the tri-tip food concession for sandwich, salad, and chips. All very tasty and not as expensive as I had feared. So I treated Judy to dinner. 
Our seats on the third base line gave a great view of Tower Bridge and the Sacramento skyline.  Fireworks introduced the starting lineup.  The game was exciting.  I rooted for both teams!
Judy kept score in her own baseball scorebook. "It keeps me connected to the game," she remarked. Whenever something important happened, Judy pointed out and explained to me. I appreciated that!  It made watching the game even more interesting and fun.
Speaking of fun - about halfway through the game, I went up to the concourse area again and got my picture taken with both team mascots, "Dinger" ('Cats) and "Lou Seal" (Giants). That was a thrill!  I bet my grin was a big as theirs!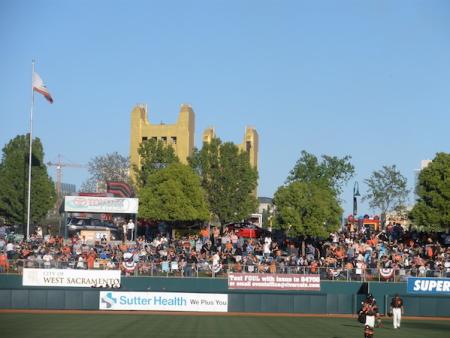 I thoroughly enjoyed the evening taking in a baseball game at Raley Field. The ambiance was easygoing and enthusiastic at the same time.  Everyone joined in singing the national anthem as well as "America the Beautiful" and "Take Me Out to the Ballgame." Vendors of cotton candy and peanuts strolled up and down the aisles. Brief diversions, such as "baby races" were presented and broadcast on the scoreboard monitor between innings. Music clips played as the batters warmed up and when an on-field play happens, adding spice of variety to the game.
If you've never been to a River Cats game, or even if you have, don't wait for an out-of-town visitor or even a special exhibition game! I highly recommend everyone attend a River Cats game at Raley Field whenever they get the chance.  We are fortunate to have this amenity here as close as West Sacramento, walking distance from Old Sacramento. It's just good old-fashioned fun, still relevant in 21st century Sacramento.  If you don't have a seat, the lawn area along the first base side is famously inexpensive and fun.  Take yourself out to the ballgame!