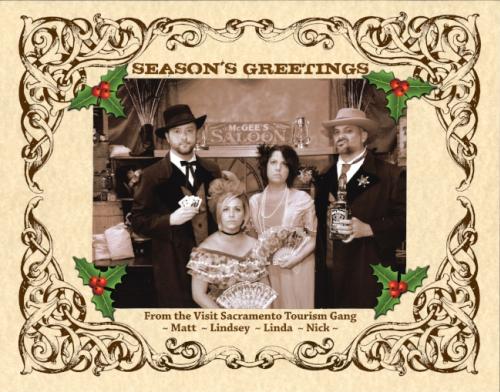 Well, we've reached the end of another great year at Visit Sacramento and - if you're reading this - you were probably a big part of making it so great. So thank you for that.
Sure, 2017 might have been the craziest year the world has ever seen, but we still managed to have a lot of fun while spreading the word about Sacramento throughout the travel industry.
Our little tourism team welcomed industry fam tours from all over the world in 2017 - China, Germany, South Korea, Italy, the United Kingdom, Australia and more. Which means that I went to Old Sacramento about 100 times. And, I'll tell you what, I'm not tired of it yet. 
Most folks come in to Sacramento for the first time without really knowing much about it, but after being welcomed by our community and enjoying all the food, beer, wine, history and outdoor recreation, they become big fans. So we thank you all for spreading the word.
There are lots of changes going on in downtown Sacramento right now. The Golden 1 Center celebrated its first birthday in 2017 and welcomed its new neighbor the Sawyer Hotel by Kimpton with its beautiful views from it's posh rooftop bar. Soon, the area now known as Downtown Commons or "Doco" will be full of new retail and restaurants... including the return of local favorite Estelle's Patisserie which is a big deal for me because I've been craving their Nutella brioche for a long time now.
But while we are experiencing big changes, we are also staying the same in a lot of good ways. We still have an amazing community of farmers, chefs, brewers and bartenders making Sacramento food scene one of the best anywhere. We still have our beautiful canopy trees throughout the city which shade us in the summer, provide amazing colors in the fall and clog all our gutters in the winter. We're still the state capitol and we still embrace our colorful past as the epicenter of the great California Gold Rush. Oh and the weather is still nice and the people are all still super-attractive.
On the real business side of things, 2017 saw us update our website, develop a ton of great sample itineraries, attend the biggest industry tradeshows and hit the road to spread the word about Sacramento. We visited Nevada, New Mexico, Texas, Washington D.C., Ohio, Los Angeles like four times and even one big trip over to Scandinavia. We hope to get out there even more in 2018, so keep an eye out for us.
So as we look forward to the new year we are exciting about what's going on in Sacramento, but mostly we hope that 2018 brings you peace, happiness and plenty of vacations.
As always, please contact us if you ever need any info about Sacramento and be sure to give us a shout if you're ever in the neighborhood.  
Happy Holidays!