Located at the edge of Midtown Sacramento on I Street, Mojo's Local Tap & Kitchen is a new favorite hotspot for visitors, locals, and all the furry friends we call family.  We sat down with owners Scott and Cristin Prenez as they dished out why Mojo's is a great place for food, beer, wine, sports, pets, and friends.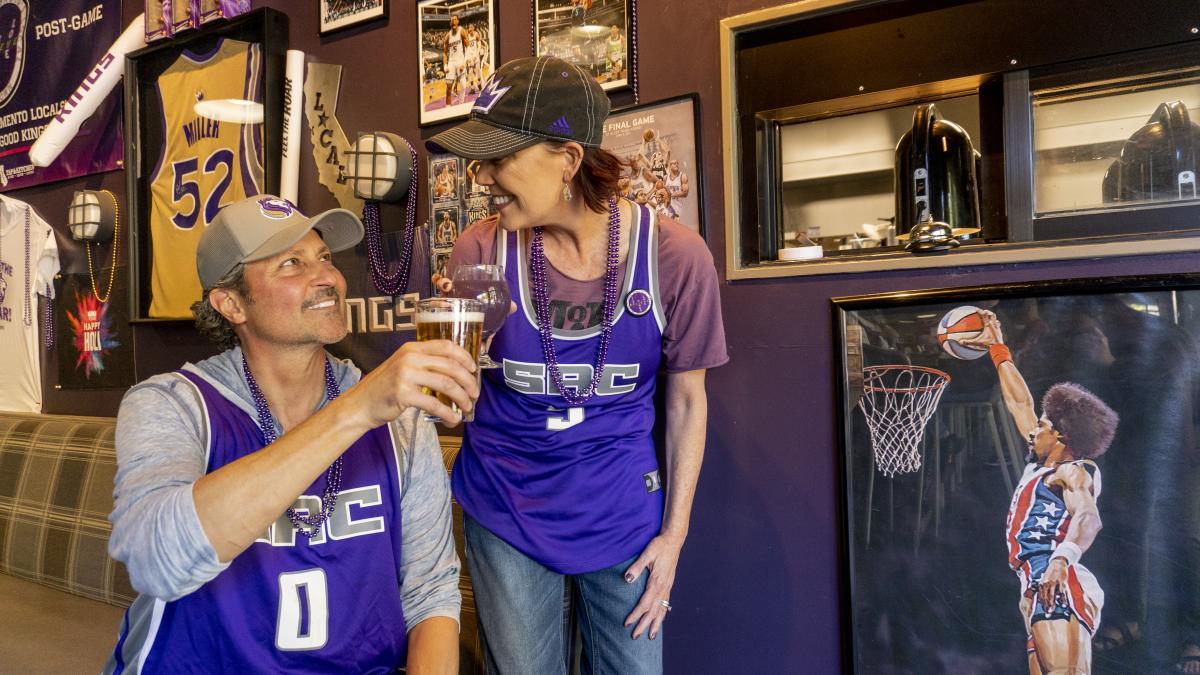 Early on in their relationship, both Cristin and Scott talked a lot about opening a pub of sorts. It was just a dream of theirs for some time, but when a global pandemic hit, the dream was brought back to the forefront. Having seen and felt the travesty of businesses shutting down, the Prenezes knew that the time was right for them to breathe some life back into the city that they both frequented and loved. They searched high and low for the perfect location, and the opportunity presented itself when the old Capitol Hop Shop, located on I Street near Memorial Auditorium, went up for sale. The bones were good, the location was perfect, and the time was right for their dream to come true.
Mojo is a Caribbean word that is magical and filled with positive energy. The Prenezes loved the vibe of it so much that they named their Great Pyrenees after it. The big, 140-pound fluffy fella (who we've heard gives the best hugs) would be the center of attention when it came to naming the pub. It was a no-brainer that a place that the Prenezes hoped would be filled with smiles, laughter, and love should be named after their furry family member. Although the pub is lovingly referred to as "Mojo's," it's important to understand why "Local" is in the name as well.  The Prenezes are huge on supporting local businesses as much as possible. Not only do they offer menu items that come from surrounding businesses, but they also frequent and share with their customers the places that make Sacramento an amazing place to live and visit. With so many different options in the area, they are big on spreading the love, and it's not hard to do so, as they've created lasting friendships with many of their business counterparts.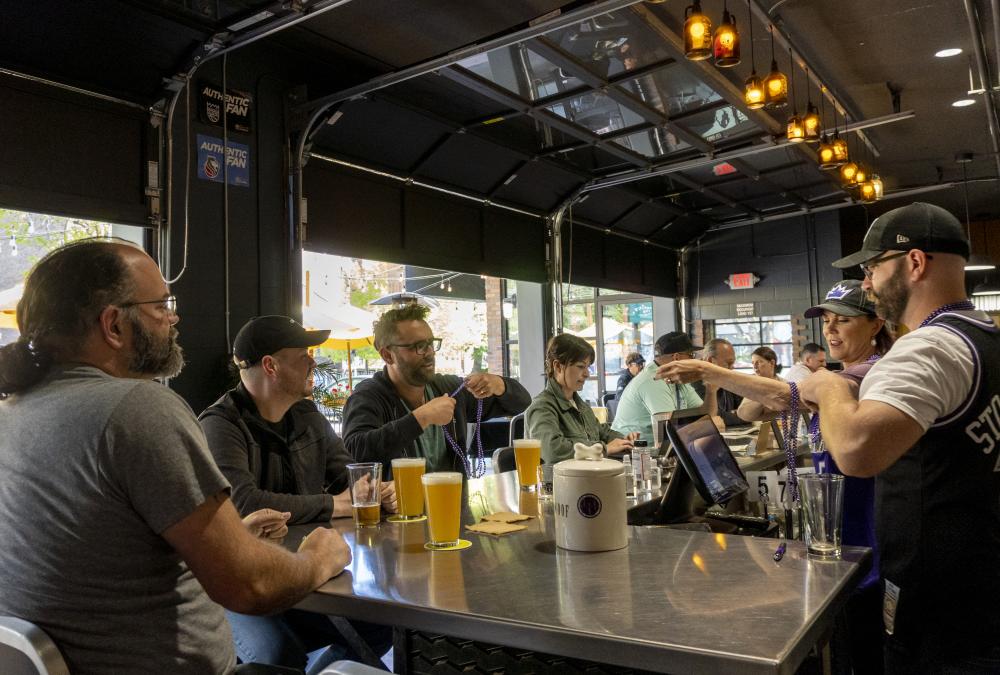 Mojo's Local is a fantastic place for all things sports. Looking for a great place to watch golf, soccer, hockey, or football? Mojo's is the place to go. Sacramento Kings in the playoffs? Not only do they have you covered there, too, but you're going to find employees decked out from head to toe in gear that's fit for a royal. Don't be surprised if you get beaded on game days when you purchase a drink or are able to participate in a bead toss at the end of the night. Oh, and did we mention that specialty drinks like a Light the Beam Lager and a Purple Regin Cider are on the menu? We visited on a game day, and it's clear that Mojo's Local is a prime spot to have a bite to eat, grab a drink, and watch the game – whatever game that might be.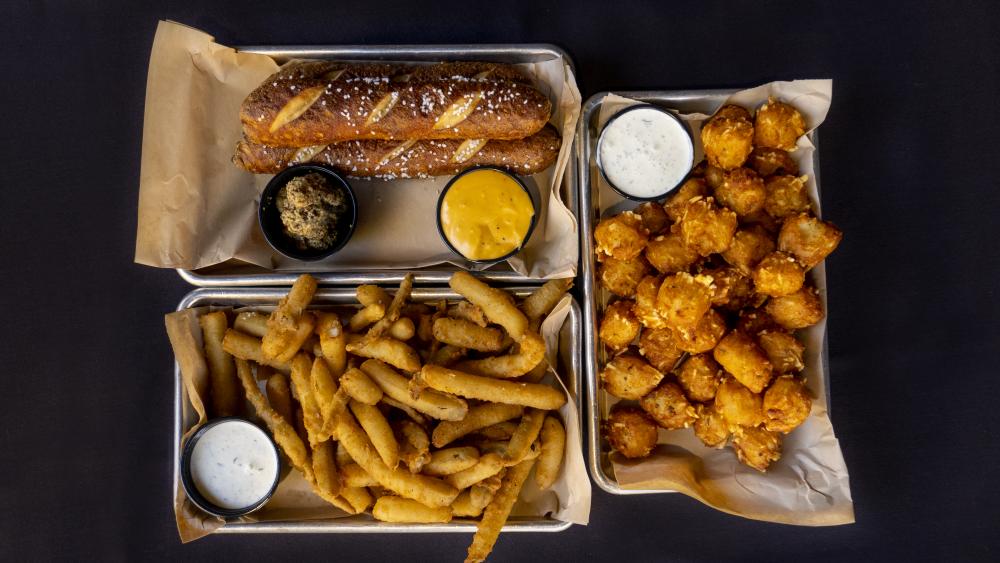 Speaking of grabbing a bite to eat, we were able to try several items from the menu while we were there. We could talk about the pickle fries all day long, but items such as the baked Bavarian soft pretzels and the sour cream and cheddar tots, along with the fried chicken sandwich, complete with Cajun spices and Creole aioli, were a chef's kiss. It's no surprise that we felt that way about the food, as we learned that the Prenezes recently brought in a secret weapon to their kitchen, aka, Chef Antwyne Bates. Not only has he elevated the food they previously served, but he's been creating masterpieces of his own as well. His experience living in New Orleans helped him create a Cajun-inspired menu, along with the elevated pub food that is not what you'd expect to get at any ol' pub. What pub serves Jambalaya? Mojo's Local does.
In addition to great-tasting food and an energetic atmosphere, there is a whole realm of beverages that are bottled and on tap for you to choose from – many of which are from local breweries such as New Glory, Track 7, Sudwerk, Bike Dog and more. In addition to beer, wine, and other favorite libations, Mojo's offers several non-alcoholic drinks. You can have water, but you're not limited to the boring stuff as Mojo's serves non-alcoholic beers and other non-alcoholic drinks.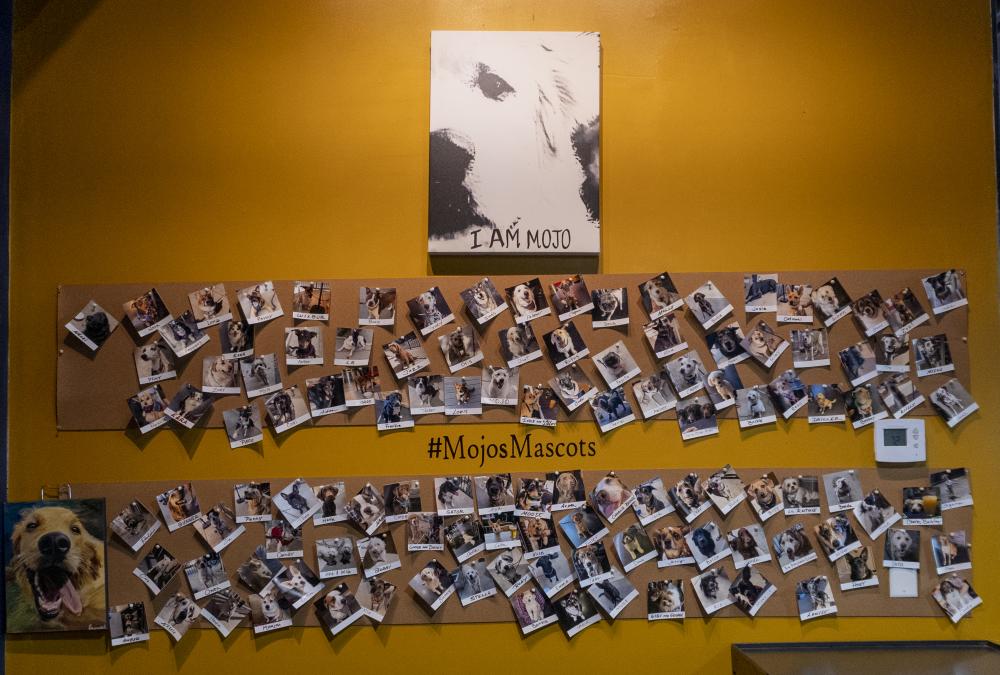 Mojo's wouldn't be Mojo's Local if pets weren't allowed to join in on all the fun. The pub is named after a dog, after all. Pets are treated like family there, and although animals can't go behind the bar or in the kitchen, they are welcome everywhere else in the establishment, as long as they are on a leash. If you bring your furry friend with you, make sure they're photo-ready, as their photo might be taken and added to Mojo's'pet wall. We had the chance to check it out, and let us just say that there's quite the collection of dog photos going on so far.  Cristin did mention that they haven't seen any cats or rabbits come in yet, so who will be the first to bring one in? Sounds like a challenge to us.
Whether you want a drink and a bite to eat, want to catch a game with your friends and fur babies, or do both, the Prenezes welcome you to Mojo's Local. They invite you to come and experience the friendly atmosphere and engage with the community over great food, drinks, sports and pets. If you don't show up there with a smile on your face, we're pretty sure you'll leave with one, because there's a lot of good mojo at Mojo's Local. Be sure to visit and experience it yourself. -- you can thank us later.