Sacramento State University will host the Homeless World Cup July 8-15, 2023, bringing more than 500 soccer players from 51 nations to compete in more than 400 games to determine the champion.
The Homeless World Cup is in its 20th year, and was originally formed in the United Kingdom to change attitudes toward those who are experiencing homelessness and focus on the humanity of the players, rather than their circumstances, said Lisa Wrightsman, managing director for Street Soccer USA, which was instrumental in bringing the tournament to the United States.
The tournament features 14-minute, four-on-four matches that see an average of eight goals each on a pitch about the size of a basketball court. Three games are played at a time. They're free to watch, and concessions are sold on-site. All games will be held at Sacramento State's Hornet Stadium. For the most up-to-date information, visit the Homeless World Cup Sacramento event website.
"It's a rollercoaster of emotions for everybody," Wrightsman said.
Wrightsman, who played soccer at Sacramento State, said she became an eligible participant in 2010, following a period of substance abuse.
"I got invited to play in a tournament in Brazil," she said. "It blew my mind as a player – the impact it had for me on what I was dealing with early in my recovery, dealing with the shame and embarrassment of addiction – for those seven days I felt different, and I was committed to redemption and trying to be a better part of our community. It really affirmed that I wasn't alone, and I came back to Sacramento and was able to pursue the things I wanted to do with less shame."
She said the tournament started out with four teams, and has grown in the intervening years to the more than 50 that will take to the pitch in Sacramento over the next week and a half. It's held in a different country each year, and the media coverage around it has spread each time to highlight the worldwide crisis.
Wrightsman said one of the main things, however, is that the impact for the players is immeasurable.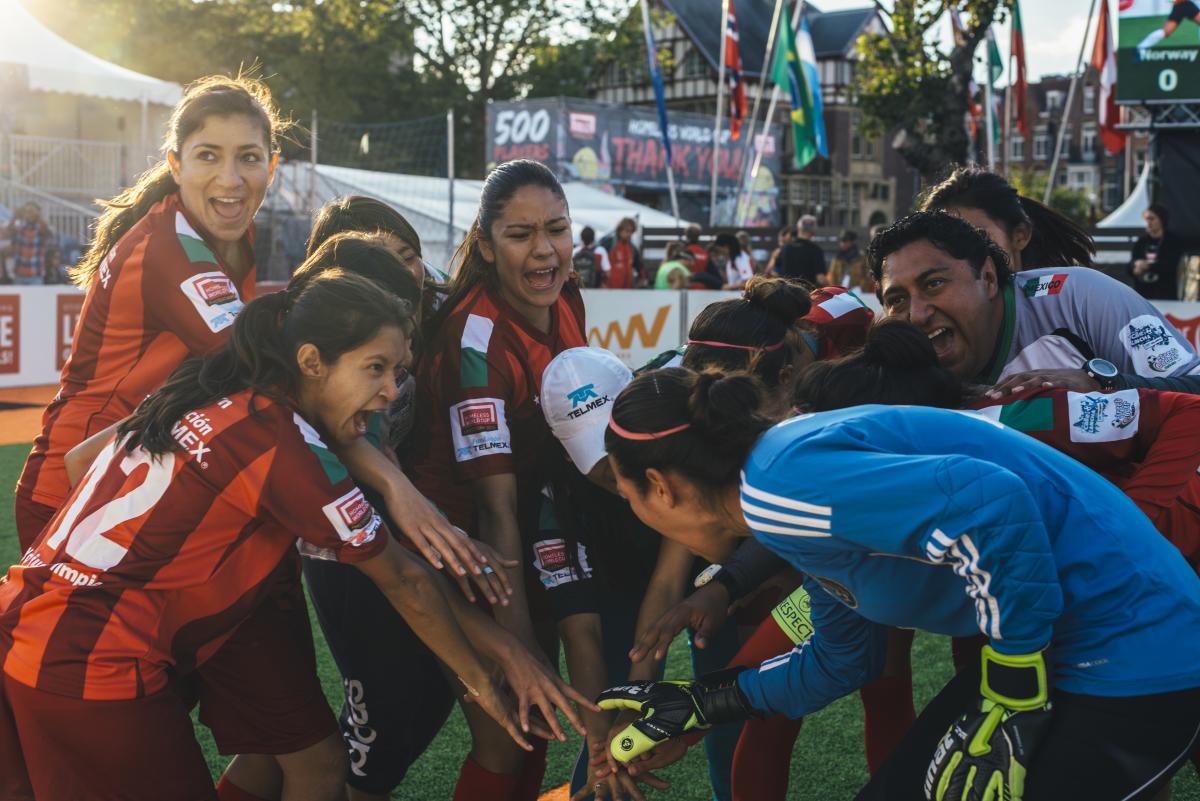 Photo by Daniel Lipinski
"It's a world-class event" she said. "When the players go out there, they're in their team jerseys and they're a part of something they'll never forget. And Sacramento will always be a special place for them because of the experiences they're having here."
Lisa Cardoza, vice president of university advancement for Sacramento State, said that hosting the Homeless World Cup was a natural fit for the university, especially since there will be a symposium to accompany the event and focus on important issues.
"It had always been a desire to add a conversation component to the tournament itself, and what better way than at an institute of higher education? Cardoza said. "How can we better understand the issue at hand? It's a global crisis."
The symposium will be held Wednesday, July 12, and will feature not only experts on homelessness sharing data, but will also include players sharing their stories and how the Homeless World Cup has changed their lives.
"We hope people walk away from the symposium piece seeing the humanity in these players and that that translates to the way they look at people when they do see them on the streets," Cardoza said. "We also hope it changes the conversation."
Cardoza added that Sacramento State President Robert Nelson was instrumental in bringing the event to the campus, and his retirement will coincide with the final day of the tournament.
While in Sacramento for the tournament, players are housed in the residence halls, and Cardoza said it will create an atmosphere akin to the Olympic Village, with barbecues and other events specifically for them. Additionally, companies including VSP and Kaiser Permanente will be providing various services to the athletes while they are in town.
"It's a tremendous meeting of cultures from around the world," Cardoza said.
Wrightson said she's thrilled to have the event in Sacramento, but emphasized the need to see it now, as it will not be coming back next year.
"Come to the games," she said. "I would hate for someone to think they'll just go next year, when this is their chance. The games are exciting, and the stories are incredible."
Top photo by Anita Milas.