Perched along the tranquil banks of the Sacramento River, there's a culinary gem that has stood the test of time, captivating generations of locals and visitors alike. For nearly three decades, Rio City Café has woven its flavors into the fabric of the Sacramento area and has become a cherished staple in our city. We sat down with owner, Stephanie Miller, Marketing Manager, Kaitlyn Miller, and General Manager, Jimmy Gayaldo, to learn about the history, the food, and why dining at Rio City Café should be at the top of everyone's eatery list.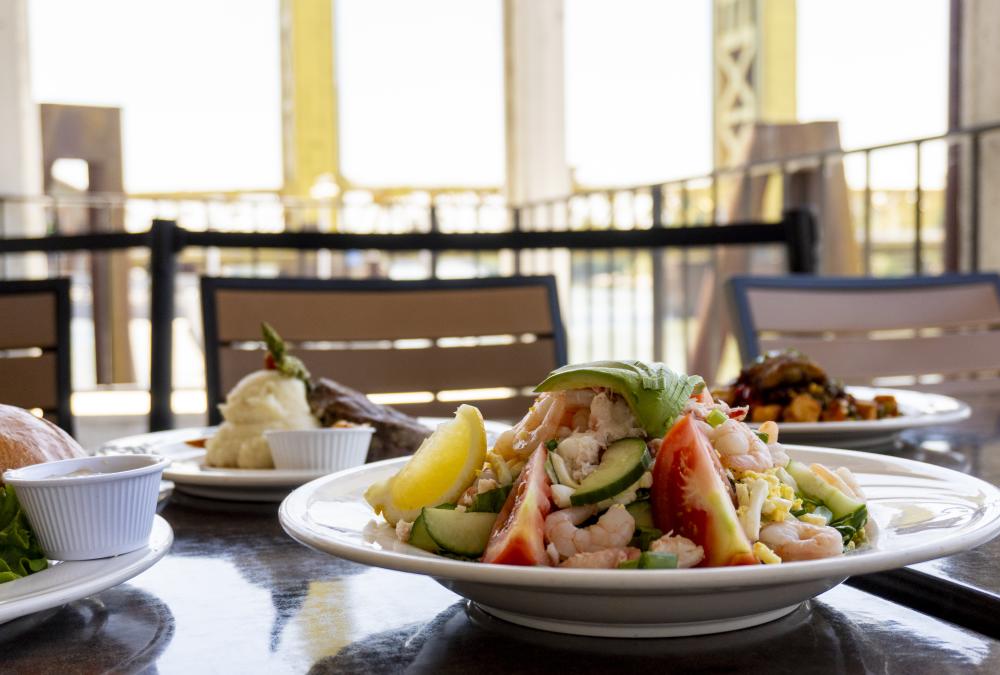 Rio City Cafe's Shrimp Louie salad
Food is Family
As we sat on the porch overlooking the Sacramento River and Tower Bridge, we gained an appreciation for not only the space and view, but also the way that we felt while we were there - like family. And just like most families do, we gathered around food and were treated to a selection of dishes across their various menus. We were really excited about the sourdough cheese loaf that has a reputation for being one of the best breads in town. Other favorites were the red crab and Shrimp Louie salad and the Pacific sea bass which has an orange a la crème sauce served over succotash, pancetta, corn, potatoes, and other vegetables. We were surprised to learn that not only does Rio City Café make all their sauces and dressings from scratch, but because of this, they can also accommodate most diets.
Some of the other dishes we were able to try were the filet mignon, the Rio Wagyu Burger, and the best jambalaya west of Louisiana. Stephanie shared that she has had guests who have visited from New Orleans who said they didn't think that the West Coast could make a good jambalaya until they tried Rio City's. Guests are often surprised at how authentic the flavors are. With seared tiger prawns, swordfish, sea bass, salmon, chicken, andouille sausage, and bacon tossed in creole sauce and served over rice, it's no surprise that our mouths are watering right now just thinking about it.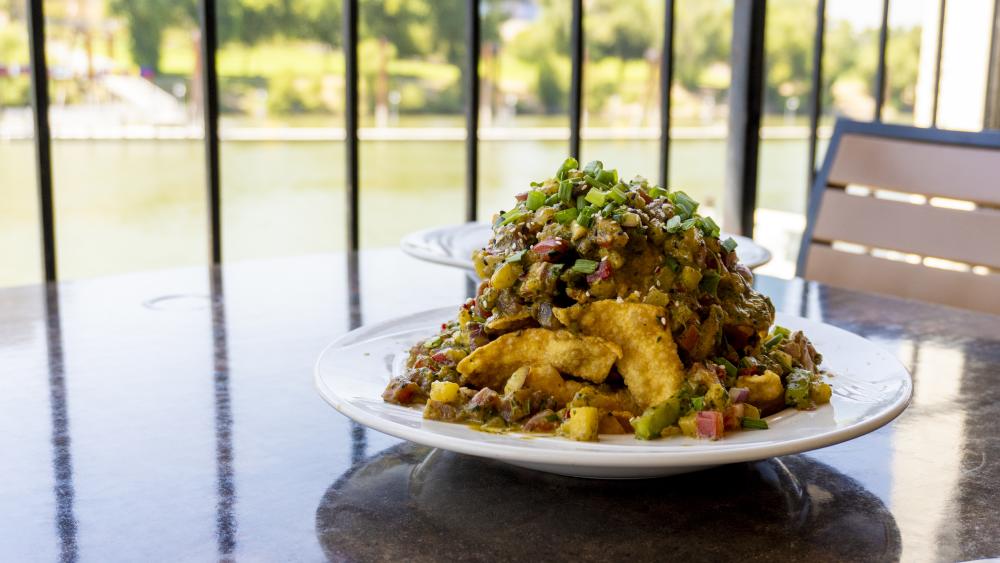 Rio City Cafe's Ahi Nachos
We were told that all the dishes we tried are staples on their menu, as they not only perform well at the restaurant, but guests and staff alike would get upset if they went away. Jimmy may or may not have learned that lesson the hard way with the ahi nachos that he removed from the menu for just a short time for seasonal purposes. We are glad it was a lesson learned before we arrived, because that dish was our favorite, especially the house-made crispy wonton chips that came along with it. If you love ahi, pineapple salsa, bell peppers, red onions, and tomatoes, we highly recommend you give this dish a try, especially because it also includes a cilantro soy lime vinaigrette that is, of course, made from scratch.
A Staple in Sacramento
Rio City Café will be celebrating 30 years of food magic next year and a little birdie told us that there may be a special menu commemorating the event that could potentially revisit some of the restaurant's original culinary delights. With a chef in the kitchen who has been a part of Rio City Café for most of the time the doors have been open, those menu items have not been forgotten and are sure to be part of the celebration.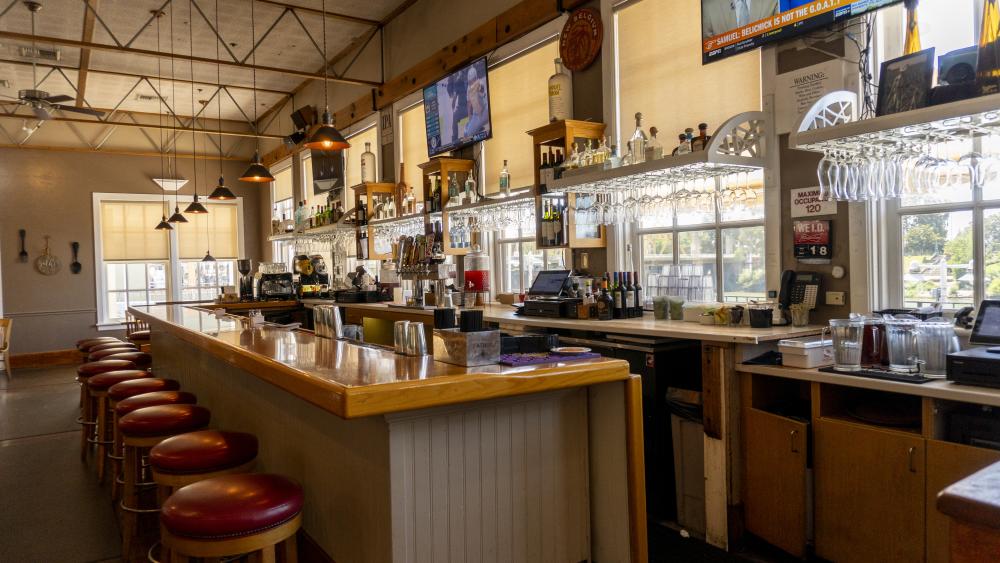 Rio City Cafe's inside bar
Something New is in the Works
Another fun thing we learned was that a remodel of the restaurant is in the works. Part of the remodeling will expand the kitchen, which was originally built to accommodate the number of guests for the inside only. When the patio was built about a year after opening, they quickly outgrew the kitchen. However, diners would never know this, as they continue to make magic happen from that small space to this day.  Jimmy is aware of the efforts of those who continuously put forth mighty work and he makes sure they are thanked daily with a handshake and verbal gratitude. We are excited to see the changes that will come of the remodel, but I'm sure that staff, especially those in the kitchen, are even more excited to have more room to create all the great things that are delivered to their tables indoors and out.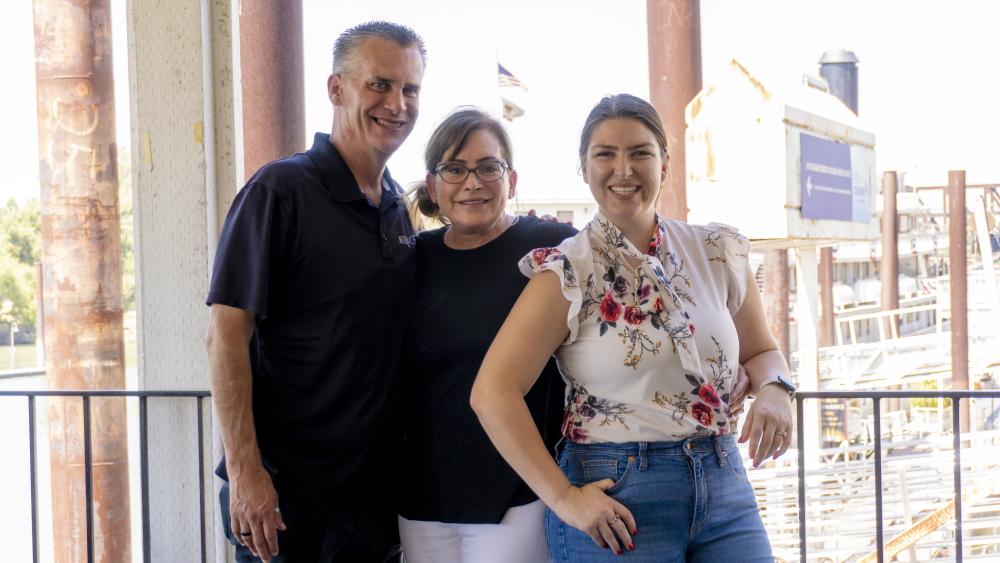 From left to right: General Manager, Jimmy Gayaldo, Owner, Stephanie Miller, Marketing Manager, Kaitlyn Miller
We didn't realize when we stepped foot into Rio City Café that we would leave a part of their family. The warmth and attentiveness shown by Stephanie, Kaitlyn, and Jimmy made our experience special, a sentiment we're convinced all guests share. Whether you're craving a fresh delectable cuisine with a scenic view, amiable hospitality, or both, we recommend that your next dining adventure unfold at Rio City Café.  As special as Stephanie, Kaitlyn, and Jimmy made us feel, we're pretty sure that is how you'll feel while dining there too. And we're serious about the ahi nachos - get them, you won't be disappointed.