Recently Sacramento welcomed Indian celebrity Rannvijay Singha as part of a promotion of the Sacramento Kings' exhibition games in Mumbai Oct. 4 and 5. We rolled out the red carpet for Rannvijay and showcased a variety of Sacramento favorites. He did yoga on a paddle board on Lake Natoma, enjoyed a barbecue dinner and rooftop cocktails and learned about our Gold Rush history. Sacramento is full of fun experiences and attractions, making it easy for you to create your own VIP excursion at any time of the year. 
DAY 1
Following in Rannvijay's footsteps, we suggest starting your day with a tour by Duffy (put in a special request, he's hilarious) at the Gold Bug Mine in Placerville. Experience the Gold Rush like a real miner in a mine that dates back to 1849 and is an excellent example of hard rock mining.
Make your way back down the hill to the Old Sacramento Waterfront for some more history. Start with lunch at the Pilothouse Restaurant aboard the Delta King Riverboat and take in the river views while dining on a restored boat that used to travel between San Francisco and Sacramento from 1927 to 1940 and had a role in World War II. Lastly, take a private guided Gold Fever tour and become of the real-life rascals who scratched and clawed to make this the center of the Gold Rush. No visit to Old Sacramento would be the same without a pit stop in the California State Railroad Museum.
Make your way to Downtown Commons (DOCO) for some unique shopping. If you're like Rannvijay and sneakers are your thing, head to Getta Clue (in Sacramento since 1992) for some new kicks. If sweets are your thing, head to Estelle's Bakery & Patisserie or Andy's Candy Apothecary to satisfy your sweet tooth. While you're down there, make sure to stop in the Sacramento Kings' Teamstore for your favorite NBA team's gear! Revel in all your shopping success with rooftop drinks at Revival inside the Kimpton Sawyer Hotel. 
If it's Sacramento Kings season, make sure to stop by the box office to grab your game seats among the fans that have been dubbed the loudest in the NBA. Golden 1 Center's executive chef and restaurant partners source 90 percent of their ingredients from a 150-mile radius so you know you're eating like a king - or queen - when you're there. 
DAY 2
Get up with the sun and head out to Lake Natoma for a private stand up paddle boarding yoga lesson with Seasons of Summer. Summer Ward leads her class by aligning personal inner truth with that of our outer environment. .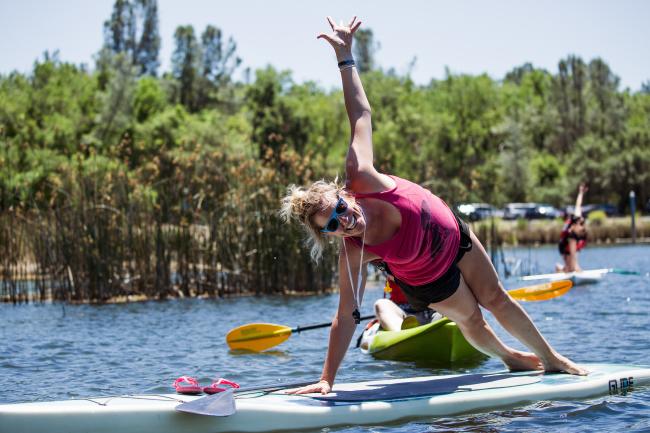 Back on land, head back to East Sacramento for brunch at Canon, recently awarded a Michelin Bib Gourmand.  The menu features shareable, seasonal fare in a welcoming neighborhood setting.
After brunch, grab a Jump bike or scooter and ride through the Fab 40s and Midtown neighborhoods. Wrap up the day with dinner and beers at Urban Roots Brewing & Smokehouse. The brewery features a 15-barrel brewhouse with 30-barrel fermenters so they can make big batches to send out into the world for everyone to enjoy while still being able to experiment with special small batches for the pub. 
Start your VIP experience in Sacramento by exploring more things to do or booking a hotel.