Sacramento is home to a new Italian restaurant, and we are here for it. Just a rock throws away from DOCO, Willow opened its doors at 1006 Fourth St. on Sept. 13, 2022, and features a cuisine that is inspired by the Mediterranean Sea region and Southern Italy. With dishes made from local seafood, game proteins, in-house pastas, and a dining room filled with color, patterns, and textures, we are sure your experience at Willow will tingle your tastebuds and calm your soul.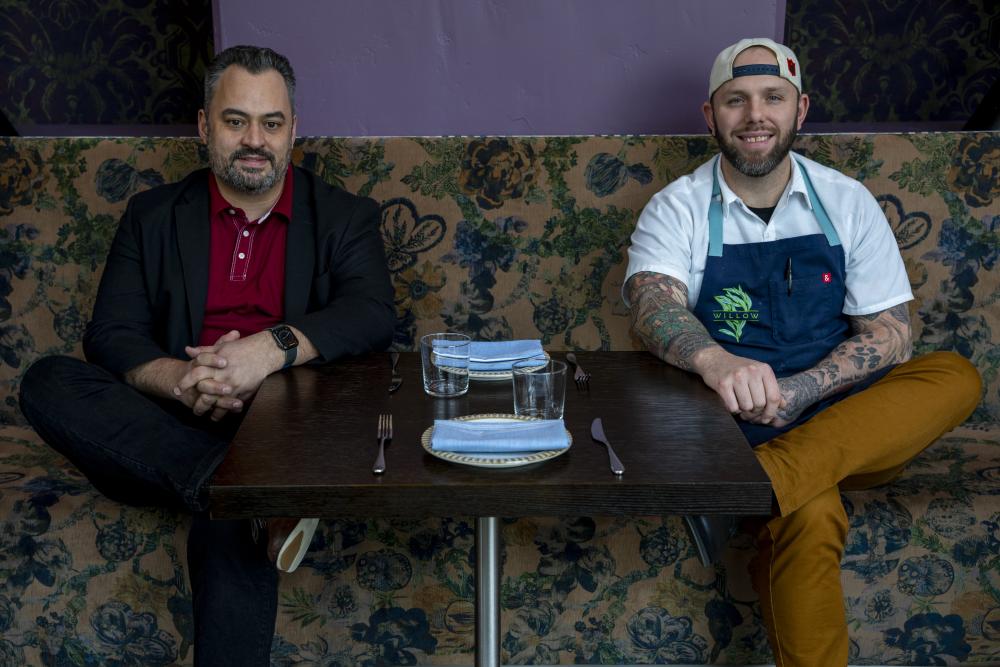 We were able to sit down with Food and Beverage Director, Nick Duren and Executive Chef, Russell Middleton as they dished out all the secrets of the history, opening, food, and people behind this gem of a restaurant. Ok, maybe not ALL the secrets were served to us, but we did get a first-class tour, along with many insights and little-known facts as to why Willow is so special.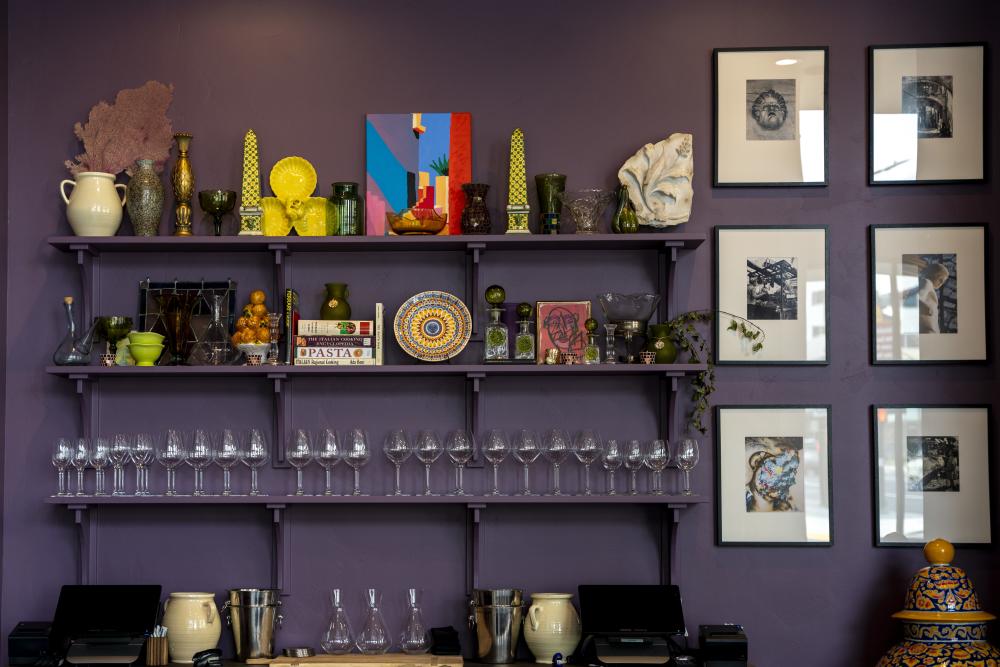 The Story Behind the Design
At the turn of the century, the California Fruit Building was bustling with early Sacramento citizens ready to purchase or trade for commodities that had come off the nearby steamships and railyards. It was a hub for the community to obtain food and goods for their families. Rich in its history and its roots, the building is now home to The Exchange Hotel and Willow. To help explain the design concept behind Willow, Nick shared with us a story. The story goes that Mr. Exchange (The Exchange Hotel), would often find himself away from home on business travel. He would acquire many goods that he would trade commodities for during his world travels to bring home to Mrs. Exchange (Willow). She would use these gifts to decorate their formal dining room. Although very different, Mr. Exchange, a masculine businessman, and Mrs. Exchange, a feminine woman with a little bit of a funky flair, would complement each other in the best of ways.
As we walked into Willow from the hotel, there was a noticeable change. The feminine and funky flair was in full effect, and it was not only fun and inviting, but very comfortable as well. Our eyes were drawn to the colors and patterns used throughout the restaurant. The rich purple walls with a lilac ceiling, gold accent lighting, and decorative items blended well with the different patterns purposefully used. Nick shared that before opening Willow, they took field trips to various flea markets to acquire many of the pieces that are displayed throughout the restaurant.  
"It's very grandma chic," he said.
Nick also shared that designing and opening a restaurant in the middle of a pandemic would prove to be challenging but not impossible.
"If we look back at renderings of the restaurant, it's all very similar to what the original vision was from the designer." Nick said "We opened with different glass and silverware because the ones we ordered didn't arrive in time. Many items were on a ship coming from Italy and everything took 12-16 weeks at minimum to receive.  As cliché as it sounds, Willow really did come together by organically allowing things to happen."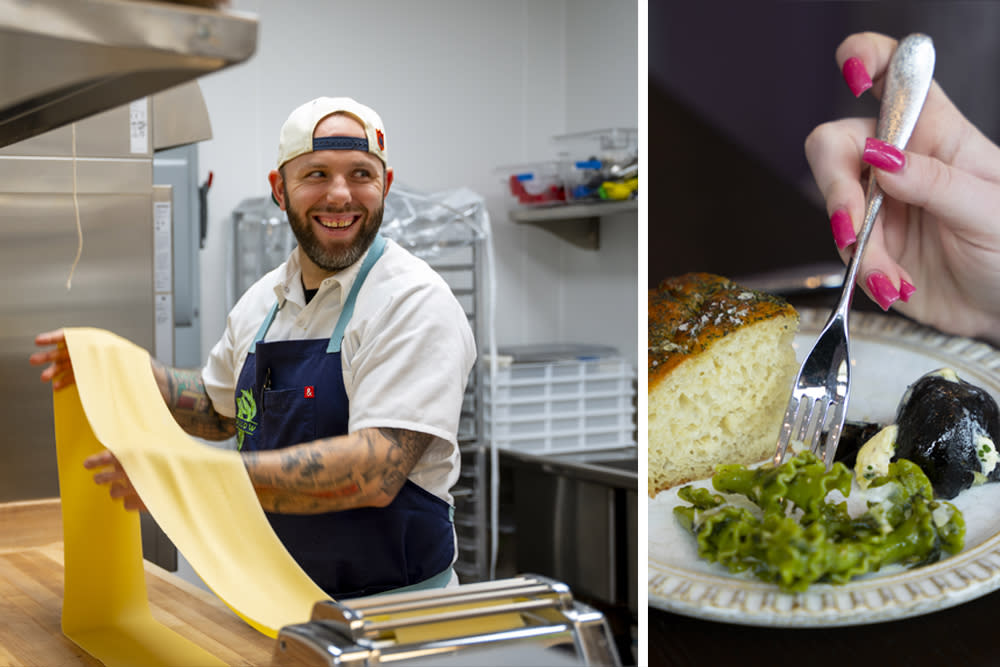 The Kitchen
Chef Russell invited us into his kitchen to show where the magic of Willow's cuisine happens. He prides himself in a clean and organized space and it was very clear that the procedures he has implemented are not only followed but also work well for the staff.
"We have a rhythm to our madness," Chef Russell said. "When you get 12 people in here, it gets tight real quick. Our rhythm leaves less room for complications".
He went on to share that one way he helps his team get in the headspace for a successful service, is to share daily quotes to inspire them.
"We are catching curveballs out here all day. We never really know what's going to happen. It helps us be ready for it," Nick agreed.
It's very clear to us that a happy and solid team is front of mind for both Nick and Chef Russell.  They both shared that they feel good about the team they have in place and feel very lucky to have a full staff on board who have found their groove and are going in the right direction.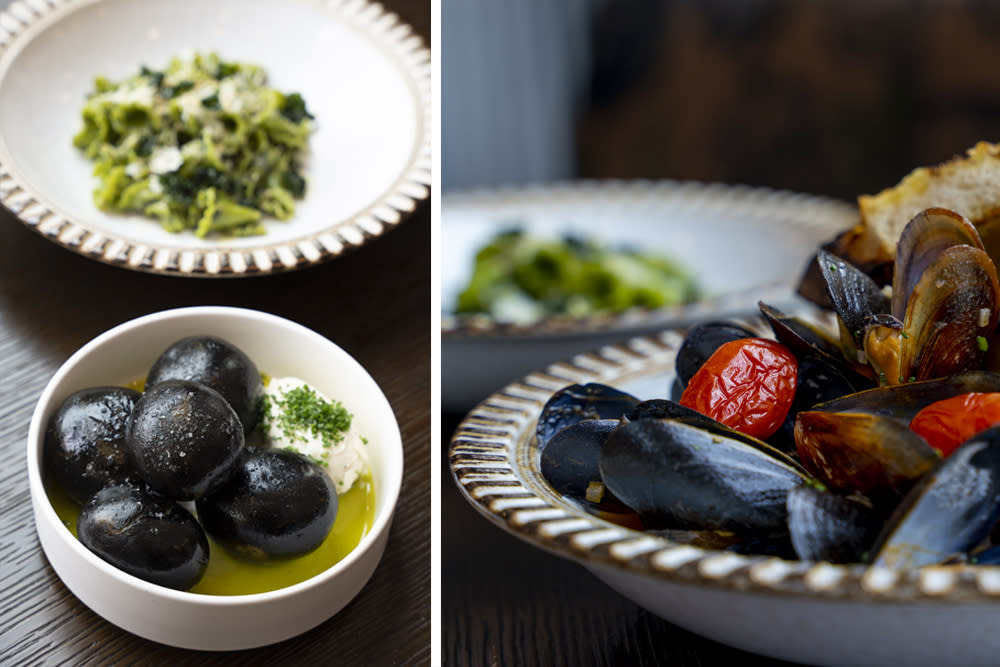 The Food and the Chef Behind it
We happened to tour the kitchen during dinner prep and were delighted to see the beginnings of an apple crostata and fresh, in-house pasta being made.
Speaking of pasta, Chef Russell treated us to a couple of Willow's house favorites, starting with their Cavolo Campanelle. Using the vibrant green water from blanching, blending, and straining kale, this pasta dish is not only green in color, but includes Pesto alla Genovese, Parmigiano Reggiano, and is topped with pine nuts and fried kale.
Also at the table was Willow's focaccia bread, mussels, and one of Chef's masterpieces, Patata Di Carbone. This charcoal black potato with mascarpone and chives is Chef Russell's take on the popular campfire potato.  He shared that perfecting this dish was something he had been working on for a while and was finally able to figure it out while at Willow. We won't divulge his secret to success on this dish, however, we will share that squid ink water is involved. These dishes were packed full of flavor and presented beautifully. Oh, and we're pretty sure that kale has never tasted so good.
One thing we were very curious about learning about Chef Russell was how he balances his own palate with what he puts in a dish for his guests.
"It's understanding the diner's palate. I like to add a little bit of spice to everything, that's kind of my go-to. I don't use a lot of pepper on things though, but I love pepper," Chef Russell said.
He also mentioned that there are staples on the menu that don't typically change and shared with a grin on his face that developing a new recipe is fun for him. We learned that he has a lot of creative rights in the kitchen, but he must get them approved by Nick, who he jokingly referred to as "dad."
Chef Russell created Willow's entire menu in just a few short months before they opened. His experience of many years in several different kitchens in and outside of Sacramento really prepared him for the amazing things he's been doing at Willow.
We had a great time rubbing shoulders with the people who not only make the magic happen at Willow but also who dreamt up the space and who create the food served there. More importantly though, we loved the uniqueness of the atmosphere and the mouthwatering taste of Italian-style dishes. It was clear to us that there is a lot of passion behind Willow, and it translates tableside. If you're looking for a great time, great food, and great service, they got you. We promise that you won't be disappointed. Oh, and order the focaccia bread. You can thank us later.