I look forward to summer, and particularly my favorite month of the year, July, each year. I love fireworks on the Fourth of July, my birthday is exactly one week later, and around my birthday each year, the California State Fair opens! We always went to the fair as a family at least once each year, and now we purchase season passes (quite the deal if you plan on going multiple times) and make sure to attend on opening day, a tradition we adopted from my brother in law and his family. 
Opening day is quite exciting. You get to see all the classics from the prior year and things new to that year first (refer to my previous blog post)! Plus, there's no rush: You have 16 more days to see whatever else you didn't see that first day, not to mention the multitude of concerts, shows and events. 
We love to start our day in the Tractor Supply Company Big Barn, but this time we changed it up and headed straight to the California Counties Exhibit building for breakfast, a delicious cinnamon roll. If you've ever had one you know, and if not, get one and make sure to catch them making a batch of them! While there, we perused the county displays, and with this year's theme, California – Create, Inspire & Innovate, the exhibits were pretty cool!
Next, we made our way out to the barn animals. It's always so nice when the owners are there talking to you about them and letting you pet their animals. After walking through the big barn, we made our way to the petting zoo, a favorite of ours. Don't miss the wonderful little fruit stand next to the petting zoo where you can pick up a gigantic slice of watermelon.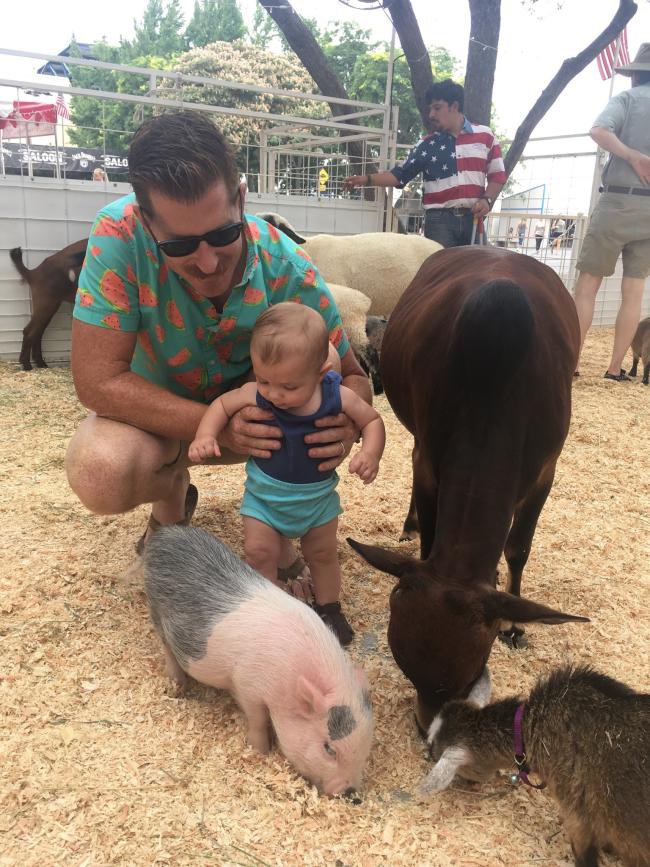 There's no shortage of food at the fair, with something for everyone. We all split ways and picked up something different for lunch. Our lunch table ended up consisting of a shrimp ceviche, a chicken taco, a cream cheese on a stick and a twister dog.
We meandered through exhibit buildings C and D for some cooking demonstrations, vendor shopping and snack tasting. We wanted to make our way over to Fur & Feathers, so we stopped for a quick picture with Smokey the Bear in Camp Smokey and headed over. Fur & Feathers never disappoints – we watched a baby turkey hatch from its egg, we held a canary and we got to pet a 4H student's prize rabbit.
We walked through Photography, California Crafts, California Fine Arts and Student Showcase exhibits. Whale Tails is a really great exhibit that is a repeat since 2014 and features live animals (including three bald eagles this year!) and a ton of interactive displays. A highlight this year was silent disco, we didn't know what we were getting into but it was a blast!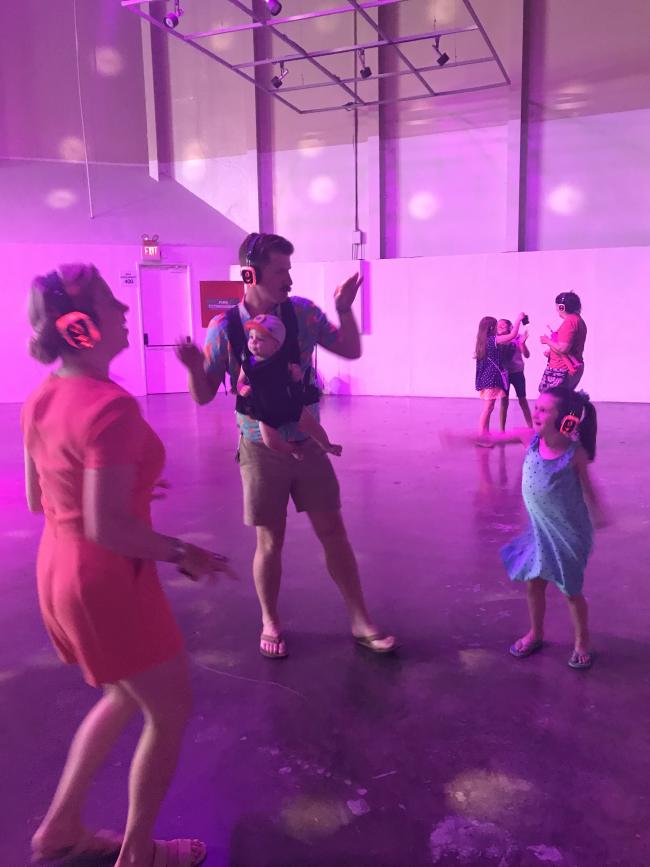 We ended up going back to the Kaiser Permanente Farm presented by Save Mart to pet some sturgeon, check out some bugs and peruse the fruit and veggie crops. We ended our day with grabbing a cold one from the California Craft Beer Pub and watching a demonstration by Taylor's Kitchen at the Save Mart California Kitchen. 
There is a still a lot for us to see, but with our season pass we have plenty of time to come back! And we most definitely will!