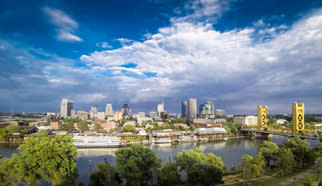 When you are planning your visit to Sacramento, remember that "California Begins Here."  That does not only refer to the history of California and our designation as the capital city – it also refers to the Sacramento lifestyle. Sacramento celebrates the California lifestyle in a laid-back, approachable way that our visitors can enjoy as well. From the cuisine to outdoor adventures, Sacramento gives its visitors access to everything that makes California one of the most popular vacation destinations in the world. Here are five steps to help you experience Sacramento like a local.
The Food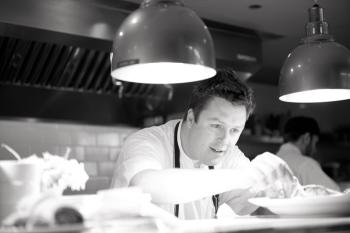 The first step is eating like a Sacramentan. Sacramento is America's Farm-to-Fork Capital, and we do not take that designation lightly. Visitors to Sacramento have a wide selection of restaurants, farmers markets and culinary events that feature the freshest ingredients California has to offer. The Sacramento region produces a significant percentage of the United States' food supply. Our local chefs prepare seasonal menus that are not only creative but also accessible. Our residents have known this for a very long time, but in recent years our visitors have been let in on the secret. And new events like the Farm-to-Fork Celebration in September have gained a large following. 
The People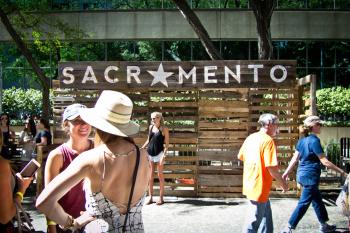 The second step is meeting some of the locals. And Sacramentans are some of the friendliest people you will meet. We love our city, and we want you to love it too. From our local festivals to weekly events like Friday Night Concerts in the Park, we love to share our city with you. You'll also notice how friendly Sacramentans are when you visit some of our locally owned businesses, such as our art galleries and shops in Midtown. You can stop in and chat with the owners, who are more than willing to share more "secrets" about Sacramento's hidden gems. On the weekends, check out the R Street Corridor and visit local favorites like Iron Horse Tavern or Shady Lady Saloon. These are great places to visit day and night, and you will find a lot of locals enjoying brunch or afternoon cocktails and local brews here.
The Nightlife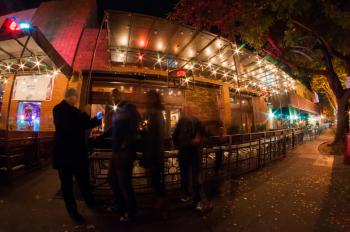 The third step is letting your hair down and enjoying a night on the town. Sacramento has a host of nightlife activities. With glitzy nightclubs, concert venues small and large, a vibrant craft cocktail scene and bars of all sorts, if you don't take in the nightlife, you've missed a significant part of what the city has to offer. You can dance the night away at District 30 in "The Kay." Or you can enjoy yourself in Midtown's Lavender Heights, Sacramento's LGBT neighborhood, with several bars and clubs that feature everything from packed dance floors to a quiet place to have a drink with friends. But one thing many Sacramentans are proud to show visitors is our vibrant live music scene. Catch a show at Harlow's or at many of the bars and clubs around the city. The best way to find the exact live music event for you is to visit our local events calendar, Sacramento365.
The Outdoors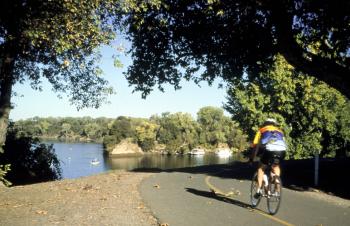 The fourth step involves a bit of adventure. Sacramento's great weather means it's the perfect place to explore and have fun in the outdoors. The city sits at the confluence of the American and Sacramento rivers, and just a short drive from the Sierra Nevada. From whitewater rafting to hiking and bicycling, Sacramento has you covered when you're looking for outdoor activities. In search of something more exhilarating? Skydiving and other extreme sports are also available. One of the most popular outdoor activities in Sacramento is cycling. More than 32 miles of paved bike trail along the scenic American River Parkway in Sacramento highlight the city's cycling amenities. Hop on the trail at many different points and ride along the American River, or rent a bike in Old Sacramento and take it for an urban spin - Sacramento has added multiple bike lanes in the past few years, including green-painted bicycling zones on Capitol Mall.
The Weather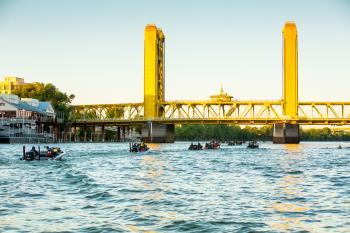 The fifth step is knowing Sacramento's climate. Sacramento features more than 250 days of sunshine annually. Winters are temperate, with highs rarely dipping below 50 degrees. And summers can be warm, but approachable, with nighttime temperatures lowering significantly after the Delta breeze arrives. There is not a bad season to visit Sacramento, but it's good to know what to expect when you are here. In the winter, you will find locals crowding into our coffee shops. In the summers, check out the boats on the Sacramento and American rivers.
When you visit Sacramento, you are able to experience all of these things that make California such a great destination. We have it all here in Sacramento, and we are not afraid to share it. Start planning your visit to Sacramento today.