Since the mid-1960's, the USATF Junior Olympic Track & Field Championships has been the most visible youth athletic development program in the world. Many of today's Olympic stars began their track and field careers competing in the event. Come out and watch 7,500 of America's next generation of track and field stars compete at Sacramento State's Hornet Stadium July 25-31.
Competition kicks off on Monday, July 25 but the Opening Ceremonies will take place the evening of Tuesday, July 26. The ceremony, at Hornet Stadium, will welcome all athletes with a collective of entertainers with two DJs, two musical performances and two dance groups! One of the dance groups, Dem Bague Boys, have received more than 30 million views on YouTube and one of the dancers was on this season's "So You Think You Can Dance The Next Generation". The other dance group, The Gentlemen, was a finalist on last season's "America's Got Talent".  
Don't miss out on the excitement

Tickets can be purchased at the Sacramento State Hornet Stadium box office any day of the competition. Hornet Stadium and the Stadium Box Office will open to the public daily at 6:30 a.m. The Box Office will close at the start of the last event each day, and the stadium will close at the conclusion of each day's practice session (90 minutes after the conclusion of the final event on the track). For the entire event schedule, click here. 
Tickets can be purchased daily and in 5-day and 7-day packages starting at $15 for adults, $8 for children 7-12 years of age and free for 6 and under. 
Don't forget to check out the indoor (and air conditioned) Fan Expo in The Well with a variety of vendors. Fine Designs, Inc. will be there will a array of 2016 event attire and goods.
Retired Olympian Jackie Joyner-Kursee will be making an appearance at Hornet Stadium on Thursday, July 28 to motivate the young athletes.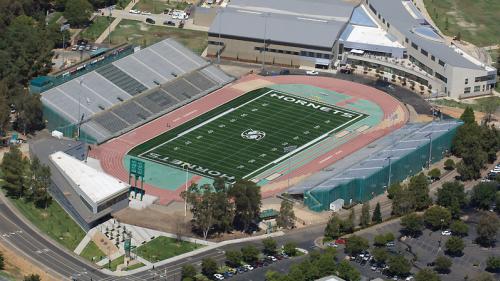 Sacramento track record

Sacramento figures prominently in the history of U.S. track and field over the past 50 years, starting with a legend's historic sprint in 1966 and continuing into 2014 with the USA Outdoor Track & Field Championships. Good facilities, excellent weather and knowledgeable fans have earned Sacramento a star on the sport's map of outstanding track cities.
Sacramento hosted the Olympic Track & Field Trials in 2000 and 2004, which saw Stacy Dragila set her first world record in the pole vault. Other records have been set in Sacramento, including the "Night of Speed" in 1968, when three American men all beat the world record in the 100 meters.