Contact:    Kari Miskit
Phone:     916-808-1422
Date:         June 12, 2017
Visit Sacramento Appoints New President/CEO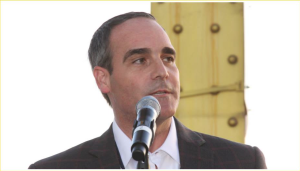 Sacramento, Calif. – Visit Sacramento, the region's destination marketing organization, today announced the appointment of current Chief Operating Officer Mike Testa as its next President and CEO.
Testa will begin serving as Visit Sacramento's President and CEO on July 1, 2017, leading the charge in shaping Sacramento's visitation platform. Testa will oversee the organization's role in booking conventions, meetings, and trade shows for the Sacramento Convention Center and local hotels, promoting Sacramento's farm-to-fork identity nationally to consumers, and charting the course for the Sacramento Sports Commission. He succeeds Steve Hammond, who is retiring after serving as its President and CEO since 1999.
"Over the past decade Visit Sacramento has achieved record bookings in convention and sports events and recognition as America's Farm-to-Fork Capital," said Visit Sacramento Board Chairman and principal of Halo Hospitality Brian Larson. "Mike Testa possesses the vision, skills and passion to build on these accomplishments." 
Having worked for Visit Sacramento since 2001, Testa currently serves as its Chief Operating Officer. He was first hired as director of public relations and was promoted through the ranks to assume leadership roles in consumer marketing, convention sales and business development. He worked for the Downtown Sacramento Partnership from 1998 to 2001, directing its public relations and marketing activities.  
"I am very excited about working with the Board and our business, sports, and hospitality industry partners and customers, as well as stakeholder groups and our civic leaders, to guide our organization into the future," said Testa. "I am honored to help lead our region's efforts to leverage Sacramento's many great assets to make our region more competitive as a visitor destination."    
Visit Sacramento's Board of Directors offered Testa the top staff position after conducting a national search process initiated in February.
About Visit Sacramento
Sacramento Convention & Visitors Bureau dba Visit Sacramento is a private non-profit, destination marketing organization funded primarily by assessments paid by hotels into tourism marketing district. Visit Sacramento is the premier economic development and services organization for the region's convention and tourism industry and plays a leadership role in helping the region compete to bring events, conventions and business meetings to Sacramento. Brands operating under the Visit Sacramento umbrella include America's Farm-to-Fork Capital, Sacramento Sports Commission (Sac Sports), Sacramento365 (a joint partnership with Convention & Cultural Services and the Sacramento Metropolitan Arts Commission), Sacramento Film Commission (Film Sacramento), and Sac Event Crew.