Media Kit
Destination Travel Network & Visit Sacramento
Advertising opportunities on VisitSacramento.com
For pricing and program details: advertising@DTNads.com
Creative Information:
Responsive website design allows advertisements to display on all devices.

All placements are templated and designed to match the visual aesthetic of VisitSacramento.com.

Images should be single photographs without any overlaid elements, including logos. No collages or "photoshopping," please.

All character count specs include individual spaces, punctuation marks, and letters. We recommend using a character count tool such as http://www.charactercountonline.com/ to track copy length.

Send creative assets to support@dtnads.com.
Run of Site Banner
Photo (660w x 626h pixels)
Headline (75 characters)
Body (150 characters)
Clickthrough URL
Sacramento is America's Farm-to-Fork Capital. There are more restaurants with high Zagat ratings here than anywhere else in Northern California.
Spotlight
Photo (609w x 472h pixels)
Headline (55 characters)
Body (150 characters)
Clickthrough URL
Sacramento has more than 2,000 hotel rooms within walking distance of the Sacramento Convention Center.
Featured Listing
Pulls content from your existing listing detail page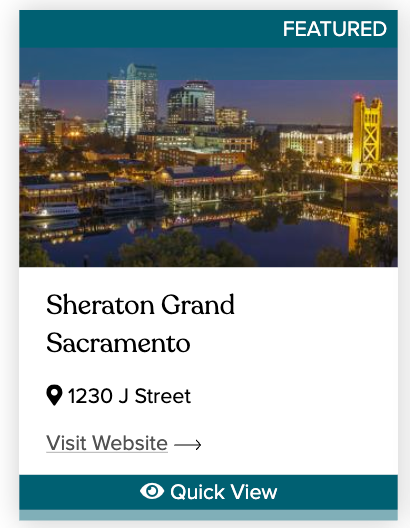 Mobile Banner
Photo (81w x 50h pixels)
Copy (25 characters)
Call-To-Action (20 characters)
Clickthrough URL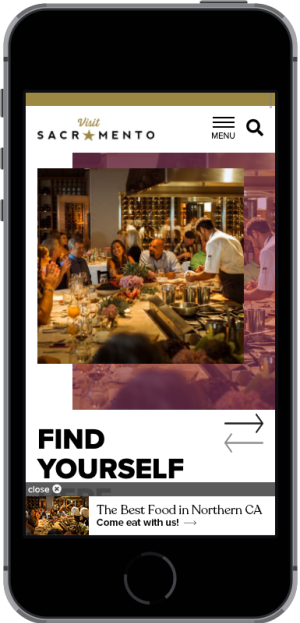 Premium Page Sponsor
Photo (1023w x 569h pixels)
Headline (80 characters)
Body (250 characters)
Clickthrough URL
From our high-production Broadway series musicals downtown to the murals painted all over the city—We love the arts!
Learn More
Header Image
Photo (1655w x 621h pixels)
Headline (75 characters)
Clickthrough URL