The weather's getting warmer and the days are getting longer, making spring the perfect time to dine on one of Sacramento's restaurant patios. Take a trip to these local eateries and take advantage of their epic patios.
Located where Broadway meets 16th Street, Tower Café is next door to the Historic Tower Theater and is just a few steps away from the storefront where Tower Records came to fame. Tower Café is known for its outdoor patio, surrounded by lush greenery and towering palm trees. Be sure to try their beloved French toast for brunch while you're there.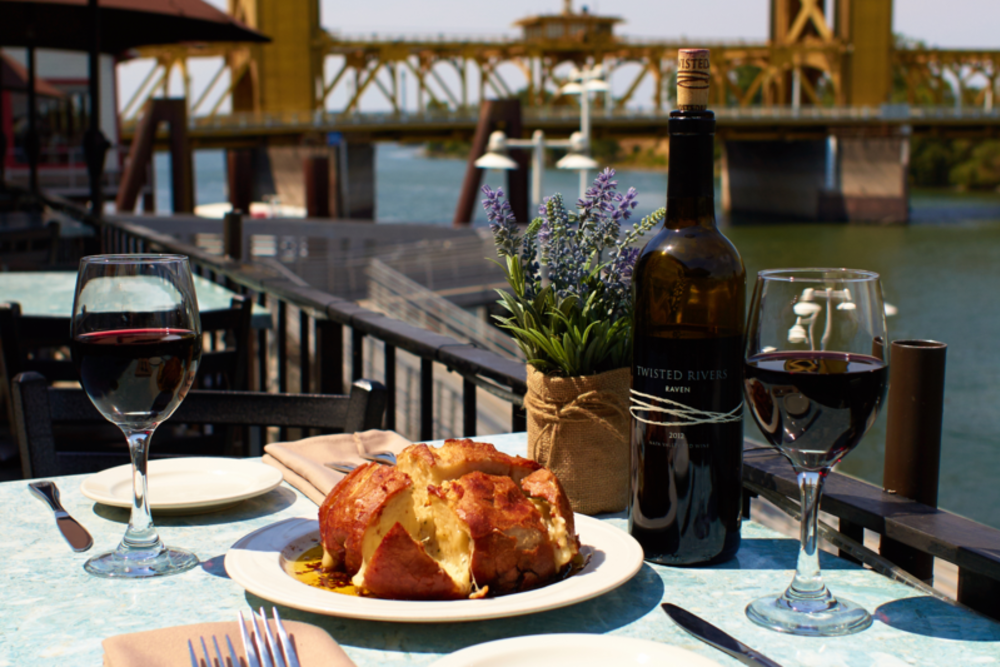 Image Courtesy of: Rio City Cafe
Perched above the Sacramento River in the historic Old Sacramento Waterfront district, the outdoor deck at Rio City Café provides stunning views of the river, the Tower Bridge, and West Sacramento's famous Ziggurat building. In the mood for seafood? You're in luck as this Old Sacramento gem specializes in their seafood dishes, ranging from fish and chips, to shrimp Louie and lobster ravioli.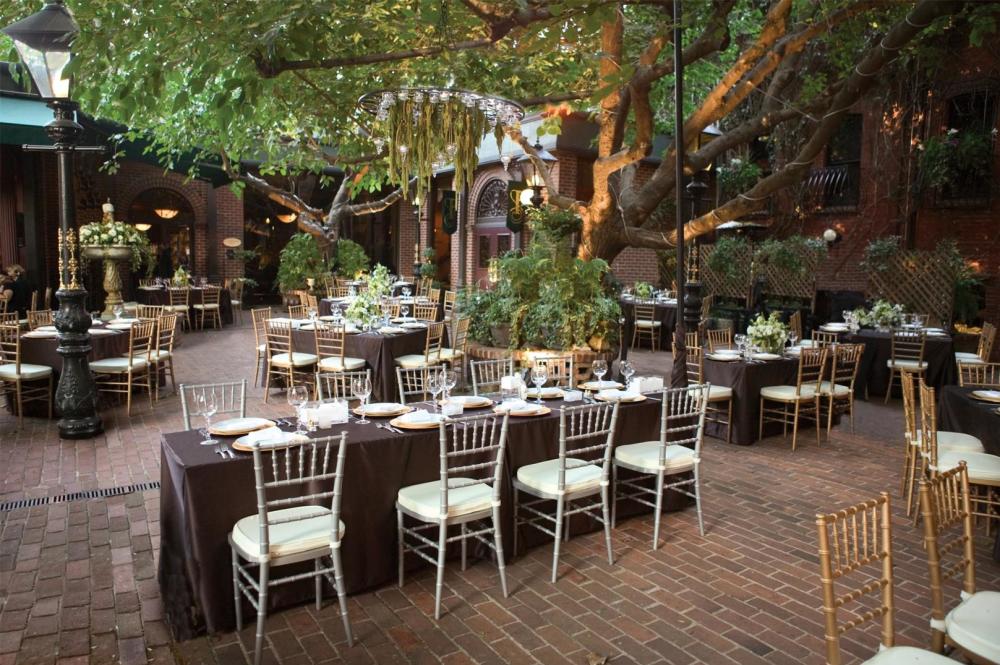 Image Courtesy of: Firehouse Restaurant
Nestled in the heart of Old Sacramento, The Firehouse Restaurant offers a charming and intimate ambiance on its patio space. This local favorite has been known for serving delicious locally-sourced dishes for nearly 60 years, including braised local pork belly, a double-cut local brined pork chop, and red wine-braised rabbit.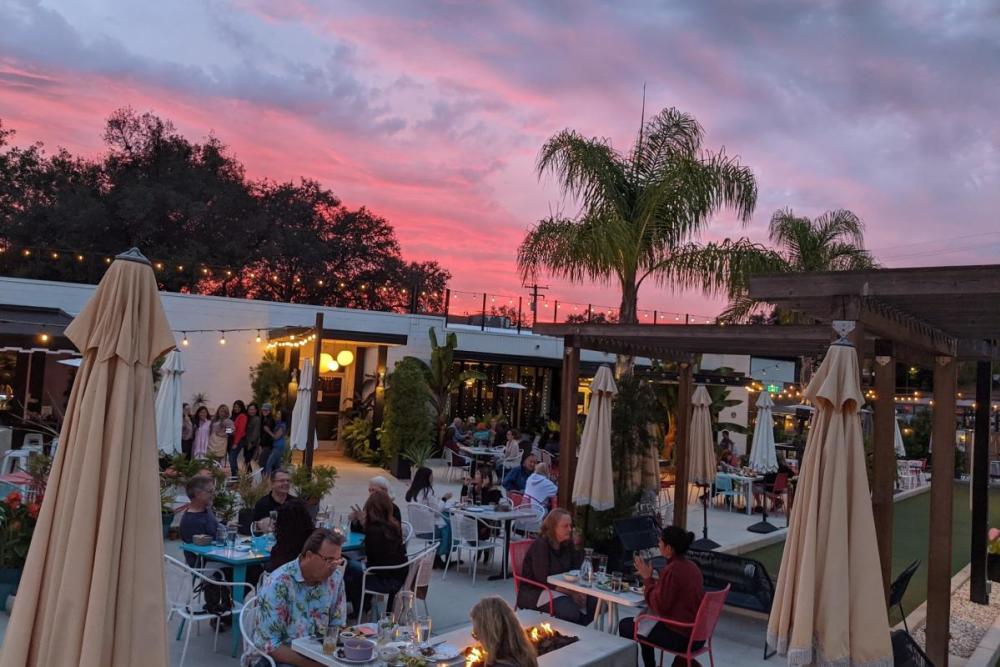 Image Courtesy of: Shangri-la
Bring your favorite furry friend and enjoy a cocktail and a game of bocce ball at Shangri-la in Fair Oaks. This contemporary restaurant offers upscale seasonal cuisine and hand-crafted cocktails, all on the comfort of their palm-lined patio with a large outdoor bar.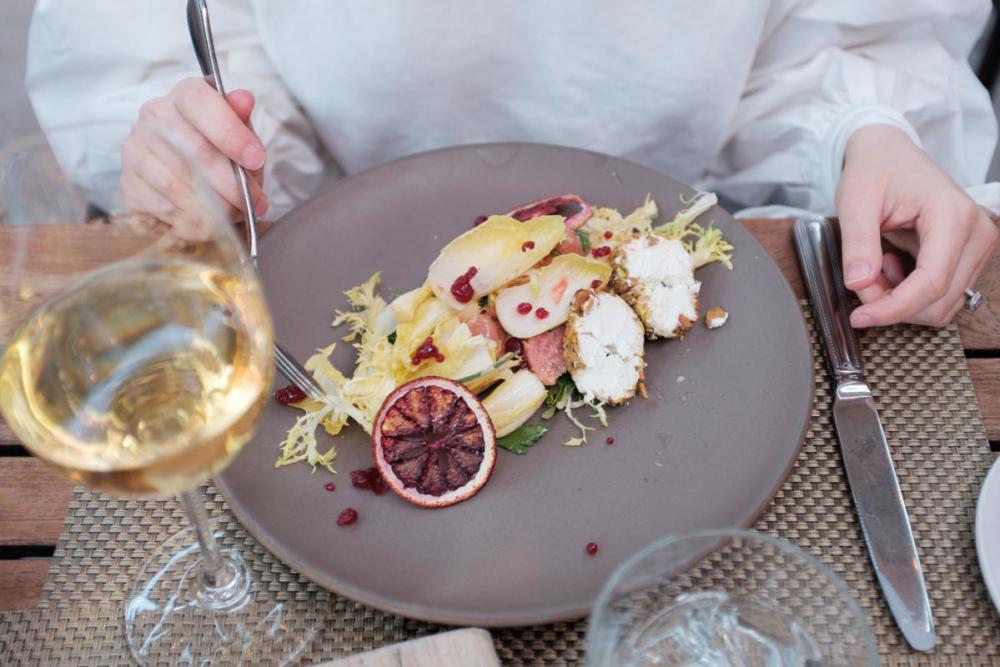 Image Courtesy of: Paragary's
Looking to escape reality? Paragary's, located on 28th Street in Midtown, offers a serene atmosphere with an unforgettable dining experience. Sip on rare spirits and dine on delicious seasonal cuisine as you enjoy Paragary's garden-like patio, complete with waterfalls, lush greenery, and decades-old olive trees.

Dine on classic Spanish dishes and sip on sangria as you listen to live music at Tapa the World's courtyard on J Street. This restaurant is best known for its wide variety of warm tapas ranging in flavor from Ahi tuna to filet mignon and everything in between.
Located on Sacramento's R Street Corridor, Iron Horse Tavern has a hip, contemporary setting with a comfortable and relaxing patio. This Sacramento staple offers a variety of craft cocktails, mocktails, and comfort food. Want to bring a man's best friend with you? You're in luck: Iron Horse's patio is dog friendly.