The lineup for Sacramento's favorite free summer concert series, Concerts in the Park, has been announced.
The 30th Annual Concerts in the Park series, organized by Downtown Sacramento Partnership, will once again bring live music to downtown's Cesar Chavez Plaza on Friday evenings from May 5 to July 28, with the exception of July 7. Performances will be on those dates from 5 to 9 p.m.
This year's lineup includes nearly 60 local and national bands and DJs including Blue October, Eric Bellinger, Kat Dahlia, Matt Maeson, White Reaper, and more.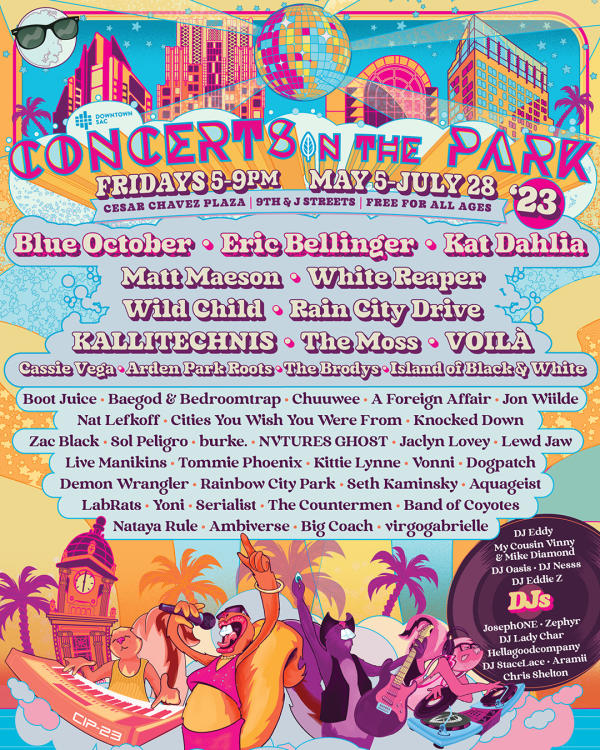 Image Courtesy of: Jason Malmberg
The schedule for the 2023 Concerts in the Park Series is as follows:
May 5 (Presented by the Hispanic Chamber of Commerce and Ernesto Delgado): Kat Dahlia, Sol Peligro, LabRats, and DJ Eddie Z
May 12: Matt Maeson, Nat Lefkoff, Jaclyn Lovey, and JosephONE
May 19: Cassie Vega, Zac Black, Kittie Lynne, Big Coach, and My Cousin Vinny & Mike Diamond
May 26: Rain City Drive, A Foreign Affair, Nvtures Ghost, Serialist, and DJ Nesss
June 2: White Reaper, The Moss, Lewd Jaw, The Countermen, and Zephyr
June 9: Kallitechnis. Baegod & Bedroomtrap, Tommie Phoenix, Yoni, and DJ Eddy
June 16: Island of Black & White, Burke, Dogpatch, Seth Kaminsky, and Aramii
June 23: Wild Child, Boot Juice, Rainbow City Park, Band of Coyotes, and Hellagoodscompany
June 30: Arden Park Roots, Jon Wiilde, Live Manikins, Virgogabrielle, and DJ StaceLace
July 14: Eric Bellinger, Chuuwee, Vonni, Nataya Rule, and DJ Oasis
July 21: Blue October, Voila, Cities You Wish You Were From, Demon Wrangler, and DJ Lady Char
July 28: The Brodys, Knocked Down, Aquageist, Ambiverse, and Chris Shelton
"We are thrilled to announce an amazing, high energy, and eclectic three-month musical lineup of local and national artists for our 30th Annual Concerts in the Park," Michael Ault, Executive Director of Downtown Sacramento Partnership, said. "Talented performers and live music at Cesar Chavez Plaza energizes summertime in downtown and defines Sacramento as the cultural hub of the Capital City.
Listen to last year's Visit Sacramento Podcast as Downtown Sacramento Partership's Communications Manager, Madelyn Smith, shares details about Concerts in the Park, how to get the most out of the experience, and other things you can enjoy when you're downtown.
For more information about Downtown Sacramento Partnership's Concert in the Park series, visit https://www.godowntownsac.com/events/signature-events/concerts-in-the-park/