With the SAFE Credit Union Convention Center being centrally located in Downtown Sacramento, there are a wide variety of restaurants within walking distance for convention-goers and tradeshow attendees. Whether you're looking for a standard sit-down restaurant, or a more fast casual setting, there are plenty of options to choose from near the SAFE Credit Union Convention Center.
Closest Casual Eats Near the Convention Center:
Cafeteria 15L, which is open for lunch, dinner, weekend brunch, and late-night weekend dining, serves all your favorite traditional, home-cooked comfort foods with a twist. In addition to the main dining room, this moderately priced restaurant features two outdoor patios, comfortable lounge spaces, and large areas for private and semi-private dining. It's a popular spot for group events.
Capitol Garage is located in the heart of Sacramento across from the convention center offering farm-to-fork-inspired cuisine, craft cocktails, craft brews, lots of vegan options, and nightlife.
Chando's Cantina combines traditional Tijuana-style Mexican street food and culture to create an experience like nowhere else in Sacramento.
Mikuni offers high-quality Japanese cuisine, a lively, upbeat dining experience, and more than 300 original sushi creations.
Mojo's Local Tap & Kitchen (0.2 miles)
Mojo's Local Tap & Kitchen, which features a dog-friendly patio and private dining room, offers up to 40 rotating local beers and wines, as well as several American-style dishes.
Located on K Street, Nash & Proper is known for serving up some of the best Nashville-style fried chicken in Sacramento.
Public House Downtown, which is open for breakfast, lunch, dinner, happy hour, or late-night eats, offers a unique approach to your usual sports bar. The casual and comfortable ale house serves traditional, yet modern American-style dishes with over 60 beers on tap.
Tequila Museo Mayahuel (0.2 miles)
Located about five minutes from the Convention Center, Tequila Museo Mayahyel is a spacious eatery featuring elevated, authentic Mexican cuisine and a wide-ranging tequila menu. The Coa Room can be booked for group functions.

Image Courtesy of: Ella Dining Room
Business Dinners Near the Convention Center:
Brasserie du Monde (0.2 miles)
Brasserie du Monde offers a unique dining experience featuring French cuisine and an extensive wine and craft cocktail list in a stylish, yet welcoming environment.
Dawson's Steakhouse (0.1 miles)
This AAA Four Diamond award-winning restaurant in the Hyatt Regency Sacramento Hotel offers fresh, locally sourced upscale cuisine. In addition to its intimate dining room, Dawson's Steakhouse has a private dining space available for special events.
Ella Dining Room and Bar (0.3 miles)
This award-winning restaurant serves New American, farm-to-fork cuisine in an elegant, contemporary space with a patio. With several versatile spaces, Ella Dining Room and Bar specializes in private dining and special events, both big or small.
Frank Fat's, which received the James Beard Foundation America's Classics Award, features modern Chinese cuisine and other Asian dishes in an elegant setting combining modern and ancient artifacts. The restaurant also features a private dining room that accommodates a maximum of 40 guests.
Located just a short distance from the convention center, Frog & Slim blends classic French stylistics with American standards to create fresh, locally sourced dishes with thick cuts of prime meats, freshly caught wild fish, and intricate vegetarian options.
Prelude Kitchen & Bar (0.2 miles)
Prelude Kitchen & Bar is a Modern American restaurant featuring delicious food, craft cocktails, beer, and wine inspired by local, farm-to-fork cuisine. The restaurant offers both indoor and patio dining as well as private dining in an intimate dining room with a full bar that can seat up to 80 guests.
Grange Restaurant and Bar (0.3 miles)
Grange Restaurant and Bar, which has been recommended in the 2021 and 2022 editions of the Michelin Guide Sacramento, offers seasonal menus featuring only the freshest and finest locally sourced ingredients. This restaurant offers an intimate atmosphere of urban sophistication with several versatile options for private events of up to 150 guests.
The Melting Pot offers a unique, interactive four-course dining experience including cheese fondue, salad, an entrée, and dessert. The intimate restaurant offers semi-private tables and several private party rooms that can accommodate up to 44 guests.
Image Courtesy of: Alaro Craft Brewery
Happy Hour Near the Convention Center:
58 Degrees & Holding Co. (0.5 miles)
58 Degrees & Holding Co. is a wine bar and restaurant in the heart of Midtown Sacramento offering an impressive internationally and seasonally inspired menu with high-quality wine and beer selections to match.
Alaro Craft Brewery (0.7 miles)
Alaro Craft Brewery is an upscale gastropub offering award-winning craft beers, craft cocktails, a carefully curated wine list, tapas, and pub food. This brewery offers a beautiful, yet casual interior with an urban front patio and back garden patio.
juju kitchen and cocktails (0.2 miles)
Located steps away from the Convention Center, juju kitchen & cocktails offers a wide range of locally sourced gluten-free and vegetarian small plates, craft cocktails, and local beers and wines. This beautiful and sophisticated restaurant is also available for private events for groups of 20 to 50.
SMIC's Bar is a premier Downtown Sacramento destination offering farm-to-fork dishes, classically inspired cocktails, local wines and craft beers. The bar is the perfect place for events, as it offers private dining experiences in its dining room, patio, or the whole restaurant if you need.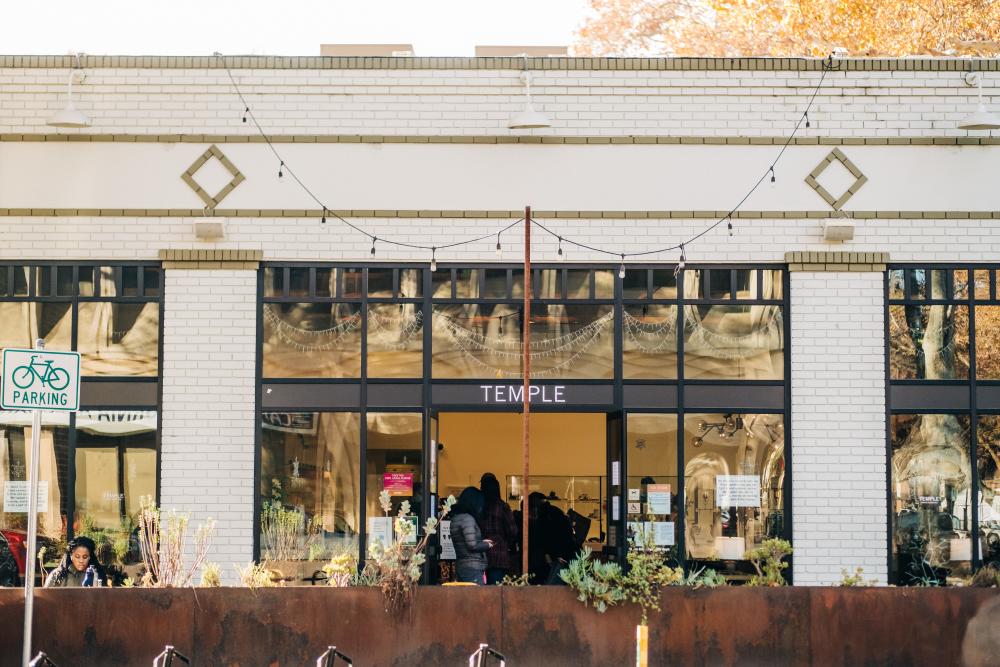 Image Courtesy of: Francisco Chavira
Coffee Near the Convention Center:
Milka Coffee is a coffee shop located in a beautiful 1861 Victorian house that serves its own coffee, tea, kombucha and local pastries.
Old Soul Co. is an open-air café offering award-winning coffee, house-baked pastries, and made from scratch soups, pizzas, sandwiches, and salads alongside local beers and wines.
Starbucks at the Convention Center
Easily power up between sessions at the full-service Starbucks conveniently located on the first floor of the SAFE Credit Union Convention Center.
Temple Coffee Roasters (0.7 miles)
Temple Coffee Roasters is Sacramento's "farm-to-cup" coffee chain offering a seasonal selection of specialty coffees, teas, and locally sourced pastries.