Known as America's Farm-to-Fork capital, it's no surprise that Sacramento is home to a number of top-notch pizzerias. New York Style? We've got it! Deep dish? Of course. Wood-fired? Obviously. Late night? Depends how late we're talking. Whatever style of pizza you prefer, we can guarantee you will find something you'll love here in America's Farm-to-Fork Capital.  
Buffalo Pizza & Ice Cream Co.
Buffalo Pizza & Ice Cream Co. has been a staple in the Sacramento community for over 30 years. This pizza parlor offers a wide variety of pizzas, including classic options such as the "Whole Herd" and vegan options such as the "Vegan Buffalo Chick'n Pizza." If you're a fan of having pizza for breakfast, be sure to try one of Buffalo's signature breakfast pizzas ranging in flavor from classic bacon and eggs, to the Denver Omelette Pizza topped with Canadian bacon, green bell peppers, and red onions.
Federalist Public House
This Midtown pizzeria made out of shipping containers offers the classic Neapolitan-style pizza you can find in Italy. Federalist Public House is known for having a unique, limited menu that includes their signature Southside pie topped with spicy roasted pork chorizo, brunoise Yukon gold potatoes, Monterey Jack cheese, and chili oil.  In addition to their pizza, Federalist offers communal tables, local craft beer, and bocce courts, which ensures an evening of fun.  
OneSpeed Pizza
Located in East Sacramento, OneSpeed Pizza offers several creative wood-fired pizzas. From the Garden Pizza, to the House Made Italian Sausage, and the New Jersey Tomato Pie, this pizzeria has a little something different for everyone's hankerings. If you prefer your pizza folded in half, be sure to try OneSpeed's Calzone Carnivore full of different kinds of meat.
Uncle Vito's Slice of NY
If a late-night slice of pizza is on your mind, you're in luck! Uncle Vito's Slice of NY, located on the popular R Street Corridor, is open until midnight Sunday through Wednesday and 2 a.m. Thursday through Saturday. This beloved late-night pizza joints serves hand-crafted, New York-style pizza with house-made sauces and dough. The best part about it is that they serve pizza by the slice, which you can even pair with a draft beer for only $7.
Zelda's Original Gourmet Pizza
Zelda's Original Gourmet Pizza has been serving Chicago-style gourmet pizza in the heart of Midtown Sacramento for over 40 years. This Sacramento classic has several gourmet pizzas ranging in flavor from the "Spinoccoli Pizza" with broccoli, seasoned spinach, fresh tomato slices, feta, mozzarella, and cheddar to the "Everything Pizza" with sausage, pepperoni, mushroom, green pepper, onion, and anchovies.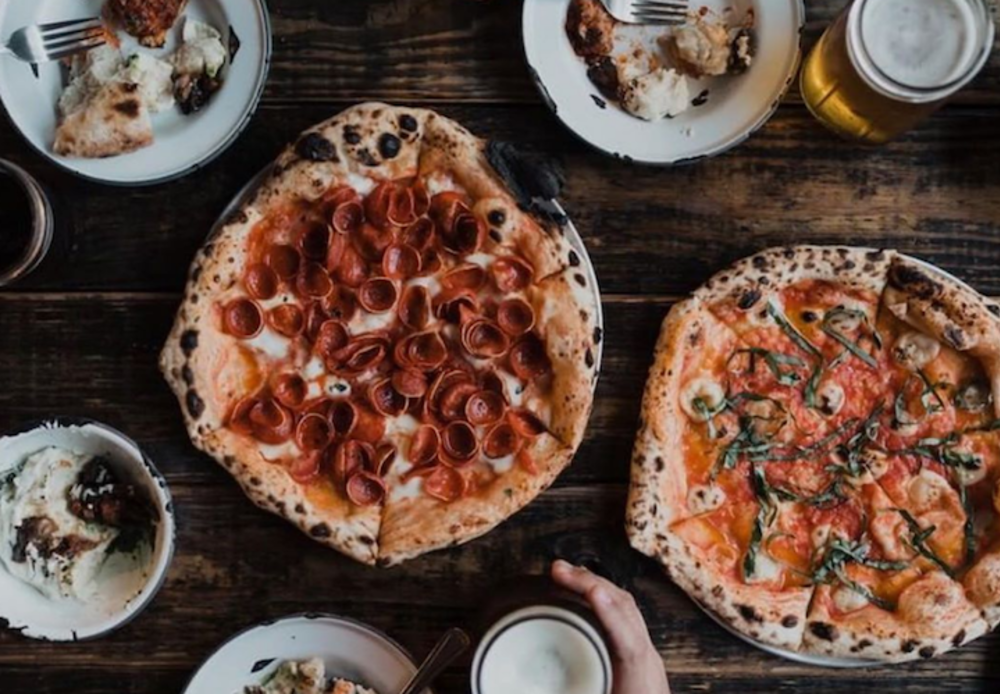 Image Courtesy of: Federalist Public House
Other Places to Grab Pizza in Sacramento: