Nestled in the heart of the Sacramento region awaits a thrill that blends history, agriculture, and an experience you won't forget. The River Fox Train offers many adventures that allow guests to fully immerse themselves in the moment, build lasting memories, and uncover hidden gems at every turn.
Two of the most popular experiences at the River Fox Train are the refresher trains: themed adventures aboard the train that immerse you in all the fun, and the railbikes: custom-made two-passenger "bikes" that you can cruise up and down the rails in Sacramento.

Cruising on the Railbikes
We arrived early at the River Fox Train for our railbike excursion, which gave us plenty of time to enjoy the oversized Connect Four and Jenga game as well as corn hole and a few other activities. Before boarding our railbikes, we had a safety briefing which was delivered by an experienced rail guide who would also be one of the two guides that would lead our excursion.  We were relieved to learn that the bikes, which are actually four-wheeled and made by one of the River Fox Train's engineers, have electric motors as well as pedals so we didn't have to worry about our balance or our athletic abilities.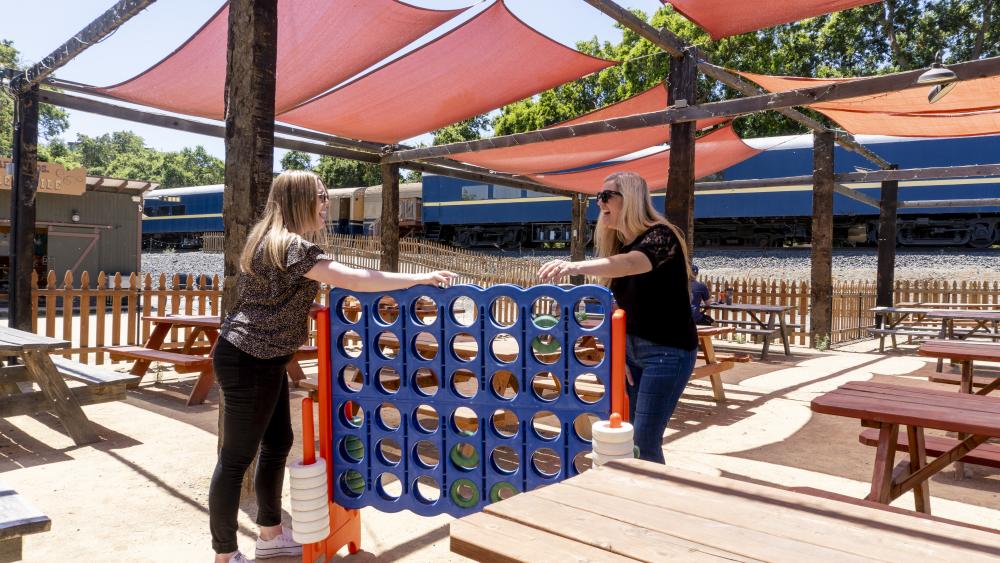 With the sun high in the sky, we set our railbikes into motion. To our surprise, the route of the experience had us cruising through shaded tracks, farmland, a sunflower field, and beautiful nature. We welcomed the breezes caused by the speed of the railbikes, which reached up to 23 miles per hour. The entire experience was 10 miles round-trip and lasted about an hour and a half from start to finish. Halfway through our ride, we were able to get off the bikes for a stretch, indulge in a provided snack with ice-cold water, and switch drivers if we wanted to. During this time, the rail guides turned the bikes around for our journey back to the depot.  
There are plenty of railbike excursions to choose from, including a 6 a.m. sunrise bike and an 8 p.m. sunset bike, which provides a headlight on your helmet and an LED light under the railbikes. Depending on which part of the day you cruise along the tracks, you will be treated to sightings of various wildlife, including turkeys, coyotes, deer, egrets, and even bobcats. Railbike excursions happen rain or shine, but if the weather is abnormally hot, cold, or stormy, they could be canceled by staff and rescheduled for a more desirable day weather-wise. If this is the case, guests will be notified in advance. For a comfortable ride, be sure to apply sunscreen, wear sunglasses, and have closed-toed shoes on, which are required.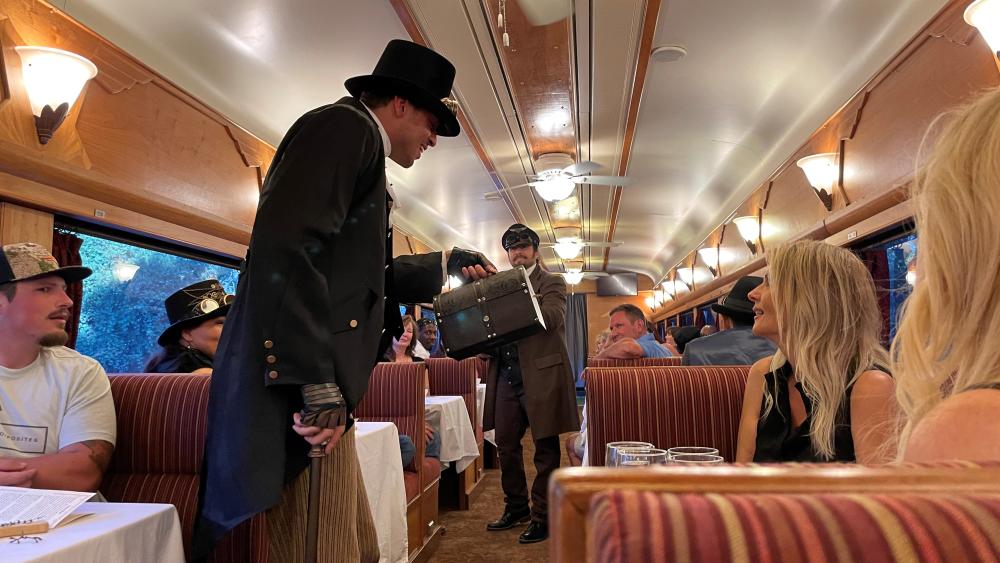 A Murder to Solve
We also had the opportunity to step aboard the Murder Mystery Refresher Train where actors from Interactive Entertainment took the experience to a whole new level with a thrilling whodunit plot. We were able to interact with a cast of characters who would draw us into their squabbles and a storyline that would ultimately end in murder. It was fun to observe these skilled actors who, although most likely guided by some sort of script, effortlessly infused their performances with a necessary touch of improvisation as they engaged with guests on the train. One of our favorite parts was using our detective skills to try and solve the whodunit and the why, all the while indulging in a few drinks (alcoholic and non-alcoholic), a delicious charcuterie board, and dessert. We know you're dying to know if we were able to solve the case. The answer is yes, yes we did, but we won't give the ending away here.
The River Fox Train provides several other experiences as well. From a boba tea train, which includes boba tastings, to the River Fox Refresher which includes beer, wine, and mimosas, there is something for any date, family gathering, or a friendly night out. – all of which provide a fun time. They also have special holiday experiences for families around Halloween and Christmas. Who wouldn't want to trick or treat aboard the Pumpkin Patch Express or sing carols and meet Santa Claus on the Magical Christmas Train? These holiday refreshers are a unique way to bring in the holiday season and, if you want, you can even rent out the train for your own holiday party or other event.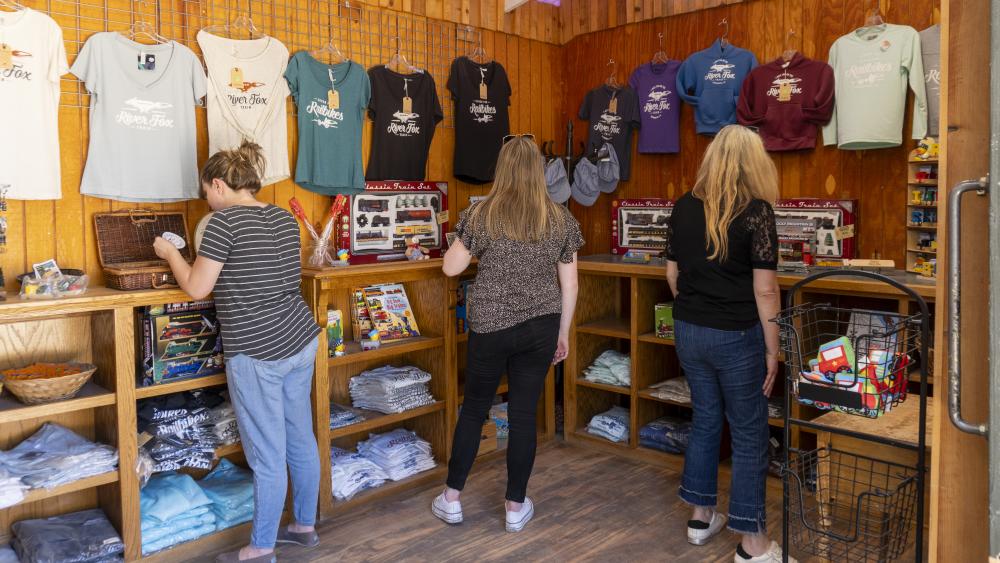 The History
Dating back to 1911, the train's origins trace back to its original purpose of transporting passengers between Sacramento and Woodland. However, with the development of improved roads and cars, its purpose shifted from transporting people to transporting freight. Over the years, various excursions came and went, but today, the River Fox Train proudly owns and operates the line. This transition from one role to another is not an uncommon story for short-line trains. The most important thing is that the line remains active, ensuring its viability, especially in the event that it needs to be converted back into a vital transportation corridor.
The River Fox Train granted us an opportunity to immerse ourselves in the Sacramento region's rich history and the flourishing agricultural landscapes that surround it. Witnessing the origins of our food sources and those who harvest those goods while riding a railbike fit for two and solving mysteries on a thrilling train ride along the river with friends and loved ones was something we will never forget. With Sacramento's diverse array of activities, culinary delights, and sights to see, we recommend that you not overlook the hidden gem of the River Fox Train, as it is a must-try experience for everyone. Why wait any longer? Book your experience on the River Fox Train today and make memories that will last a lifetime.  You can thank us later.