Sacramento: Living its Best Life
A new downtown shopping destination next to the most exciting arena on the west coast. A historic industrial rail corridor reborn as a dining and nightlife hive. More than 40 murals added to the city's walls in the last year. New hotels with top-tier amenities. A new convention center on the horizon. All of that combines to deliver a destination you don't want to miss.
R Street: The place to be in Sacramento after hours
What began as the city's first industrial rail corridor has, in the past five years, transformed into a bustling community. A former warehouse is now lofts for artists, and the city's creative side is displayed with murals adorning the walls up and down the street. Restaurants and bars such as Iron Horse Tavern and Shady Lady Saloon serve craft cocktails with unique food creations, and a way down the street is a Sacramento classic: Fox & Goose Public House, with a more recent meeting/private dining space with a historical British flair. Shoki Ramen House is another Sacramento favorite on R Street, and those looking to do some shopping have plenty of options -- from unique boutiques to used books and even a loose-leaf tea store.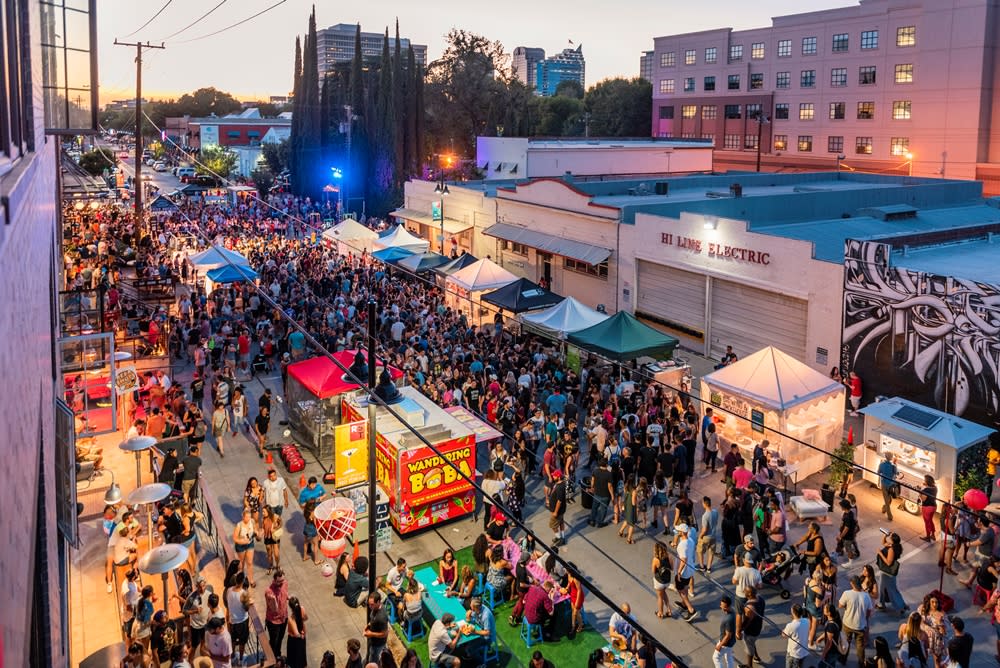 Downtown Commons: The city's newest shopping haven
Adjacent to the Golden 1 Center -- home to the NBA's Sacramento Kings -- and just six blocks from the Sacramento Convention Center -- is Downtown Commons (DoCo). The large pedestrian plaza in front of the arena is often home to performances before and during Kings games, and has even served as a space for outdoor brunch and other community events. Around the plaza are the city's newest hotel -- The Kimpton Sawyer -- exciting new retailers, coffee bars, a champagne bar, retail giants such as Macy's, and plenty of places to eat, including Yard House and Sauced. You'll also see murals and a piece by internationally renowned artist Jeff Koons.
Photo: Marc Spears
Wide Open Walls: Sacramento paints the town
Whether you're walking, driving or cycling through the city -- and maybe even if you're flying over it -- you're bound to see public art everywhere, thanks in no small part to the city's annual mural festival, Wide Open Walls. Ranging from a commanding mural of Johnny Cash on the side of the Residence Inn by Shepard Fairey to murals that use the structures around them by Tom Bob to a local artist's homage to the film Lady Bird on the side of the Visit Sacramento office, no trip to Sacramento is complete without taking some time to admire at least a handful of the almost 700 murals throughout the city.