Sacramento Convention Package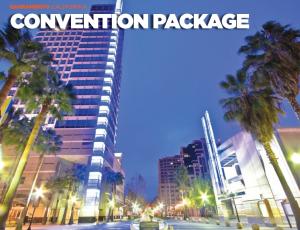 Meetings in California's capital are exceptionally easy. Sacramento is centrally located in Northern California and is easy to fly to. Sacramento International Airport offers 130 flights per day from throughout the country. And once you arrive, you're just minutes from downtown where you'll find state-of-the-art meeting facilities and excellent accommodations.
The Sacramento Convention Package features the 384,000-square-foot Convention Center and two major headquarter hotels - Sheraton Grand (503 rooms) and Hyatt Regency (503 rooms). The three facilities are just steps away from each other with an additional 1,100 rooms within very close walking distance.
Downtown and Midtown are enjoying a renaissance with the opening of the new Golden 1 Center (17,500 seats) in October 2016, new hotels, and new restaurants and nightlife - all in walkable distance from the convention center.
Check out the video below to see all the changes taking place and to discover the Sacramento Convention Package. Download brochure now.