Birding for Two
Reacquainting ourselves with a favorite hobby in Sacramento
By Suzie Rodriguez

It's mid-December, just before sunrise at the Sacramento National Wildlife Refuge (NWR)-a magical season and time on the marsh. The world has been silent since our arrival half an hour before, but as dawn quickens, waterways and reeds slowly emerge from the darkness and we hear a faint, faraway cackling that grows ever closer. Soon thousands of white snow geese, so massively grouped that at first they seem to be swift-moving cumulus clouds, appear above us. Then, as if on command, they abruptly descend onto a large nearby pond, fold their wings in unison, and settle in.
My husband, John, put his arm around me and kissed the top of my head. "You were right," he said. "This was definitely worth waking up at 5 a.m. for."
John and I met in college on an outing for beginning birders, and we'd quickly fallen in love-with each other, and with bird watching, too. Our courtship and early years were filled with birding vacations to distant places and weekend days on trails close to home, but it wasn't long before burgeoning careers and raising a family slowed birding to a trickle for a couple of decades.
This changed when all three kids had successfully embarked on their own lives. We felt relatively carefree again, and it wasn't long before we began to indulge the pastime that had brought us together. Out birding together for the first time in years, we sometimes felt as if we were courting again.
Birds of a feather

In winter, millions of birds migrating south along the Great Pacific Flyway visit the lush, habitat-rich Sacramento Valley. Some stay briefly, resting and feeding before continuing on. But others, delighted with the region's temperate weather and plentiful food, settle in for months.
John and I acclimated ourselves to the region's birding by taking the six-mile self-driving loop tour at Willows, the region's NWR headquarters. As our car moved slowly along a dirt levee road that winds through wetlands, grasslands and vernal pools, we were constantly amazed by the number and diversity of birds surrounding us.
"I've always known that Sacramento Valley is on the Flyway," John said, "but I never really understood just what that meant. Every kind of bird I can think of is here: waterfowl, raptors, songbirds, shorebirds, swans-I'll swear I saw a sandhill crane a little while ago."
"I saw it, too," I said. "I remember reading that sandhill cranes congregate in a few locations nearby during the winter."
I'd have loved to go see those cranes in the wild, but I knew John would resist changing the day's plans for a spontaneous whim on my part. Years ago, when we began juggling the busy lives of our kids in addition to our own, he became a stickler for scheduling. "Schedules prevent chaos," he liked to say.
I couldn't have been more surprised by John's response. "Let's go find those cranes."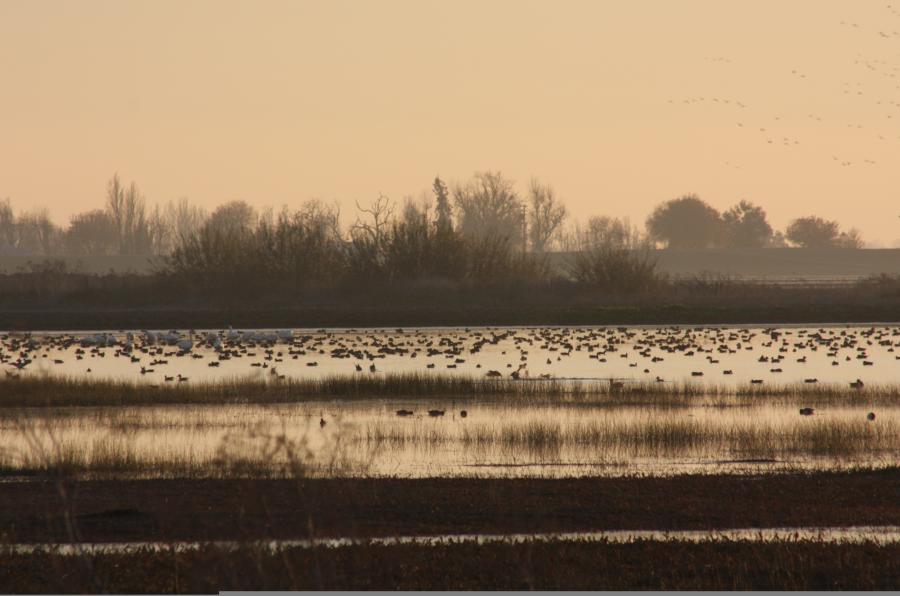 Before long we were at the 46,000-acre Cosumnes River Preserve in nearby Galt, both enthralled by the sight of so many huge, trumpeting cranes, which possess wingspans of six to seven feet. One of the oldest living bird species on earth, they are sometimes referred to as "living fossils."
John and I stood silently for a long time, admiring the cranes through binoculars, and then we meandered slowly back to our car. We took our time that afternoon, relaxing over an unplanned picnic in the lush woodlands of the American River Parkway, enjoying the sights and sounds of resident woodpeckers, towhees and California quail (we also enjoyed the antics of a few raucous, visiting wild turkeys).
We also checked out the Yolo Bypass Wildlife Area, because we'd been thinking of signing up for the annual wetlands and wildlife festival held there each February: "California Duck Days." Yolo Bypass is big at 25 square miles, but it's only minutes from downtown Sacramento.
Spreading our own wings

Back at our hotel in Sacramento we took a well-deserved nap. After we were rested and bathed, we hit the town. We live among the peaks of the Sierra Nevada two hours away, in a village with one ancient movie theater and two small cafés. While we wouldn't trade our mountain paradise for anything, we delight in Sacramento's urban pleasures-particularly its restaurants. No matter what mood we're in (from casual to elegant) or what kind of food we want (down-home comfort, ethnic, luxe), we can find it here.
That night we felt like celebrating our adventurous birding day, and we were lucky enough to grab a last-minute reservation at the splurge-worthy The Kitchen, known for using the freshest of seasonal ingredients. We thought about going dancing after dinner, but-since we'd be up before dawn again on a birding adventure-we settled instead for a nightcap at our hotel's bar.
As we sat, reliving the highlights of our winter birding adventure in Sacramento, I thought back to my very first day of birding ever-the day John and I met. It was nice to know that no matter how much of our life changed, some of the best stuff stayed the same.
Explore the great outdoors in Sacramento.
Learn more about all that Sacramento has to offer and stay updated with our newsletter. Ready to book a trip? Check out Sacramento hotels today.