2023 NCAA Division I Men's and Women's Outdoor Track & Field Championships - West First Round
May 24-27, 2023
Sacramento State University - Hornet Stadium
The 2023 NCAA Division I Men's and Women's Outdoor Track & Field Championships - West First Round will be held at Hornet Stadium on the campus of Sacramento State, in Sacramento, California.
Tickets are still available at https://www.ncaa.com/championships/trackfield-outdoor/d1/championship-field.
Ticket Information
Ticket Prices:
Tickets go on sale now - CLICK HERE
|   | Daily Admission | All Session |
| --- | --- | --- |
| Adults | $15 | $40 |
| Children Age 17 and Under, College Students, and Senior Citizens | $15 | $35 |
| Children Age 2 and Under | Free | -- |
Clear Bag Policy: 
To provide a safer environment for the public and expedite entry into Hornet Stadium, Sacramento State has implemented a policy limiting the size and type of bag allowed into the stadium for all events.
We strongly encourage you to not bring any types of bags, but have outlined what is permissible. 
* Bags that are clear and do not exceed 12" long by 12" high by 6" wide;
* One-gallon clear plastic freezer bag;
* Small clutch purses, with or without a handle or strap, not exceeding 4.5" by 6.5"
* Exceptions will be made for medically necessary bags after inspection at any entrance.
* Prohibited items will not be held at the event and must be returned to your vehicle.
* Seat cushions without pockets or compartments will be permitted.
Prohibited items include, but are not limited to: purse or bags that are larger than a clutch bag, coolers, brief cases, backpacks, fanny packs, luggage of any kind, computer bags, camera bags, or binocular cases. Fans may continue to carry approved items without a bag (e.g., binoculars, cameras and smart phones) into the stadium.
Please only used approved bags for all future Hornet Stadium events and games and ensure items placed into the clear bag are permissible. Fans are encouraged to visit Hornetsports.com for additional stadium information.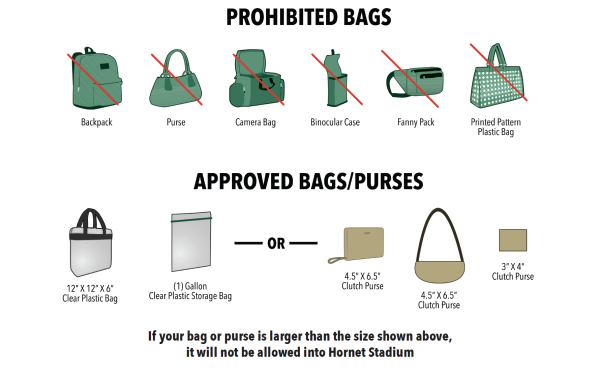 Visit Sacramento's volunteer program brings you right into the heart of the action at the event.