The 2016 Amgen Tour of California will celebrate its finale in Sacramento, California's capital, on Sunday, May 22. This is the 11th annual edition of the race and is free to attend, so come on down and experience America's Greatest Race.
California's capital has hosted the Amgen Tour of California eight times, including the overall start for the past two years. This year will be Sacramento's first overall finish for the race. The course will travel along the Sacramento River and cross Tower Bridge twice before returning downtown where fans will anxiously await the winner along the traditional finish circuit around the Capitol.
Last year was the closest men's race finish ever with general classification champion Peter Sagan winning by a mere 3 seconds after earning an intermediate sprint time bonus and bonus seconds on the final stage sprint. What will this year bring?
Race Day Schedule
10 a.m. - Lifestyle Festival Open
10 a.m. - Sutter Health Community Ride
11 a.m. - Men's Ceremonies start
11:15 a.m. - Men's Race start
11:25 a.m. - Women's Ceremonies start
11:40 a.m. - Women's Race start
1:30 p.m. - Breakaway from Cancer
2:15 p.m. - Riders will enter the final circuit of the race (approximate time)
2:45 p.m. - Race finish (approximate time)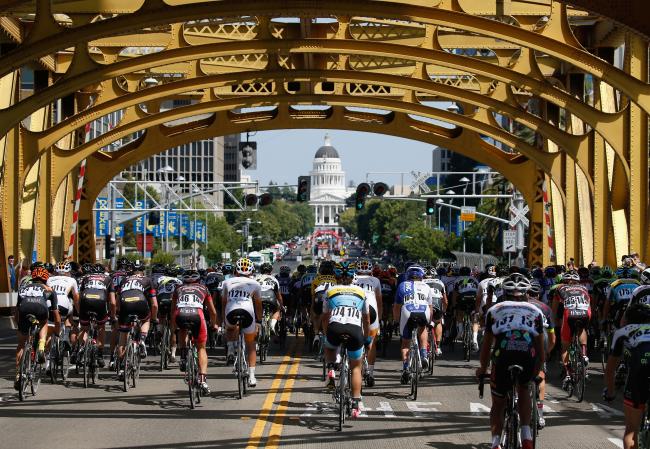 Women's Race - Stage 4
The overall champion will be decided after 20 laps of a downtown Sacramento circuit on wide, fast roads. Fans can expect shakeups until the very end -- last year, Sacramento saw a thrilling women's finish when Trixi Worrack's (GER) general classification win came down to sprint time bonuses and the final sprint for the stage.
Sutter Health Community Ride
Riders from around the Sacramento region will have the opportunity to ride from Folsom to Sacramento along the beautiful American River Bike Trail. The ride will begin at Mike's Bikes in Folsom at 10 a.m. so that participants will arrive in Sacramento in time to walk through the Lifestyle Festival and see the men's and women's overall finishes. Raffle prizes will be given away prior to the start of the ride, so participants are encouraged to get there early! Prizes include, but are not limited to, cycling jerseys presented by Sutter Health, tickets to the official Amgen Tour of California athlete wrap party, passes for the VIP tent at the finish line in Sacramento, and more! 
Lifestyle Festival
The Lifestyle Festival will open at 10 a.m. on 10th Street in between L and N streets, directly in front of the State Capitol. The festival will feature a wide variety of food and drink, interactive displays, and opportunities for guests to experience and purchase items from some of the leading brands in cycling including Trek, Oakley, and many more.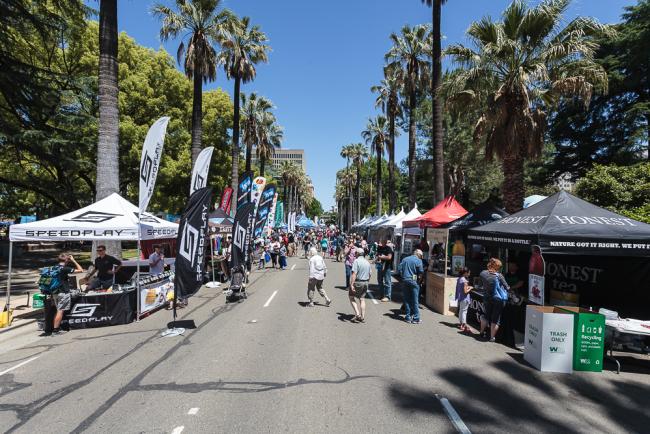 Breakaway Mile
Amgen Tour of California invites those touched by cancer – patients, survivors, caregivers and advocates – to participate in the 2015 Breakaway Mile that will begin at 1:30 p.m. The approximately half-mile walk honors and celebrates cancer survivors as part of Amgen TOC's Breakaway from Cancer, a national initiative founded in 2005 to increase awareness of important resources available to people affected by cancer. The Breakaway Mile takes place on the Amgen Tour of California race course prior to the day's professional race finish. http://www.amgentourofcalifornia.com/breakawaymile
Where to Park
Street parking in the city is free on Sundays in most areas, but parking lots still require payments. There are several city lots in downtown Sacramento and other pay lots in the area.  
For spectators riding their bikes to the event, a free bike valet will be set up at 10th & L Streets.
Click here for a city parking map. 
Make it a Vacation
Stay the weekend in Sacramento and don't miss a bit of the Amgen Tour of California action! Check out the hotel deals here.