We know that for many of you who live in the San Francisco Bay Area, Sacramento is just a city on the way to Lake Tahoe. But take a moment to drop in on America's Farm-to-Fork Capital on your next trip by and grab something to eat. Then take a look around and see what California's capital has to offer. We know you're going to want to come back, and we've got a room waiting for you. Whether you are driving through at morning, noon, or night, you will find no shortage of fabulous restaurants to satiate any appetite. We've put together a list of area restaurants that offer a variety of fresh, farm-to-fork menu items, in addition to being relatively convenient to get to.
BREAKFAST
Waffle Experience is just that - an experience your taste buds won't soon forget. This farm-to-fork restaurant located not far off Interstate 80 in Natomas serves anything but what you are expecting. Seriously, when's the last time you enjoyed a waffle like the Eggcellent waffle with "cherrywood smoked bacon, cage-free egg, fontina, arugula, tomato, basil pesto and sundried tomato aioli" on a fennel herb waffle? If it's past breakfast time when you happen to be passing through Sacramento, not to worry. Waffle Experience also serves lunch-inspired waffles with your choice of french fries, fresh fruit or salad on the side. 
4391 Gateway Park Blvd, Suite 650
To get there: Take the Truxel Road exit off I-80 and head north. Turn right on Arena Boulevard, and then take a left on Gateway Park Blvd. There is plenty of parking out front.
To get back on I-80, head back exactly the way you came and enter the freeway heading East at Truxel Road.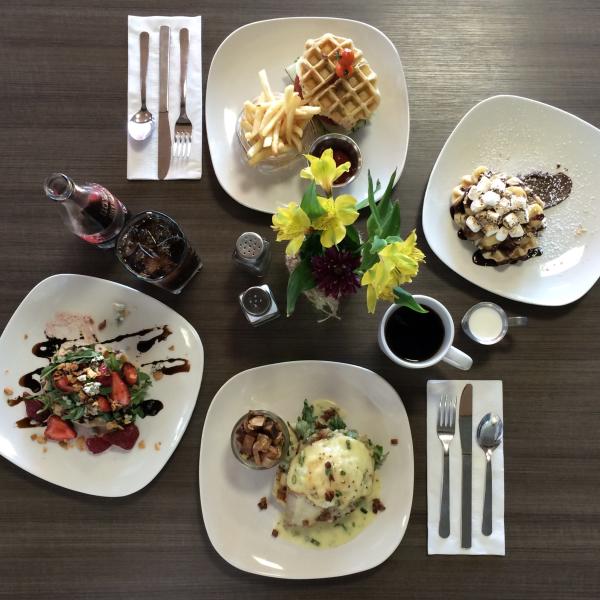 Cornerstone Café. Having received citywide recognition as one of the best places to eat breakfast in Sacramento, is a family-owned, relaxed-setting restaurant is perfect for families passing through town. Menu items include classics such as bacon and eggs, French toast and a variety of omelettes including a vegetarian option. You'll not only love the food, but the prices won't break the bank.
2326 J Street
To get there: Take the Capital City Freeway/Bus 80 into the heart of Sacramento and head North towards Reno. Exit at 7B, or at H Street. Turn left on H Street, take another left on 23th Street, take a right on J Street. Cornerstone is at J and 24th streets, with street parking out front.
LUNCH
The Sandwich Spot. Now a regional chain, the first and original Sandwich Spot will always be the best. Located in Midtown Sacramento in an old house-turned-restaurant with outdoor seating on the building's porch, lunch-lovers will have their pick of Sacramento favorites like the Capital City Classic (BLT), the Sutter's Fort (ham, salami, provolone), the 916 (hot roast beef) and more.
1630 18th Street
To get there: Head East into Sacramento on Bus 80. Take the 16th street exit, turn right on Q Street. Street Parking is available.
 
Hot Italian. This trendy Midtown Sacramento full-service pizzeria feels like a trip to Italy with its décor straight out of Milan. Diners enjoy Italian style pizzas featuring mouth-watering ingredients like prosciutto, gorgonzola and shaved parmesan. Indoor seating is largely communal tables, with some more private options, and an outdoor patio is a hit most of the year. Don't be surprised to see a group of soccer fans watching an Italian-league game projected onto the far wall. Staying for dessert? Hot Italian also has authentic gelato.
1627 16th St.
Street parking is available in the area, and is free after 6 p.m. and on Sundays
To get there: Take the 16th Street exit from the (whatever freeway that is) and head north
To get back to Interstate 80 and Highway 50: Take 15th Street south to the freeway on ramp.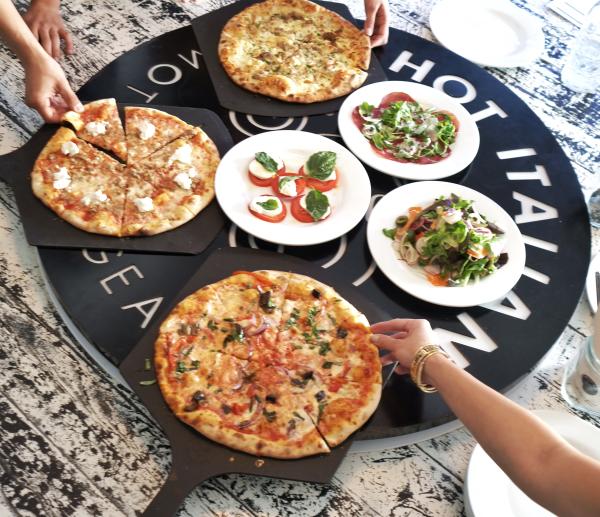 DINNER
Delta King's Pilothouse Restaurant. For a unique dining experience and a taste of Old Sacramento, climb aboard the Delta King Hotel and spend a quiet dinner along the Sacramento River in what was once a bustling riverboat. The Pilothouse Restaurant's menu includes a variety of farm-to-fork offerings such as fish and chips made with Sierra Nevada beer-battered cod, or cider-brined pork chops and a farmhouse salad, brimming with local ingredients.
1000 Front Street
To get there: Take Bus 80 towards downtown, merge north to I-5, take the J Street exit and head into Old Sacramento by way of 3rd Street. Park along Front Street or in one of two Old Sacramento parking garages and enjoy a nice walk down to the Delta King Hotel.
Fat City Bar & Café.  A favorite among locals, Fat City, located in Old Sacramento, is a short and easy jaunt off your path. This family-owned restaurant serves a variety of American cuisine, including the Fat's Family of Restaurants' famous banana cream pie – take a look below what the California Dream Eater thinks about this very pie.
To get there: Take Bus 80 towards downtown, merge north to I-5, take the J Street exit and head into Old Sacramento by way of 3rd Street. Park on the street or in the parking garage near the California State Railroad Museum. Fat City is on the corner of Front and J streets.
1001 Front Street
Tequila Museo Mayahuel. This full-service downtown Sacramento eatery is more than a restaurant – it's an homage to the best flavors, décor and drinks of Mexico. Standout dishes include the ceviche and anything with a mole sauce. The margaritas are made with real limes and your choice of tequila, sangria is available in both red and white varieties and is always refreshing, and don't forget to look for the frozen Mango y Chile drink made with mango puree, tequila and agave nectar with red chile swirled in it that is reminiscent of one of Mexico's favorite snacks: a mango dipped in chile.
1200 K St.
Parking is available in the nearby garages as well as on nearby J or L streets.
To get there: Take the 15th Street exit and head north on 16th Street to L Street. Head west on the one-way L Street to 12th Street and find street parking alongside the Capitol or enter the garage.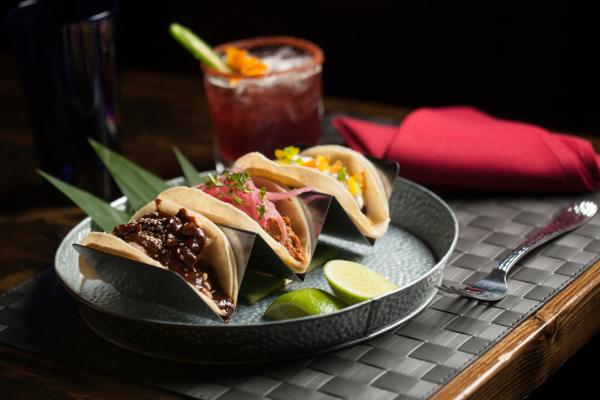 Suzie Burger. Family-friendly counter-service dining with a fun atmosphere is the hallmark of Suzie Burger, located just off the Capital City Freeway in Midtown Sacramento. With burgers any way you like them, Philly cheesesteak sandwiches and plenty of fries, it's an affordable stop with a dedicated parking lot and easy access. The large dining area has garage doors that open to let in the fresh air, and patio seating is plentiful. For a treat on the go, grab a soft-serve cone – dipped in chocolate, if that's how you like them – or a milkshake.
2820 P St.
To get there: Take the N Street exit off the Capital City Freeway and turn left, then turn left on 29th Street and look for the red umbrellas on the right as you approach P Street.
 
DESSERT
Devine Gelateria is a local favorite for sweet treats, especially in the summertime. Located on 19th Street between L Street and Capitol Avenue, it's Italian-style gelato with a Sacramento twist. Enjoy scoops of flavors such as the classic Straciatella and new hits like sea salt caramel or Frangelico hazelnut. Sit inside the European-themed interior or outside on the dong-friendly rear patio.
1221 19th St.
Street parking is available in the area, and is free after 6 p.m. and on Sundays.
Closed Mondays
To get there: Take the N Street exit off of the Capital City Freeway and turn west. Note that 19th Street and L Street are one-way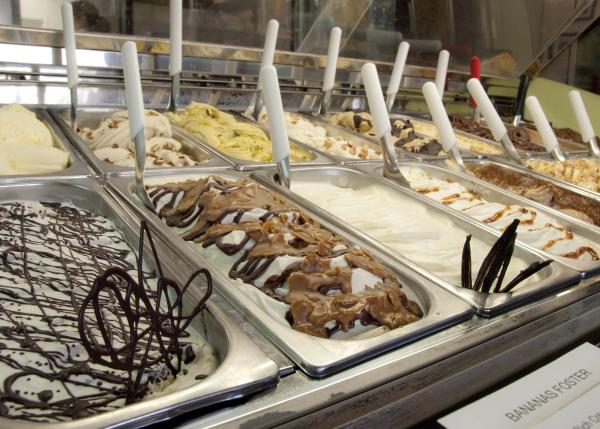 COFFEE
Temple Coffee is one of Sacramento's award-winning coffee spots, and is always in the conversation when local coffee aficionados argue over which Sacramento roaster is the best. The local business has multiple locations in the city, but the most accessible to the freeways is the large spot at 28th and S streets in Midtown. Sofas, tables, a spacious patio and plenty of outlets to charge your laptop while you sip a chai or coffee and surf the Internet on the free WiFi make it a comfortable stop when you need a break from the drive.
2829 S St.
A dedicated parking lot and plenty of street parking are available
To get there: Take the 15th Street exit off the Hwy 50 and take 16th Street north, then turn right on S Street.