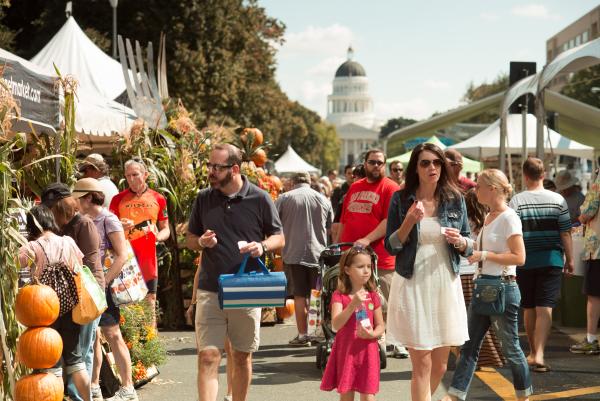 Fall is right around the corner here in America's Farm-to-Fork Capital, and September is a very busy time of year in Sacramento. It's the marking of the end of the harvest for the nation's largest producing agricultural region (there are 1.5 million acres of regional farmland and 8,000 acres of boutique farms within 90 miles of the city), and boy do we like to celebrate!
By far, the largest farm-to-fork celebration in the region is Sacramento's Farm-to-Fork Festival, a free family-oriented celebration taking place in downtown Sacramento right on Capitol Mall on Saturday, Sept. 24, 2016. This year marks the fourth year of the rapidly growing festival. In 2015, the event drew upwards of 50,000 people. This year, organizers are expecting close to 75,000 attendees - people of all ages and walks of life, who will come together to enjoy the region's bounty, and it is being expanded by 50 percent to accommodate them all comfortably.
If you are bringing your family, here's what you need to know:
Vendors. There will be over 120 vendors ranging from food trucks to local farms to museums on Capital Mall between Third and Ninth streets. Look for special kids' educational activities at the following booths: Food Literacy Center, Soil Born Farm, and Slow Food Sacramento.
Kids Zone. This year's kids zone is sponsored by Sysco and Nationwide, who will both be offering education activities (like how to pick ripe fruit at the grocery store) and demos geared toward the little ones in your family.  There will also be free face painting, giant mural painting, an educational animal display and giveaways all day long.
Entertainment. There will be family-friendly live entertainment all day long on the Toyota entertainment stage including Grammy Award-winning group, The Wallflowers. Other groups to entertain are local alternative/Indie rock band Skylar's Pool, led by news anchor Kitty O'Neal and restaurateur Kurt Spataro, reggae-influenced The J Band and soul-inspired Hans and the Hot Mess.
Demonstration Stages. Who doesn't want to learn something new? Three large culinary demonstration stages will be set up throughout the footprint of the festival that will feature cooking and educational demos that will be entertaining for everyone within earshot.
Food. Ah…food. Isn't this what the Farm-to-Fork Festival is all about? Well, you'll be able to sample plenty of Sacramento's bounty on this day. Over 20 food trucks will be on hand to serve you all day long, along with other food vendors such as Blue Diamond Growers, Nugget and Whole Foods markets, and restaurants Ambrosia Café and de Vere's Irish Pub.
Drink. And for the adults…there will be plenty of local wine and beer offerings throughout the day. The beer garden will offer varieties from 12 local breweries, and the wine pavilion will feature wines from 15 different regional wineries.
What: Farm-to-Fork Festival
When: Saturday, Sept. 24 from 11:00 a.m. to 6 p.m.
Where: Capitol Mall between Third and Ninth streets, Downtown Sacramento
Admission: FREE
Getting There: If you are going by car, there is plenty of street parking and/or parking garages and lots within a few blocks of Capitol Mall surrounding the festival footprint including Downtown, Old Town and even West Sacramento. Click here for information on City of Sacramento parking. Just be prepared for slow traffic coming off I-5 and J Street. If you are going by way of bike, the American River Parkway makes it rather convenient to bike into downtown from the North or from the East. A free bike valet will be located at Ninth Street. Entrances into the festival will be located at each end – Third Street and Ninth Street, and at Fifth Street and Sixth Street.