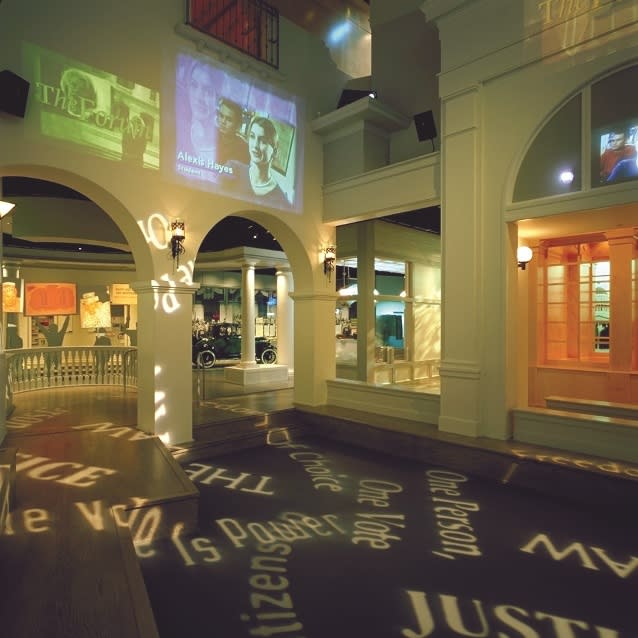 Looking for a Sacramento venue that offers a unique California experience for your next meeting? We've got the perfect place. Just one black from the California State Capitol, the California Museum highlights the contributions of legendary Californians, showcases Sacramento's largest piece of public art -- Constitution Wall, educates visitors on how California came to be and more.
The museum opened in 1998, but it was former first lady Maria Shriver who worked with the museum to expand its vision. With her involvement, the "California's Remarkable Women" exhibit opened in 2003. In 2006, she worked with her then husband, Gov. Arnold Schwarzenegger, in designing the California Hall of Fame as the Museum's annual gala and an official award from the Governor of California. In addition to the California Hall of Fame and California's Remarkable Women, other signature exhibits include California Indians, California Missions, and Health Happens Here. The museum also features up to six rotating exhibits each year.
With 30,000 feet of indoor and outdoor space, you're sure to find exactly what you are looking for at the California Museum. Whether it's a presentation in the beautiful courtyard in the shadows of six-story-high Constitution Wall, a reception in the spacious lobby and mezzanine, or educational workshops in the classrooms, this venue is ideal for your presentations, sit-down meals, conferences, fairs, receptions and more. With built-in A/V equipment for multimedia presentations, on-site catering and even attached kitchenettes including refrigerators in the conference rooms, planning your event will prove to be not only stress-free, but downright relaxing.
Meeting Space                                       Capacity
Lobby and Mezzanine                              200    
Exhibits and Galleries                               500+
Courtyard                                                 500
Auditorium                                                258
Conference Rooms                                  80 -120
Classrooms                                             120