Photo courtesy of Old Sacramento Waterfront.
The heart of any city can be found in its urban core. Living in Downtown Sacramento means having arts, culture and award-winning dining right outside your front door. And this December, activities in Sacramento's urban core have plenty of holiday cheer to offer.
Whether you're going back in time with a visit to the Old Sacramento Waterfront, strolling through the world-class Crocker Art museum, catching a live show, or dining at one of the many locally sourced restaurants in this Farm to Fork Capital – life on the grid offers something for everyone this holiday season. (And if you are a bit of a scrooge, there are quite a few non-Christmas events, too!) To learn how you can your way to these Downtown's and Old Sacramento Waterfront's attractions, check out Go Downtown Sac and Old Sacramento Waterfront's Getting Here page.
 
---
This Month's Cavalcade of Yuletide Events:
Sacramento Santa Holiday River Cruises
L Street Dock
Through December 22 | Various times and dates
Spend your December afternoon cruising along the Sacramento River with Santa himself! You and your family will be greeted with a complimentary cookie and cup of hot cocoa to warm up your chilly winter afternoon.

Theatre of Lights
Old Sacramento Waterfront
Through December 24 | Various dates and times
If it's holiday memories you're after, come find it at the Old Sacramento Waterfront! Theatre of Lights is an electrifying retelling of "'Twas the Night Before Christmas" on the balconies above K Street.
Wells Fargo Home for the Holidays
Memorial Auditorium
December 7 | Sat 2pm & 7:30pm
A Sacramento musical tradition returns to Memorial Auditorium! The Sacramento Choral Society and Orchestra promises to fill the historic venue with radiant Christmas music. Special guests include tenor Chad Somers, Sacramento Children's Chorus, and the puppets from the Green Valley Theatre Company. Merriment is guaranteed!

ArtMix: Futuristic
Crocker Art Museum
December 12 | Thurs 6pm-9:30pm
Need a break from the holiday cheer? Take a bold step out of 2019 and venture into a brave new world at the Crocker Art Museum. The night lights up with the sounds of Bells Atlas and fire dancing by Obsidian Butterfly.

Sacramento Santa Parade
California State Capitol
December 14 | Sat 10am-Noon
The holiday fun doesn't stop and won't stop mid-month. The streets around the Capitol will be filled with floats, marching units, bands and Santa's sleigh during the Sacramento Santa Parade. The parade will travel down 14th and N streets alongside Capitol Park. It will travel west on N to 10th Street, north on 10th Street to L Street and then east on L Street to 12th Street.

Living History Holiday Ball
Sacramento History Museum
December 14 | Sat 1pm-3pm
Although we will be just weeks away from the new decade, the Sacramento History Alliance wants you to stepping back in time on December 14 at its Living History Holiday Ball. Experience lavish period gowns and apparel, historical dancing, hands-on children's crafts and more on the Museum's newly renovated main floor.

Peter Petty's Return of Son of Hepcats Holla'-Day Musical Yuletide Revue
Elks Tower Casino and Events Center
December 15 | Sun 7pm-10pm
Yuletide music get the big band treatment at this dazzling production! Peter Petty and his 11-piece Titans of Terpsichore Jazz orchestra will bring down the house with a scintillating, syncopating adults-only Christmas party.

Sacramento Santa Run
California State Capitol
December 21 | Sat 9am
Tap into your inner Kris Kringle as The Sacramento Santa Run brings a day of fun for the whole family with a 5k Run/Walk and Merry Mile, and a festive finish at the DOCO Sacramento with cookies, milk, music, and snow.
Sacramento Kings vs. LA Clippers
Golden 1 Center
December 31 | Tues 2pm
Sports fans can spend the last day of 2019 watching the Sacramento Kings take on that other LA team at the Golden 1 Center. After the game, follow DOCO Sacramento's magical holiday lights to the Downtown Sacramento Ice Rink for one last spin in the decade.
New Year's Eve Sky Spectacular
Old Sacramento Waterfront
December 31 | Tues 6pm-10pm
Welcome 2020 with thousands of Sacramentans at the annual New Year's Eve Sky Spectacular! The skies above the Old Sacramento Waterfront for a special fireworks show at 9pm. The free fun also includes children's programming, live music, dinner specials, hot food and drink vendors, and a variety of colorful street entertainment.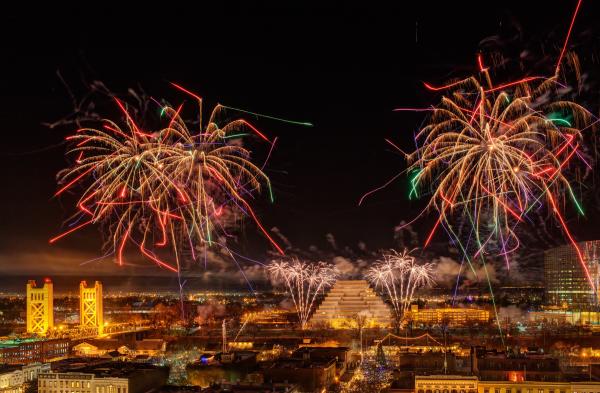 Ongoing Downtown and Old Sacramento Waterfront Events:
California Museum Exhibit and Events
Community Center Theatre | Convention Center | Memorial Auditorium Events
Crest Theatre Concerts and Performances
Crocker Art Museum Events and Exhibits
First Fridays
Golden 1 Center Concerts
Hornblower Cruises
Sacramento Kings at Golden 1 Center
Sacramento Philharmonic & Opera Season at Memorial Auditorium
Second Saturdays
Sunday Certified Farmers' Market at 8th and W Streets

Restaurants:
Binchoyaki
Cafeteria 15L
Camden Spit & Larder
Dawson's Steakhouse
Downtown & Vine
Ella Dining Room & Bar
Empress Tavern
Firestone Public House
Frank Fat's
Grange Restaurant & Bar
Tequila Museo Mayahuel
The Firehouse

Drinks:
De Vere's Irish Pub
Fanny Ann's Saloon
Fizz Champagne & Bubbles Bar
Fox & Goose Public House
M!X Downtown
Punch Bowl Social
Revival at the Sawyer
Temple Coffee Roasters
Ten Ten Room
The Bank Sacramento Food Hall
The Shady Lady Saloon
Tiger