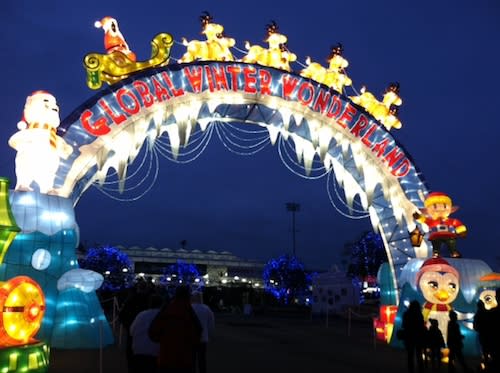 Are you looking for an amazing backdrop to your family's holiday photos? Have you heard about Global Winter Wonderland at Cal Expo?   It's a relatively new Sacramento tradition, appearing here for the past three years or so.  Global Winter Wonderland typically opens Thanksgiving Weekend and runs through the weekend after New Year's. Maybe you've seen an ad on TV or a billboard.  Janet and Jackie did and wondered if it could really be as bright and sparkly as depicted on the website.  We decided the only way to find out would be to go there and experience Global Winter Wonderland for ourselves. We found out it's even better! It is a completely wonderful experience.  We loved it. We plan to go back again and highly recommend a visit to Global Winter Wonderland for families, for couples, for anyone who enjoys whimsy and dynamic energy.
The vivid, ephemeral-looking fabric sculptures, lit from within, glow in the Sacramento winter night. Bubbles and novelty snowflakes float on a light breeze. The clustered cement buildings we are familiar with from the State Fair become the venue for a fantasy undersea world, an indoor food court, an art gallery, a variety of vendor booths (including photo ops with Santa Claus and another winter-themed celebrity, Penny Penguin), and the amazing live shows presented by the talented performers of the Circus of Light.  Jackie and Janet scheduled their time so they could see two different performances.
Just like in some amazing dream, three whole hours passed quick as a wink.
We're already laying our plans for next year. 
Here's our advice:
Find a coupon or get a discount deal on Groupon.
If you think you'd enjoy the rides, or the giant slide, get the wristband; it's only a few dollars more on Groupon.
Go early.  It'll be less crowded, you can park easily, and you'll enjoy being among the displays in the gathering dusk.
Dress warm.
Bring $12 for ice skating.
Watch the shows.  As many as you can.
Eat light. You want to enjoy the rides!
Bring your family and friends.
Take lots of photos.
Have fun!
Here is a taste of what we saw at Global Winter Wonderland. Go out to Cal Expo and experience the wonder for yourself! Don't wait! Go now through Jan. 8, 2017.
Happy Holidays,
​From Sacramento's Hometown Tourists