Natomas
Find Family Fun in Natomas This June
A relatively new community, Natomas is home to parks and trails, family-friendly eateries and shopping areas, sure to please visitors and locals alike.
If you're hungry, check out its many taquerias and food trucks or head to the La Superior market along Northgate Boulevard to shop for authentic Mexican foods.
If you're the outdoorsy type, Discovery Park, one of the region's largest green spaces, is the perfect place to perch during a hot Sacramento summer day. A part of the American River Parkway, the park offers a variety of recreational activities including boating, picnic areas and wading in the river. It's also home to the emerald and very Instagram-worthy Jibboom Street Bridge.
In the summer, the 47+ acre North Natomas Regional Park hosts some of the community's biggest events, including movie nights and farmers markets. The park also offers its own sports fields, bikeways, play areas, water features, and some of the best play areas for both your kiddos and doggos.
Natomas can be accessed directly off Interstate 5 and off Garden Highway.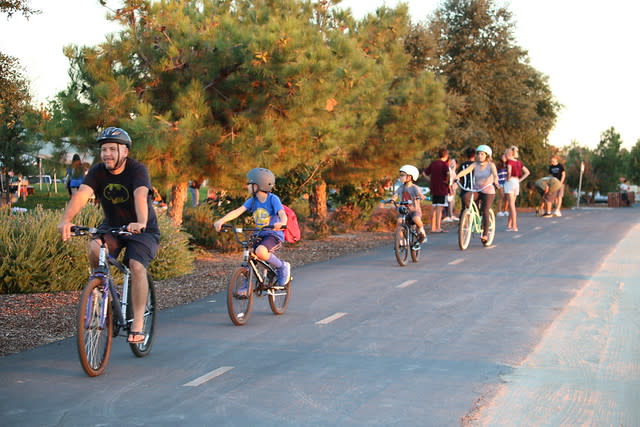 Photo by District 1 Council Office
Neighborhood Events:
Community Carnival 2019
South Natomas Community Park
June 1 | Sat 10am-1pm
Come enjoy free, safe fun for the whole family! Enjoy bounce houses, popcorn, carnival games, dance performances, and link up with local businesses and nonprofits doing great work in Sacramento. The North Sacramento Family Resource Center will also offer free lunches (as supplies last).
Nearby restaurants worth a visit:
Azukar Sushi
Mezcal Grill
Lotus Fusion
Where to whet your whistle:
Cheers Sports Bar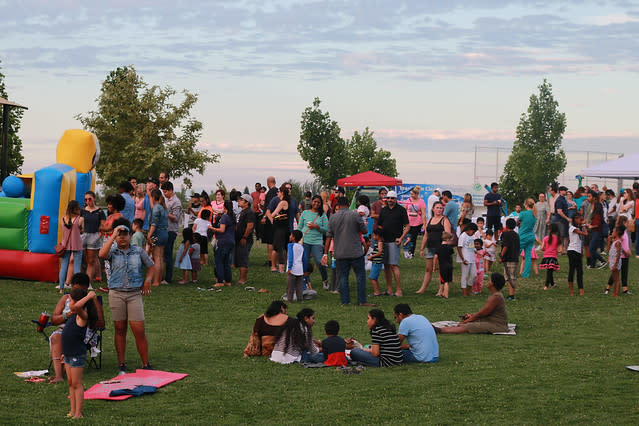 Photo by District 1 Council Office
First Fridays
North Natomas Regional Park
June 7 | Fri 6pm-9pm
From June through September, swing by the North Natomas Regional Park each first Friday for a fun evening out! The monthly community gathering spotlights food vendors and food trucks, area musicians and makers. And yes, there will also be a beer garden for those Age 21 and over.
Locally sourced, First Fridays is a summer Natomas tradition that can't be missed!
If you need more grub after First Friday, here are nearby restaurants worth a visit:
Bella Bru Café
Malabar
Where to whet your whistle:
Pete's Restaurant & Brewhouse
Track 7 Brewing

Photo by District 1 Council Office
Natomas Farmers Market (June-September)
North Natomas Regional Park
June 1-September 28 | Sat 8am-Noon
Get a taste of the Farm-to-Fork Capital out in the 'burbs at the Natomas Farmers Market. You can support area farmers and food vendors by purchasing locally grown produce each Saturday morning.
Give these local chains a try after your farm-fresh haul:
Bella Bru Café
Jack's Urban Eats
Where to whet your whistle:
Track 7 Brewing
The Natomas Big Gay Celebration
North Natomas Regional Park
June 23 | Sun 11am-3pm
Natomas honors Pride month with the Natomas Big Gay Celebration. This family-friendly party convenes drag queens, food trucks, kid's activities, and community groups together under the sun!
Nearby casual eateries:
Fire Wings Natomas
In-N-Out
Malabar
Get your bubble tea on a few streets away:
Quickly
T4: Tea for U
---
If these selections aren't enough for you then check out our Make it a Night page on Sacramento365 or Visit Sacramento's Field Guide! Whatever you choose to do, be sure to use the hashtag #Sacramento365 to share your adventure with us.